11/14/2018
4 Ways Home Depot Will Thrive in Home Improvement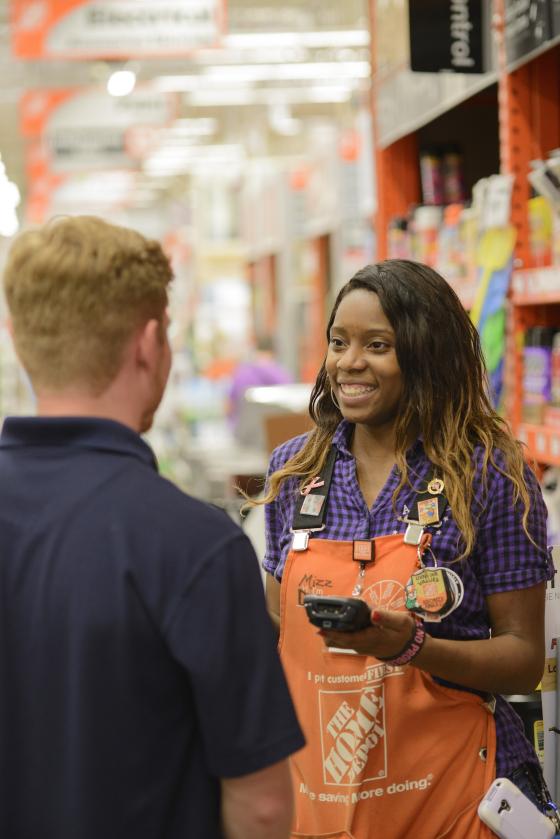 The Home Depot's customers are responding positively to its expansive assortment and enhancements the home improvement retailer has been working on to drive an interconnected shopping experience.
The retailer reported a 5.1% sales spike for the third quarter of fiscal 2018 compared to Q3 2017. Comparable sales were up 4.8% in the quarter overall, up 5.4% in the U.S.
"We saw continued strength across the store, as well as healthy growth in our digital business," said Craig Menear, chairman, CEO and president. "We believe this is a testament to the overall strength of demand in the home improvement market."
Home Depot plans to continue winning the home improvement market going forward with several initiatives.
Digital Business
Online traffic growth was healthy in the quarter, with online sales up 28% from the third quarter of 2017. Buy online ship to store and buy online pickup in store sales both grew faster than the overall online sales growth rate for the third quarter. Specifically, 40% of the orders in the quarter were picked up in-store at the customer's choice.
"Customers continued to respond to ongoing investments and enhancements we're making to drive a frictionless interconnected customer experience," said Menear.
Delivery
Home Depot is still in the "very early" stages of a five year investment in the One Home Depot supply chain to enable fast, efficient delivery.
Currently, the retailer can reach approximately 95% of the U.S. population in two days or less with parcel shipping, but the goal of the One Home Depot supply chain is to be able to reach 90% of the U.S. population with same day or next day delivery capability, including shipping on big and bulky goods.
Home Depot is on track with its plan to test new fulfillment centers and is live with its first few pilot facilities, with additional pilots scheduled to open throughout 2018 and through 2019.
The retailer has also rolled out car and van delivery from stores to 41% of the U.S. and says it has seen increased utilization from both professional and DIY shoppers.
The In-Store Experience
The Home Depot's merchandising execution team (MET) is leveraging advanced analytics and proprietary technology to drive productivity and efficiency in stores.
"We use real-time data to understand what categories require attention and leverage our first phones to direct the work activity of our MET associates," noted EVP of merchandising Ted Decker.
Home Depot has also implemented a wayfinding sign and store refresh package in approximately 700 stores and is in the midst of rolling out redesigned front-end areas and pickup lockers in stores.
"We're also working to remove friction for our customers while helping our associates to be more productive with their time," noted Menear.
To this end, the company rolled out a new overhead management application. Prior to the rollout, the only way an associate could locate product in overheads was to manually look for it. This new app helps associates locate product in overheads quickly and accurately. This saves time, improving the customer experience, and provides better inventory management.
Inventory Management
In addition to the new app, Home Depot said it has reduced the number of out of stocks per store by 24% in its top selling SKUs through "tiered replenishment strategies." In addition, it has improved its direct fulfillment center in-stocks.