03/21/2017
5 Retailers That Matter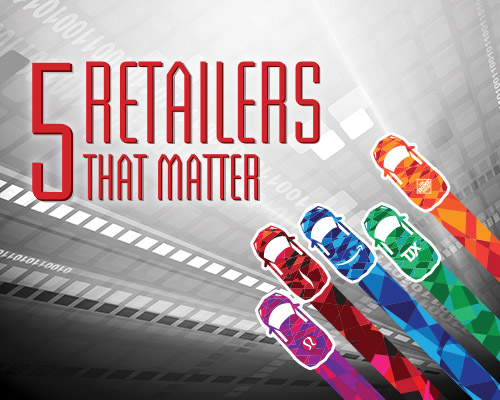 The five cutting-edge retailers highlighted in this cover story are driving the industry forward thanks to a dedication to technological innovation that furthers their unique position in the market. They are building a differentiated shopper experience while simultaneously pushing their organizations to new levels of financial success. As consumers and retailers continue to develop a digital-first mindset the retailers named to RIS' third Retailers That Matter feature are stacking their respective organizations with digital horsepower and setting the standard upon which the rest of the industry will be judged. While the members of this list can certainly be debated, there is no denying that each one "matters" and is making its presence felt throughout retail. Congratulations to Amazon, Sephora, TJX, The Home Depot and lululemon for being named the five retailers that matter. 
Amazon – The Digital Disruptor
Any conversation about today's most relevant retailers will likely start and end with Amazon. The e-commerce giant has revolutionized retail over the past 23 years and continues to drive the industry forward with innovation after innovation.
Amazon is the original e-commerce disruptor, redefining operations, supply chain efficiency and consumer expectations over the past two decades. The rest of the industry has been forced to either alter their approach to keep pace with the $136 billion dollar retailer or watch their market share dwindle away.
Customers flock to Amazon for its competitive prices, vast product array, and quick and economical delivery options. In fact, 55% of online shoppers now begin their product search on Amazon, opting for the site's internal search capabilities over search engines like Google, Bing or Yahoo, says BloomReach's "State of Amazon 2016" report.  
The key to the e-commerce leaders success lies in its extremely popular Prime membership program that offers participants free two-day shipping on eligible purchases as well as unlimited access to over 2 million songs and 20,000 movies and television shows. It is estimated that Prime has more than 50 million members and that nearly half of all U.S. households have an Amazon Prime membership, according to Consumer Intelligence Research Partners. 
The benefits of a Prime membership are obvious for even moderate or light online shoppers, and its $99 annual fee can be quickly offset by delivery savings. The service is so popular that it has even spawned its own global holiday: Prime Day. Once a year Amazon hosts a massive promotional event that features exclusive deals for Prime members. On Prime Day 2016, held on July 12, millions of shoppers made a purchase on the site helping make it the single biggest day from a sales perspective in Amazon's history.  
"Prime Day was very successful for us," said Brian T. Olsavsky, SVP and CFO, Amazon. "It was up 60% on an order product sales basis versus Prime Day 2015. And more importantly, it was a great day for customers. Globally they saved over double what they had saved in Prime Day 2015."
With its online business secure and growing by the day, Amazon is moving into brick-and-mortar retailing with the opening of physical book stores and grocery locations that will likely have a revolutionary effect on the in-store experience. 
The retailer is currently piloting its "Go" technology in downtown Seattle. The solution allows customers to walk in, fill their bags with quick service food items and select grocery SKUs, and walk out without ever stopping at the POS. The check-out-free solution leverages computer vision, sensor fusion and deep learning to track shopper purchases and automatically charge their account when they exit the store. Amazon reportedly began working on the project in 2012, and is currently piloting the technology in a 1,800 square-foot test store open only to employees. The store is expected to be open to the public at some point in 2017.
The original digital disruptor refuses to stand pat, continuously upping its capabilities and increasing shopper expectations and remains a driving force for change across retail.   
Sephora –The Customer Experience Powerhouse
Once upon a time, beauty shoppers had to choose between buying makeup at a drugstore or letting a specialist in a department sell to them. Specialty beauty retailer Sephora discovered a middle ground where shoppers could experience the products themselves. In doing so they developed an in-store experience that shoppers were craving. Today, the company continues to expand on this by utilizing cutting-edge technology to solidify itself as a retail leader in showrooming and webrooming. 
Sephora delivered double-digit revenue growth as well as market share gains across all regions in Q3 2016. It operates approximately 2,300 stores in 33 countries worldwide, with an expanding base of over 430 stores across the Americas. Sephora's store-with-a-store shops at JCPenney continue to rise in popularity with 61 new shops opening last year, bringing the total to 577 overall. JCPenney reports that performance in both the existing and new shops remains strong and plans to add an additional 70 new locations in 2017.  
Sephora's ability to merge technology into the user experience has redefined the beauty segment for shoppers. Its groundbreaking work pioneering chatbot solutions started with a bot that shares makeup recommendations, videos and tutorials. Next, it launched a Facebook Messenger bot called Sephora Virtual Artist that allows users to upload a selfie and try on different lip colors, which has received more than four million visits. Color Match for Sephora Virtual Artist can scan any photo and instantly provide the closest lipstick color match from Sephora's entire assortment. 
"We know our clients wish they could try on every lipstick in our store," Bridget Dolan, VP of Sephora's Innovation Lab said. "Now they can — instantly and effortlessly. Our focus is always to launch technology that provides a true benefit to our clients. We want to make buying lipstick more fun than ever, and maybe a little addictive."
The retailer also has an appointment booking bot, Sephora Reservation Assistant, for reserving makeovers at stores across the U.S. The conversational interface allows clients to tell the bot which store location and service they want and then instantly receive the closest dates and times. The bot uses natural language processing to understand what the customer types in free-form text, like the name of a city or a combination of date and time. 
"We're excited to leverage the Messenger platform to create quick and natural conversational interactions that are client-led," said Mary Beth Laughton, SVP of digital, Sephora. "This allows us to provide richer, more varied conversations that ensure clients get exactly what they want out of the experience."
Sephora is dedicated to providing a tech-filled experience in-store and out. Its mobile app offers a store mode so shoppers can scan products and read online ratings and reviews and access their loyalty program. Beacons prompt users to set their mobile app to store mode as they enter the store. 
So how does Sephora come up with groundbreaking tools? The company opened an Innovation Lab in 2015 in San Francisco, where it fosters creative talent across the entire organization through its unique Think Tank program and Hackatons. The Innovation Lab's "Idea Central" program allows employees to submit ideas and then have peers vote on which ones get executed.  From the web to the floor, Sephora's nurturing of its employees and their ideas has led the beauty retailer to become a customer experience powerhouse.  
TJX – The Foot Traffic Whiz
While many retailers are halting brick-and-mortar growth or closing stores altogether, apparel and home fashions retailer The TJX Companies' (TJX) number one initiative remains driving customer traffic. And the off-price retailer is succeeding. The 40-year-old parent company of TJ Maxx, Home Goods and Marshalls marked its 21st consecutive year of comp sales increases in 2016. In fact, in four decades the company experienced just one annual comparable store sales decline. 
Now TJX plans to grow its store count by 50% over time, adding 1,800 stores to its current base of 3,785 stores in nine countries. It has also announced plans to launch a new home concept chain later this year. 
The company's plan to surpass the 4,000-store milestone this year may seem overreaching in today's retail climate. But the off-price retailer has been able to sustain brick-and-mortar traffic while other retailers have struggled in recent years, thanks to bargain hungry shoppers, as well as quick inventory turns that create the sense that an item on a rack might not be there the following week. 
Beyond providing shoppers with a differentiated in-store shopping experience, gift-giving assortments and in-store initiatives during the holiday selling season help the company drive traffic as well. CEO Ernie Herrman noted the company is pleased with its new customer growth across all divisions, including
Millennial shoppers. 
To attract more shoppers TJX takes an integrated marketing approach, engaging with consumers through television, digital, mobile and social media campaigns to ensure its brands are visible in every channel. The company incorporates its findings to further leverage marketing dollars. "We are confident that our marketing attracts new and existing customers and our constantly-changing selections and freshness encourage more frequent shopping visits," said Herrman.
TJX is also taking steps to grow its loyalty program to drive more frequent visits and cross shopping of its stores. The TJX Rewards Access program provides members invitations to private parties, enters them in sweepstakes every time they shop, and gives free standard shipping on one purchase at tjmaxx.com and one purchase at sierratradingpost.com. 
Whether their expansion plans succeed or fail, the future of TJX will certainly matter in shaping the direction of retail's future. For now, it seems "the thrill of the hunt" remains a reason for customers to visit the store.  
Home Depot – The Interconnected Leader
As a home improvement retailer, The Home Depot's success will always be tied to the ebbs and flows of the housing market. And with new home sales at their highest levels since 2007, the past year has been a rousing success for the retailer. In fact, in 2016 The Home Depot posted its highest sales and net earnings in the company's nearly 40-year history, growing revenue by 6.9% to $94.6 billion. 
But it wasn't just the strong housing market that fueled The Home Depot's banner year,
rather a dedication to its omnichannel capabilities or what it has dubbed interconnected retail.
"Our interconnected business made great strides in 2016," said Craig A. Menear, CEO, The Home Depot. "The team completed the HD.com redesign with enhanced features for better search and faster checkout, upgraded the mobile app, and introduced a dynamic estimated time of arrival feature to provide customers a faster and more accurate delivery date based on location."
The Home Depot has always had a differentiated in-store experience defined by warehouse-style décor and an everything-you-need-for-your-home approach to its merchandising efforts. The retailer has invested heavily in its digital capabilities to develop an equally impressive online experience. In 2016, its online business increased by over 19% and now represents 5.9% of total sales. 
Not only is Home Depot's continued investment in its e-commerce capabilities helping to grow sales, it is also helping the retailer connect with consumers. In a mystery shopper study conducted by Astound Commerce that examined the customer service performance of 100 top retailers, Home Depot finished sixth overall thanks in part to the superior performance of its digital properties. Consumers average just four clicks to checkout, well below the observed industry standard of 5.23. In addition, the retailer is averaging two days for delivery on online orders, nearly a day and a half quicker than the industry average of 3.45.  
While its digital business continues to grow, The Home Depot's bread and butter has been and will continue to be its stores. In fact, nearly half of all U.S. online orders are picked up in-store, highlighting the success of the brand's interconnected retail strategy that is blurring the distinction between digital and physical retailing. The retailer continues to build its flexible fulfillment capabilities, leveraging its 1,900-strong, brick-and-mortar network to meet shopper demand for quick and seamless fulfillment. In Q4 2016, The Home Depot completed the rollout of its buy online deliver from store solution. The offering was built on the new customer order management system it unveiled in Q2 2016. 
The Home Depot is investing heavily in its technological capabilities to not only grow sales but redefine the home improvement buying experience. Thanks to a host of new technology initiatives and a healthy economy the retailer posted its best year ever and looks poised to keep the positive momentum going well into 2017.    
Lululemon – The Inventory Genius
Not only is athletic apparel company lululemon athletica a leader in the healthy lifestyle segment, it has been able to grow its business despite cheaper alternatives on the market. Known primarily for its yoga pants, the company weaves technology into its customer experience to create easy transactions for modern shoppers. 
lululemon saw net revenue increase by 13% in Q3 2016 and remains on track with its five-year plan of doubling revenue and more than doubling earnings. The company continues to execute against long-term growth strategies including product innovation, expanding international footprint, building a $1 billion men's category, and connecting its global collective to its digital ecosystem. Its ongoing focus on supply chain, and upgrading sourcing and logistic structure is a key element in the earnings growth the retailer is enjoying.
A big part of the lululemon experience is the ability to easily find stock. The apparel retailer has fully deployed RFID across its North American stores, and is now enjoying 98% store-level inventory accuracy. "The technology is a powerful new tool in creating seamless guest experiences across all channels and has greatly enhanced our ability to access inventory quickly across all channels and locations," said CEO Laurent Potdevin. 
The company launched store inventory look up on its mobile app and websites in Q3 2016, allowing shoppers to see what inventory is in stores, as well as the ability to ship from stores. Shoppers can order online and if the product is not available in the e-commerce store, but is available in a brick-and-mortar location, a signal is sent to that store to pick, pack and ship the product to the customer. 
To learn more about a product in a store, shoppers can open the lululemon app, which uses a phone's camera to scan the barcode and pull up the product detail page from the e-commerce site. It then uses backend integrations to RFID to do a real-time inventory check across all stores, based on the shopper's location. 
Once a week employees in every store cycle count the entire store, which trues up the inventory to account for shrink and movement within the store. The cycle count also makes the daily replenishment process accurate, so employees always know what's in the front and back of the store, and how much to restock. Once a week the system also updates the allocations team so they know what to send to stores.
lululemon is also experimenting with new "local" concept stores. The smaller, tailored stores allow the retailer to enter intimate communities, create unique and curated experiences, and build the brand. The Fishtown, Philadelphia store, for example, offers an in-store market of local vendors and a community table for meetings, lunch and co-working.
"As is evident with our locals, engaging with our community and our guests in a unique and relevant way remains a powerful tool and differentiator for us in the marketplace," said Potdevin. "We are staying connected with our guests in unique ways."