7 Retailers Using IoT to Power Their Digital Transformation
Get great content like this right in your inbox.
Subscribe
The Internet of Things is exploding. Interconnected digital devices are everywhere ― from smartwatches to refrigerators ― and they are changing the way people interact with their physical surroundings, each other and businesses.
It is predicted that the IoT market will grow from an installed base of 15.4 billion devices in 2015 to 30.7 billion in 2020 and 75.4 billion in 2025, according to IHS Inc.'s "IoT Platforms: Enabling the Internet of Things." While those numbers are staggering, what is even more impressive is that IoT spending is expected to reach $1.29 trillion over the next three years, according to IDC.
While not on pace for the same type of meteoric rise as the IoT market in general, retailers are investing heavily in the technology as the industry continues to undergo its digital transformation. In fact, retailers report that they plan to increase their year-over-year IoT spend by 5.6% in 2017, according to RIS' "14th Annual Store Systems Study."
As retailers continue to work to blur the distinction between digital and physical retailing, IoT will play a major role, in-store and out. Use cases continue to pop up by the day, but retailers are still just scratching the surface of IoT's potential.
Below are seven retailers that are pioneering IoT and leveraging the technology to drive the customer experience, streamline operations and grow the bottom line.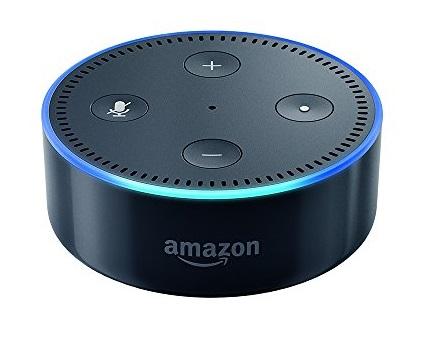 Amazon
Amazon is always top-of-mind when discussing cutting-edge retailers differentiating themselves through the innovative use of technology. It is no different with IoT. The omnichannel powerhouse is leading the charge in the space with its highly successful Echo device as well as its pilot of a cashier-less store.
Amazon, along with Google, Apple, Facebook and a host of other companies have deployed or a working on conversational commerce solutions that allow customers to make a purchase with nothing more than their voice.
Amazon's Echo, powered by its Alexa personal assistant technology, is taking the world by storm. More than 8 million people own an Amazon Echo device, according to Consumer Intelligence Research Partners (CIRP) and Amazon reportedly has 5,000 employees working on Alexa and Alexa related solutions.
Amazon's strategy with it's the Echo is genius. Consumers are gobbling them up for their ability to play music, search the web, read the news, etc., but customers are also utilizing the device to seamlessly place orders for basic items. For instance, all the user would need to say is "Alexa order paper towels," and in a day or so, the package will be at their door.
Conversational commerce is taking hold across the industry and Amazon is on the leading edge, enjoying first mover advantage. In fact, Amazon Echo owners purchase from Amazon 6% more often than they did before, and spend about 10% more than before, according to NPD Research.
Amazon continues to experiment with the power of IoT, evidenced by its highly publicized Amazon Go project that went live earlier this year. Shoppers are able to shop the store, place their purchases in their bag and simply walk out the door once they are done. Thanks to precise item-level tracking, Amazon can tell exactly what the customer has taken from the store and instantly charge their account. While the retailer's first pilot was only open to company employees, it is rumored that a wider-scale test open to the public is in the works.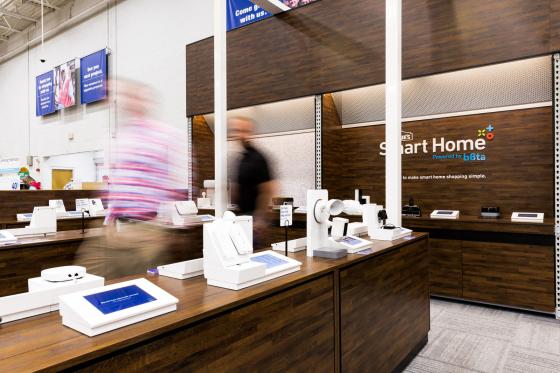 Lowe's
Lowe's has been spearheading its digital transformation through the use of IoT in several ways.  Following a successful test of OSHbot, an autonomous retail service robot at its Orchard Supply Hardware brand, Lowe's introduced LoweBot in 11 Lowe's stores. In addition to helping employees monitor inventory, LoweBot helps customers with short, transactional trips. The same laser-based sensors that guide autonomous cars help LoweBot navigate the store. An advanced voice recognition system that uses a combination of natural language processing and advanced microphones on-board help LoweBot figure out what customers are asking it, while advanced computer vision and machine learning help it uncover price and inventory discrepancies.
Lowe's Home Improvement offers shoppers a mobile app for in-store navigation that employs augmented reality technology to enhance the shopping experience. Dubbed "Lowe's Vision: In-Store Navigation," the app utilizes Google's Tango augmented reality (AR) technology. Available in two stores, the app lets shoppers with Tango-enabled smartphones search for products, add them to a list and find them using AR. The Tango tech uses motion tracking, area learning and depth perception to guide customers through the store. As shoppers traverse the store, the app provides directional prompts overlaid onto the real-world setting to guide them through the most efficient route.
In addition to its use of IoT to provide an engaging customer experience, Lowe's is on the leading edge selling smart devices to its customers. Lowe's recently announced it's expanding its "Smart Home powered by b8ta" connected-home shopping experience to 70 stores nationwide. The store-within-a-store offers an innovative shopping solution for customers interested in smart home devices. The retailer also offers its Iris smart home solution, built with Microsoft Azure's cloud technology. Iris is a simple, customizable smart home system, which provides users the ability to manage, monitor and maintain their homes, and currently works with more than 80 smart home devices. 
lululemon
A big part of the lululemon in-store customer experience is the ability to digitally find stock and learn more about the retailer's unique product. The apparel retailer has fully deployed RFID across its North American stores and boasts 98% store-level inventory accuracy, and recently launched store inventory look up on its mobile app.
The feature allows shoppers to see what inventory is in stores, as well as providing them the ability to ship from stores. Shoppers can order online and if the product is not available in the DC, but is available in a brick-and-mortar location, a signal is sent to that store to pick, pack and ship the product to the customer. 
To learn more about a product while standing in a physical store, customers can open the lululemon app, which uses a phone's camera to scan the hangtag's barcode, and pull up the product detail page from the e-commerce site. It then uses backend integrations to RFID to do a real-time inventory check across all stores, based on the shopper's location.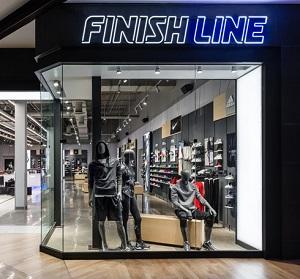 Finish Line
The Finish Line has been remodeling its stores with a new design format, including flagship locations in Chicago, New York and Los Angeles ― and IoT, specifically RFID, is a main focal point of the digital transformation of the Finish Line store environment.
 "The continued elevation and development of a connected store experience is a critical factor in driving relevance and engagement with today's consumer," noted CEO Sam Sato. "In these stores we've taken storytelling to the next level through the integration of technology."
In these distinctive brick-and-mortar locations, RFID digital displays, otherwise known as The Finish Line sneaker feed, give the customer the ability to drop a shoe on a shelf and see unique content. This includes consumer ratings, video inspiration, product details and socially integrated images that showcase how shoppers can style the product.
"This exciting feature can add to a customer's confidence in their purchase while making the entire shopping experience more interactive," said Sato.
These stores also introduced a new way to try on footwear with The Finish Line's shoe-eye-view mirror. This new experience enables customers to see what their footwear is going to look on their feet, superimposed into unique environments like the streets of New York City or a basketball court. It then takes a picture for shoppers to share on Social Media.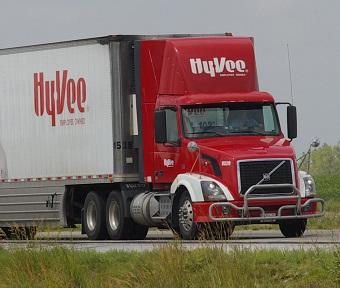 Hy-Vee
While much of RFID's recent revival has focused on the store and the how the technology can provide retailers with near 100% inventory accuracy, the technology sports numerous other use cases. It is utilized to personalize marketing, aid in checkout, verify product validity, and much more.
Hy-Vee, an employee-owned chain of more than 240 supermarkets located throughout the Midwest, is using RAIN RFID technology to track product throughout the supply chain to ensure perishable goods are transported and stored in optimal conditions to ensure freshness.
RFID tags record time and temperature at pre-set intervals. Readers send data to servers where algorithms analyze data on a per product basis, allowing each product to be evaluated according to its temperature guidelines. Hy-Vee uses data to refuse product, investigate products and determine if items need to be discounted based on a shorter expected shelf life.
Data evaluation time went from five minutes to eight seconds, a 97% reduction. Once data is collected, tags are reused, reducing supplier costs by 22%. Since implementing the technology, the grocer achieved 100% cold chain monitoring and management capabilities both inbound and outbound from suppliers, subsidiaries, DC's, transport carriers and stores.
Kroger
The grocery segment is undergoing major disruption. Whether it is the ongoing healthy and organic craze or Amazon's acquisition of Whole Foods, grocery is rapidly evolving.
While grocers were not traditionally viewed as cutting-edge tech innovators ― that is changing, and changing rapidly. Consumers continue to experiment with online food shopping at growing rates, and grocers are deploying technology both online and in-stores to blur the distinction between digital and physical shopping and engage with an increasingly tech-focused shopping base.
Kroger, long on the cutting-edge in terms of its analytic capabilities, has been testing an IoT solution that allows it to leverage its massive analytic firepower at the point of decision. Throughout 2017, the world's largest supermarket chain has been piloting its digital shelf edge technology. The solution uses in-store sensors to recognize individual shoppers and offer custom recommendations and pricing via the shopper's smartphone and on digital displays in the aisle.
The tracking technology is able to pinpoint a shopper's exact location and offer up customized content and recommendations based on their specific location in the store. Kroger has massive amounts of consumer data and insight thanks to its wholly owned 84.51° analytics business, and is able to leverage this powerful insight with cutting-edge IoT technology that brings personalized content to shoppers as they shop the physical store.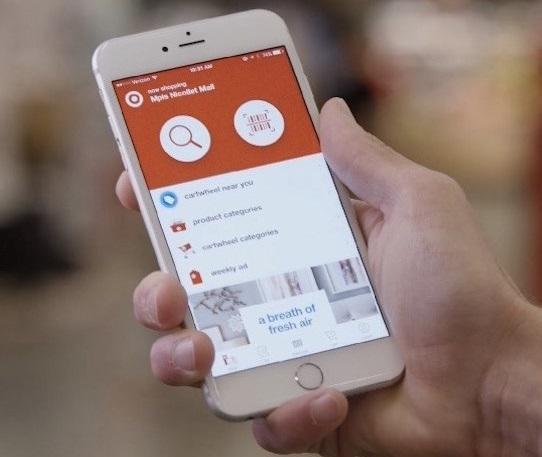 Target
Target has been at the IoT game for a few years now. It began testing beacon technology in 50 locations nationwide in 2015. Currently, the retailer is expanding beacon and Bluetooth technology in stores to power an improved wayfinding component to the Target iOS mobile app. The technology is live in about 1,000 of Target's stores. 
The new feature is designed to help shoppers find their way through stores and locate product. The solution shows a shopper's location on the mobile application's digital map as the shopper moves about the store. As guests use the in-store location technology to shop, the app will also display nearby Cartwheel deals. "It's a bit like driving your car with GPS," says Mike McNamara, chief information and digital officer.
Target Open House, the retailer's connected device concept store, underwent a seven-week renovation this year. Its new Garage space serves as an area for companies to showcase or launch their products on a retail shelf, get valuable quantitative and qualitative feedback on their products and have direct visibility to Target buyers. Target also debuted a new tool called Mission Control. This software helps startups submit products to be at Target Open House and offers a real-time dashboard for them to see guest interactions, get feedback and understand traffic and sales for their products.
Editor's Note: To learn more about how the industry's leaders are leveraging cutting-edge tech to power their digital transformation be sure to check out the "Delivering the Modern Retail Experience" keynote session at NRF 2018. The presentation will take place on the NRF main stage Monday, January 15 3:30 – 4:15.