12/13/2018
7 Ways Lowe's Plans to Use Retail Technology to Improve Operations
Home improvement retailer Lowe's is focusing on simplifying store operations, implementing technology and improving payroll productivity to improve its operating efficiency as it enters 2019.
"Our technology infrastructure is in need of improvement, while our supply chain needs to evolve to meet the needs of an omnichannel environment," said CFO David Denton during Lowe's 2018 Analyst & Investor Conference Call. "And this year's strategic reassessment allows us to have greater investment focus on our core retail operations."
Lowe's is expects to generate approximately $6.5 billion in cash from operations in 2019 and capital expenditures of roughly $1.6 billion in 2019. Lowe's said 60% of its CapEx will be dedicated to maintaining and reinvigorating its current asset base and improving technology solutions, while 25% will be focused on strategic efforts.
For More on Lowe's
Hear Lowe's president and CEO, Marvin Ellison, share his vision for strengthening the home improvement retailer through a relentless focus on operational excellence and retail fundamentals at the NRF Big Show 2019 session "Fortunes in the Fundamentals: Leveraging Operational Prowess as a Strategic Advantage." He will discuss his approach – from taking a fresh look at personnel in senior-most positions to simplifying the business.
For more on NRF's yearly expo, check out the RIS' editors guide "Next Stop: the NRF Big Show" and get a short glimpse into the speakers and sessions that will define The Big Show 2019.
"Despite the favorable macro environment, we have not performed to our potential as a company," noted president and CEO Marvin Ellison. "Therefore, we believe that we have a significant opportunity to grow market share by addressing our poor execution."
Ellison noted that Lowe's lost expertise in store operations and in merchandising, and failed to keep up with advancements in e-commerce, IT and supply chain.
"Our challenging IT infrastructure was evident on Black Friday when we experienced system outages," he noted. "This system failure presented to the outside world what our associates deal with on a daily basis."
Going forward Ellison said Lowe's will solve issues and quickly modernize the business through a newly assembled leadership team with subject matter expertise and deep experience and the ability to reallocate capital to invest in its core retail business.
Today, Lowe's EVP of Merchandising, Bill Boltz and EVP of Storage, Joe McFarland, have a combined 55 years of home improvement experience. Its EVP of Supply Chain, Donald Frieson has over 30 years of supply chain experience.
Lowe's has also developed a new mission statement, "delivering the right home improvement products with the best service and value across every channel and community we serve," and said it will achieve this by focusing on four key areas: merchandising excellence, omnichannel, operational efficiency and customer engagement. Every initiative has a designated captain supported by cross-functional team. Lowe's expects these initiatives will help it deliver over the next several years an operating margin of 12% and return on invested capital of 35%.
"What you see here is our operational plan," said Ellison.
Here are seven key ways Lowe's will improve operational efficiency: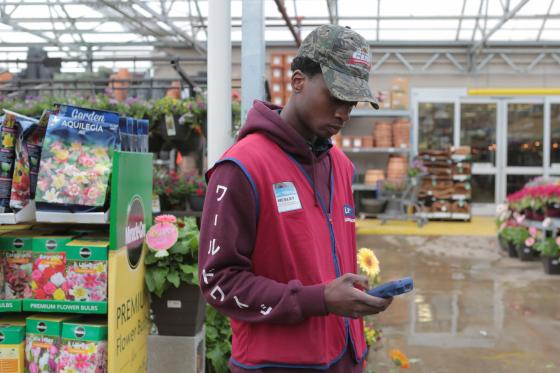 Simplifying store operations. Lowe's has started streamlining the communications and messaging to the stores, has moved to a simplified weekly playbook that focuses the teams on top priorities, key metrics and critical deliverables, and has shut off 95% of reports going to the stores.  It has also implemented a filtering embedding process to ensure it only sends the most important communication to the stores.
Point-of-sale systems. Lowe's is replacing its outdated green screen with a graphical, modernized, intuitive selling interface to make it easier for associates to navigate and faster to train new hires and seasonal associates.
More checkout options for the customer. Lowe's said it is adding self-checkout in all stores over the next two years. Its new handheld devices will include mobile checkout capabilities to drive greater front-end efficiency.
Leveraging mobile devices on the sales floor. Lowe's will rollout handheld printers to allow associates to print price labels in the aisle. It also plans to leverage mobile devices to drive efficiency in other tasking activities. 
Order management. Lowe's is upgrading its order management system, replacing multiple legacy systems with one best-in-class system to manage orders and services. It will connect this system to its supply chain to provide a more accurate view of inventory and improved visibility throughout the system to provide customers with more reliable information. The improved inventory view will be available to associate's mobile devices.
Out-of-stocks. Previously store managers had no autonomy to reorder product, leaving them unable to address out-of-stocks in key items. Lowe's we will give store managers limited autonomy to reorder appropriate quantities of low risk, high velocity in SKUs. The company will leverage associate's mobile devices to evolve inventory replenishment from a slow, paper-based process to an efficient automated process.
"We expect that we will see measurable improvement in our in-stocks as we head into 2019," noted McFarland.
Aligning and allocating payroll correctly. Only 40% of Lowe's payroll hours in the store are spent with the customer. The company has set a goal of increasing customer-facing hours to 60% of payroll by the end of 2020. 
"Our current labor scheduling system needs to improve," noted McFarland. "The current system is antiquated, ineffective and does not properly predict labor trends."
Lowe's will also add three hourly department managers to each store beginning in January. These customer-facing roles will focus on improving the customer experience by providing better department coverage, as well as coaching associates to delivering excellent customer service.