8 Things You Missed at Groceryshop
Get great content like this right in your inbox.
Subscribe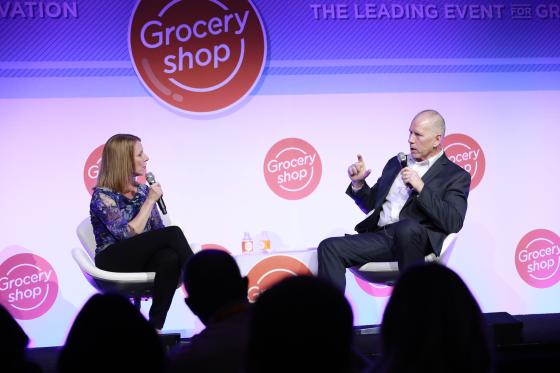 The grocery industry is poised for tremendous disruption, but there is little agreement over what change will look like or the pace at which it will occur.
This disparity of viewpoints was highly evident at the inaugural Groceryshop event held Oct. 28-31 in Las Vegas. Organizers of the event, who are the same team behind Shoptalk, tapped into the uncertainty and angst that exists among players in the space, many of whom don't agree on the size of the market or what constitutes "grocery," but know they need to move with speed or risk being marginalized.
Entrepreneurs and disruptors are eager to beat shoppers to the punch and provide services and solutions that aren't yet in demand. Despite the palpable uncertainty present at the event, some directionally consistent themes emerged during speaker presentations, conversations with solution providers and encounters with industry contacts in hallways, at receptions and during meals.
Below is a quick look at eight key themes prevalent throughout the event:
The robotic revolution is real. Home delivery and store pickup have gained acceptance among shoppers faster than anything veteran retailers say they have ever seen. In the rush to satisfy the shift in consumer behavior, retailers have added costs to an already low margin business, relied on third parties or attempted to execute with in-house labor.
Fulfillment anywhere. Automation and robotics at scale will be required to help retailers operate profitably, but autonomous deliveries hold great promise as well. However, the economics are challenging and there is work to be done to make unaided deliveries feasible.
The store experience reimagined. Physical retail will continue to dominate food retailing in the future, but the concept of store experience is being turned on its head. As stores become fulfillment centers, optimized for the picking of orders, whether for delivery or pick-up, they won't need to look like they do today, which is to say elaborate presentations the require extensive labor to create visual appeal.
The size of the prize is unclear. Some people call it the grocery industry and others call it food retailing. Either way, as market participants navigate new digital waters, estimates of the market size heard at Groceryshop ranged from $800 billion to $2 trillion.
Think like a startup. Instead of talking about being something they can never truly be, major CPG companies can be what they are ― organizations that have the resources, production capabilities, distribution channels and regulatory compliance infrastructure to out startup the startups.
What about Amazon. The most disruptive force in retail was noticeably absent from Groceryshop's otherwise comprehensive agenda. While this was a conspicuous omission, stranger still was that Amazon didn't dominate conversations the way it normally does.
Innovation lives abroad. Most U.S. retailers focus on the competitor down the street because in analog times retail was a local phenomenon. The Internet changed that decades ago and savvy competitors understand they need to look abroad to international markets such as China and the U.K., which are further along the digital adoption curve for a glimpse of what awaits the U.S. market.
Groceryshop was great. No event is perfect, but Groceryshop was close, especially when compared to other industry events that just don't measure up in terms of total attendee experience. There was some grumbling about speakers who didn't share intimate details, but that is a complaint at many events. Groceryshop's attendance of 2,200 people and different aspects of the event's structure strained the capacity of the Aria resort. That won't be a problem next year when the event follows in the footstep of Shoptalk and moves to the Venetian with attendance for the Sept. 15-18, 2019, event already forecast to exceed 3,000.
For a more detailed look at the eight key takeaways be sure to check out the full-length version of this article for sister publication Retail Leader.