Albertsons Acquires Meal Kit Service Plated
Get great content like this right in your inbox.
Subscribe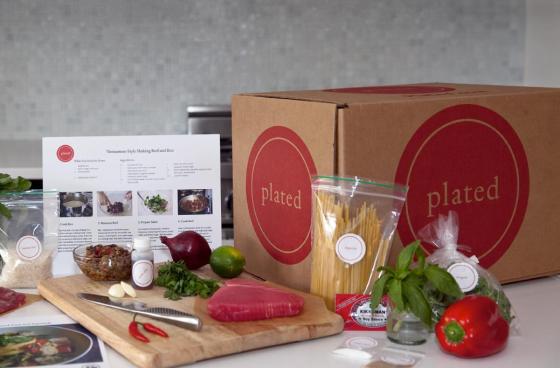 Grocery retailer Albertsons Companies has acquired the meal kit service Plated. Plated will operate as a wholly-owned subsidiary of Albertsons and will continue to operate as a distinct brand with its own leadership team led by Co-founder and CEO Josh Hix.
In teaming up with Plated, Albertsons Cos. adds a meal kit company with technology and data capabilities, a strategic step for the company as it continues to focus on innovation, personalization, and customization. Among the key projected outcomes of this deal is for Plated to become the first omnichannel meal kit offering with national scale.
Plated launched in 2012 with a mission to leverage data and technology to disrupt the traditional food supply chain and make it easy for people to cook meals at home. The Culinary Team is led by Le Cordon Bleu-trained chef Elana Karp, the company's Chief Culinary Officer and Culinary Co-founder.
"Today's consumer is looking for a variety of personalized shopping alternatives, and this transaction is the latest example of Albertsons Cos. meeting our customers wherever and however they like to shop," said Bob Miller, Chairman and CEO of Albertsons Companies. "With Plated, we've found a partner who shares our commitment to delicious, affordable food; superior technology and innovation; and world class customer service. Plated knows its customers better than anyone, and together we will accelerate our ability to serve them. We are excited to offer our customers more online options and fresh, quality ingredients along with distinctive recipes at their doorstep or through traditional shopping trips."
Plated will benefit from Albertsons Cos.' resources and national reach with over 2,300 stores to scale its business. Albertsons Cos. will enable Plated to expand beyond its existing subscription model by offering Plated meal kits at many store locations, across its digital channels, and through a variety of distribution options to make it easy to create meals at home. Plated's marketing and acquisition efforts will also benefit by gaining exposure to Albertsons Cos.' 35 million customers per week.
"Joining Albertsons Companies presents an amazing opportunity to accelerate our positive impact on the future of food in America by making fresh, delicious food more widely available," said Josh Hix, Co-founder and CEO of Plated. "We're excited to be partnering with them to shepherd our growth while preserving the unique strengths that define Plated today. There's tremendous upside for Plated's customers whose experience with our brand will only get better. As meal kits continue to gain traction in the marketplace, we believe the winning formula combines choice, flexibility, culinary expertise, and the ability for customers to buy across channels--all of which we are now singularly positioned to deliver in collaboration with Albertsons Cos."
The transaction is expected to close later this month pending customary approvals. The company will continue to be headquartered in New York City, with fulfillment centers across the country. Credit Suisse served as financial advisor to Albertsons Cos.