08/08/2018
Amazon and Whole Foods' Next Move: 30 Minute Grocery Pickup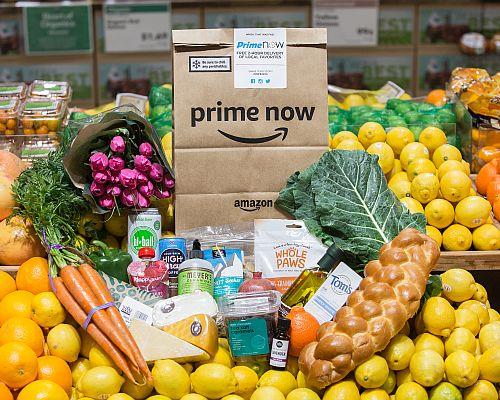 Checkmate Walmart. Amazon just introduced grocery pickup in 30 minutes.
Amazon Prime members can now pick up their Whole Foods Market groceries without leaving their car, and their orders will be ready in as little as 30 minutes. The service is starting in Sacramento and Virginia Beach, but Amazon says there are more cities to come throughout 2018.
"Pickup from Whole Foods Market is a perfect option for customers who want to grab healthy and organic groceries at their convenience, all without leaving their car," said Stephenie Landry, worldwide VP of Prime Now, AmazonFresh and Amazon Restaurants. "A customer can order at 5:00 p.m., pick up at 5:30 p.m., and we'll have their groceries loaded into their car just minutes after arrival. For an even faster experience, customers can tell us they are on their way using the Prime Now app and groceries will be ready as they arrive."
While the competition for Walmart is clear, Amazon will have to move quickly to catch up. Walmart is on track to expand its online grocery pickup to reach 2,100 locations by the end of 2018, up from around 1,400 locations around the U.S. currently. The retailer aims to scale grocery delivery to reach about 40% of the U.S. population by the end of the year.
Target is also rapidly rolling out its Drive Up service across the country, adding it to more than 250 stores in Q1 2018. Target plans to expand the service into 300 more stores in its second quarter.
Amazon Prime members can access the new service by placing their order via the Prime Now app and choosing the pickup option at checkout. Customers can choose free pickup in as little as an hour on orders of $35, or in 30 minutes for $4.99. After arriving at the Whole Foods Market store, customers park in a reserved pickup spot and a Prime Now shopper will place groceries into their car within minutes. For customers who tell Whole Foods they are on their way in the Prime Now app, groceries will be ready as they arrive.
"The company's latest initiative, grocery pickup in 30 minutes or less from Whole Foods, is taking on Walmart," states Sylvain Perrier, president and CEO of Mercatus. "Not only at Amazon and Whole Foods, but among grocery retailers in general, there's a great deal of experimentation going on to see what sticks with consumers. What's becoming clear is there's no one path to retaining customer loyalty. To compete today, grocers need to offer a selection of services and fulfillment options that cater to a variety of shopper preferences."
Whole Foods Market shoppers can also use Alexa for pickup via Prime Now. When ready to check out, they just need to say, "Alexa, checkout my Whole Foods cart." 
"Compared to other moves from Amazon, in this case Amazon is throwing its hat in the ring of an already existing offering from several other grocers including Tom Thumb, Kroger and H-E-B to name a few," says Jennifer Sherman, SVP of Product & Strategy, Kibo. "However, in true Amazon fashion, it is offering consumers the promise to pick up their orders in a record 30 minutes or less, as well as utilize Alexa to place orders for pickup at select Whole Foods, giving Amazon an additional layer of differentiation. It will be interesting to see if this move from Amazon will draw customers away from other grocers that have already had this offering in place for a longer period of time."