Amazon to Expand New Pegasus Robot to More Sorting Centers
Get great content like this right in your inbox.
Subscribe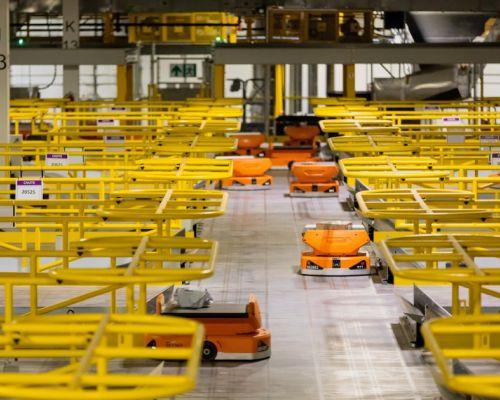 Amazon's 2-foot-tall orange robot, dubbed Pegasus, is already helping workers move packages at a sortation center in Denver, CO.
The two-foot-high, three-foot-wide Pegasus is designed to create greater efficiency in its sortation process and is described in a corporate blog post by Meg Coyle as resembling "an orange nightstand on wheels."
Pegasus' deployment started at Amazon's Denver sortation facility in October 2018 and Amazon plans to continue rolling out the program in other U.S. sortation centers in 2019.
"After months of hard work and testing, it is exciting to see this robotic solution come to life," said Steve Campbell, director of Amazon robotics product strategy, in the post. "The robotic system will increase the building capacity, and as it scales we will need to hire more people to help sustain the increased productivity levels. This is the chain reaction of job growth we strive for when designing robotic systems."
Each drive is topped with a conveyor belt. It rolls up to a station where an associate on the other side of a barrier fence scans a package, places it on the robot, and off it goes – navigating a "robot highway" inside the Denver sortation center. On-board cameras sense any surprise obstacles as the unit follows its programmed journey to an eject station. The conveyor moves the package off the unit and down the chute where it's then readied for delivery. The robot completes its entire journey in roughly two minutes.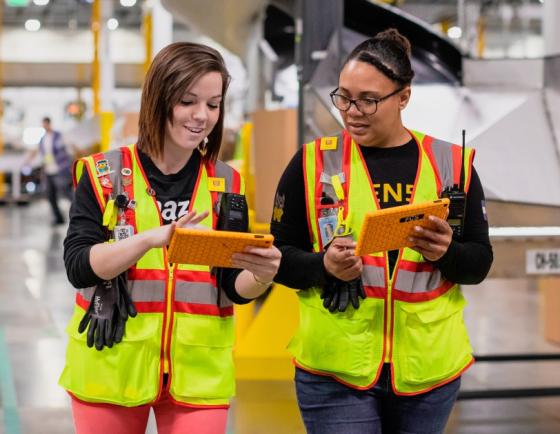 Amazon associates rely on software to guide the company's newest robotic drive units, which help get packages to customers more quickly. Teams monitor real-time robot traffic flow maps on Kindles, so they can quickly address any issues with facility managers, and adjust the sortation center's inbound and outbound package volume as it fluctuates with customer demand.
The flow control specialists received on-the-job training from Amazon Robotics engineers to learn how the Pegasus drives work, how they're programmed, and the way they read the robotics floor. According to Amazon, Pegasus deployment will spur more hiring of warehouse associates to keep up with increased fulfillment capacity.