Amazon Makes Voice Ordering Beer From Alexa A Reality
Get great content like this right in your inbox.
Subscribe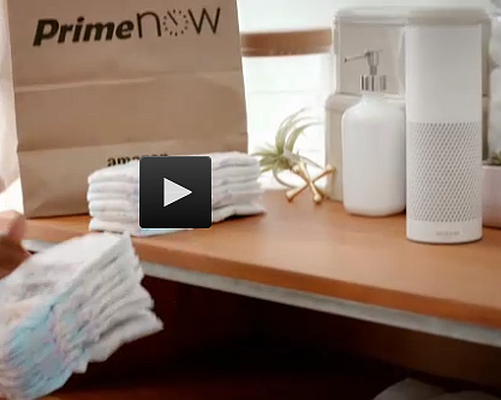 Alcohol arriving at your door in two hours, just by asking for it? Amazon just made it possible, along with tens of thousands of other essential items.
 
Amazon has launched Alexa voice shopping through Prime Now. Daily essentials are available for free two-hour delivery by simply asking Alexa to order from Prime Now. Alexa can order multiple items at once, make recommendations and will automatically choose the next available 2-hour delivery window.
 
Alexa makes it easy for shoppers get what they need right away through Prime Now without taking out a phone or logging into a computer. Just say, "Alexa, order Nyquil from Prime Now" and add tissues and chicken noodle soup. The customer skips a trip to the store and the items arrive within the next available two-hour delivery window.

Customers can add as many items as they want and Alexa can offer suggestions based on the other items in their current order. Once the minimum order amount is reached, Alexa will automatically choose the next available 2-hour delivery slot. Alexa voice shopping through Prime Now is available in more than 30 Prime Now eligible cities. To shop with Alexa through Prime Now, customers must be Prime members with a default payment and shipping address.

Additionally, customers in select cities can use Alexa to voice order cold beer, wine and spirits from Prime Now with free two-hour delivery. Customers must be 21 or older to Alexa voice shop for alcohol through Prime Now, and show their I.D. upon delivery. Currently all alcohol delivery is available in Seattle, Washington and beer and wine are available in Columbus and Cincinnati, Ohio.
 
"Bringing Prime Now to Alexa voice shopping combines two of the most innovative shopping technologies available for an experience that our customers are going to wonder how they ever lived without," said Assaf Ronen, Vice President of Voice Shopping. "We're excited to offer the full Prime Now catalogue with Alexa, including tens of thousands of items, which allows you to refill everyday essentials you've just run out of like diapers or dish soap, or cater to unexpected guests with merlot and ice cream, all without ever leaving your house or even getting up from the couch."

Tens of thousands of daily essentials are now available to order with Alexa through Prime Now via the Amazon Echo, Echo Dot, Amazon Tap, Fire Tablet, and Fire TV.