Amazon Vs. Walmart: Who Wins in the Battle of the Behemoths?
Get great content like this right in your inbox.
Subscribe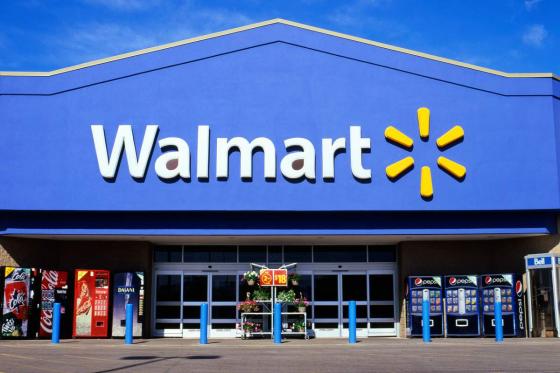 Editor's note: Get the 2020 update here.
Amazon versus Walmart, the battle of the behemoths, may often leave smaller retailers feeling like they're scrambling for crumbs from these two retail giants. Walmart dominates brick-and-mortar, while Amazon dominates e-commerce, both on the forefront of one side of retail.
Walmart operates 5,295 retail stores in the U.S. as of April and 11,718 stores worldwide, and is still the world's largest retailer. Walmart's sales increases have been in the 25% range. In 2017, Walmart  recorded sales worth $485 billion and earned a profit of $13 billion. Amazon recorded revenues at $178 billion with profits of $3 billion, according to Forbes.
But Amazon and Walmart are also battling to be the first company to hit a trillion dollar valuation. Amazon.com's stock market value reached $900 billion for the first time this month, post its Prime Day event. Walmart has an enterprise value of $288.1 billion. Of course, Apple shares have risen 12% in 2018, bringing its stock market value to $935 billion, putting it ahead of both.
Meanwhile, Amazon's logistic costs are growing. In 2017, Amazon's shipping costs were 12% of Amazon's net sales, while fulfillment costs were 14% of net sales, according to Statista.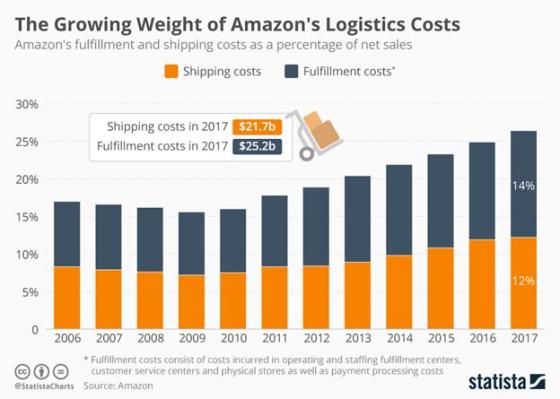 For 2017, Amazon's international e-commerce operating losses eclipsed the company's North American operating profit, while Amazon Web Services (AWS) had 2017 operating income of $4.33 billion on sales of $17.46 billion, according to ZDNet. On an annual basis all of Amazon's operating income derives from AWS.
Simply put, in the battle between Walmart and Amazon, Walmart is closer to being a trillion dollar company if measured by revenue and Amazon is closer if measured by valuation.
In the broader retail landscape, retailers are catching up with Walmart. Now they've turned their focus to trying to catch up with Amazon.
Amazon pioneered e-commerce. Walmart's challenge has been to take its stores and supply chain culture and compete with Amazon. Walmart's acquisition of Jet.com was a turning point for the traditionally brick-and-mortar company. Likewise, Amazon's acquisition of Whole Foods Market thrust it quickly into the brick-and-mortar space.
"Walmart destroyed traditional retailing over its rise and Amazon's destroying its traditional retailing over its rise," Jan Kniffen, CEO of J. Kniffen Worldwide Enterprises CEO, told CNBC. "When Walmart was 20 years old in 1982 they were 3% of sales and they got 50 cents out of every new dollar of sales. Amazon is 20 years old, it gets 3% of sales and it's getting 35 cents out of every new dollar of sales."
As the two march forward, one thing is clear. Walmart isn't backing down and continues to try to carve out its place high up in the new era of e-commerce retailing. This month Walmart revealed that it's entered a five-year deal with Microsoft, which will allow Walmart to use the full range of Microsoft's cloud solutions, such as Azure and 365. The agreement will also bring the two companies together for new projects in machine learning, artificial, intelligence, and data platforms furthering its ability to optimize the store experience.
"Whether it's combined with our agile cloud platform or leveraging machine learning and artificial intelligence to work smarter, we believe Microsoft will be a strong partner in driving our ability to innovate even further and faster," said Doug McMillon, Walmart CEO.
Microsoft CEO Satya Nadella boldly told The Wall Street Journal that both companies' rivalry with Amazon "is absolutely core to this," adding, "How do we get more leverage as two organizations that have depth and breadth and investment to be able to outrun our respective competition?"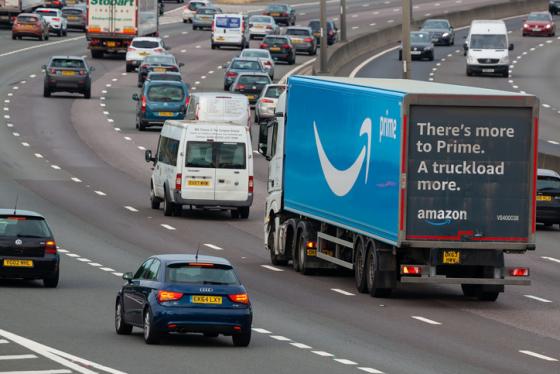 As Walmart seeks to integrate its digital and physical commerce, the move is a big step in the company evolving for the changing consumer.
So how do Amazon and Walmart stack up today? Below we highlight five areas of retail technology and examine how they compare in: Loyalty Programs, Acquisitions, Click and Collect, Grocery Shopping, and Voice Shopping. Then we give readers the chance to weigh in to determine who wins in the "Battle of the Behemoths." 
Loyalty Programs
Amazon
Amazon CEO Jeff Bezos disclosed for the first time this year that its Prime membership program now exceeds 100 million paid members worldwide. It has been 13 years since Amazon launched Prime and Bezos said in 2017 Amazon added more Prime members than any prior year and shipped more than five billion items through the service worldwide (Prime members receive unlimited free two-day shipping on over 100 million different items). Additionally this year, Whole Foods Market shut down its rewards program and now Prime members nationwide get an additional 10% off sale items at Whole Foods Market, plus ongoing weekly deep discounts on select best-selling items.
Walmart
While Walmart does have some reward mechanisms in place with their credit card partners it doesn't offer a loyalty rewards program in the traditional sense. Perhaps the closest comparison to Amazon Prime the retailer has is it Sam's Club memberships (and 600 stores), which cost $45-$100 per year and offer shoppers free shipping with no minimum (on the pricier club option).
However, Walmart is "considering launching" a subscription streaming video service to compete with Amazon Prime Video and Netflix, according to recent reports. The mega retailer is considering a service priced below $8 per month, reportedly, while Amazon charges $8.99 a month for its Prime Video service (which is included in Amazon Prime membership at $12.99 per month). One way Walmart could compete with Amazon in the future would be to eventually wrap such memberships together in the same such way that Amazon offers a stack of benefits to its Prime members.
Acquisitions
Amazon
This biggest Amazon news of last year was Amazon's purchase of grocer Whole Foods for $13.7 billion and its leap into brick and mortar grocery. More recently, Amazon made waves with the news of its $1 billion acquisition of PillPack, a pharmacy which delivers medications in pre-sorted dose packaging, coordinates refills and renewals, and makes sure shipments are sent on time.
"PillPack's visionary team has a combination of deep pharmacy experience and a focus on technology," said Jeff Wilke, Amazon CEO Worldwide Consumer.
PillPack possesses pharmacy licenses in all 50 states, which may be a motivating factor for the purchase. The purchase also gives Amazon data into shopper's prescriptions.
Other Amazon acquisitions include shoe and apparel retailer Zappos, audiobooks leader Audible, and smart doorbell maker Ring, among many others.
Walmart
Walmart may be gearing up to make its own healthcare acquisition. This month Walmart tapped Humana's former vice president of innovation Sean Slovenski to run its healthcare and wellness unit, according to Bloomberg. The move comes after The Wall Street Journal reported the health insurer and Walmart were in preliminary talks to develop a closer partnership.
However its latest acquisition to hit the news is Walmart's pending $15 billion deal to buy Indian e-commerce company Flipkart, beating out Amazon's bid.
The list of Walmart acquisitions that have taken place already is a long one, including Jet.com, Bonobos, and Parcel. Where Jet.com is a discount player rewarding customers with bigger savings as their purchases increase, Bonobos is a premium-priced retailer offering upscale men's fashion. Combined with women's fashion retailer ModCloth, an acquisition made through Jet.com, the moves are a step into a premium segment outside of Walmart's traditional market. Walmart has also purchased Zappos competitor Shoebuy.com and Moosejaw, a mostly e-commerce retailer of outdoor gear and activewear. Walmart bought Brooklyn-based delivery company Parcel in 2017, a same-day and last-mile delivery company that specializes in perishable and non-perishable delivery to customers in New York City.
Click and Collect
Walmart
Walmart items displaying "Free Pickup Today" on its website are available within four hours. Walmart also offers a pickup discount on certain items and is adding 500 Pickup Towers to stores across the country, to bring the total to more than 700 by the end of 2018. The high-tech order vending machines have fulfilled more than half a million orders since first introduced. And all new Pickup Towers are getting an upgrade—they'll be enhanced with Pickup Lockers for large items after Walmart discovered shoppers want to buy online and pickup bigger items, such as televisions.
Amazon
Amazon also offers same day pickup. Items that are eligible for free same-day pickup have a "Pick it up TODAY" message below the price on Amazon.com. Amazon pickup locations are staffed locations offering in-person assistance and self-service kiosks. In addition, Amazon lockers are growing in numbers too, expanding into Whole Foods Market stores and boosting the chance shoppers will also purchase groceries, while retrieving packages. Hub by Amazon, a delivery solution for apartments, is also available for installation nationwide now. Over 500,000 residents already have access to the Hub, which works for deliveries from any sender, not just Amazon.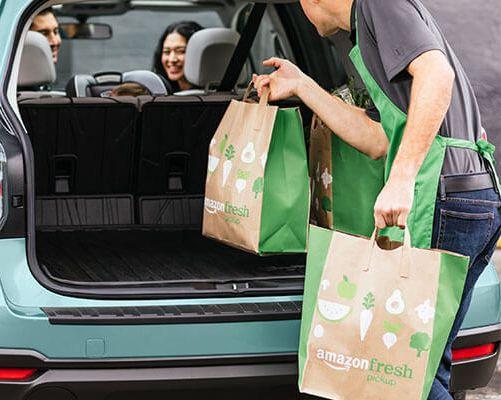 Grocery Shopping
Walmart
Walmart now boasts more than 1,400 stores with online grocery pickup. The free service enables customers to order groceries online and grab them curbside at Walmart stores without leaving their cars. Shoppers can order though a website or mobile app, select a time to pickup their orders, park in one of the specified online grocery pickup parking spaces, and enter a designated number to call to alert an associate. Orders are retrieved and delivered to the car within minutes.
Walmart also plans to expand online grocery delivery to more than 40% of US households by the end of the year. The service will grow to serve more than 100 metro areas and Walmart will use more than 800 stores to fulfill orders. Groceries can be delivered as fast as same day and customers place their orders online at Walmart.com/grocery or in the Walmart Grocery App. The service is $9.95 and must be for a $30 minimum order.
Packaged Facts estimates that 59% of grocery shoppers have purchased groceries from Walmart in the last three months, with 58% purchasing in-store and 5% purchasing online. Comparatively, about 9% of grocery shoppers have purchased groceries online from Amazon.
Progressive Grocer reports that the world's biggest retailer is also its biggest grocer, raking in nearly $160 billion in grocery sales annually. Walmart's share of the food and beverage market in the U.S. is 17.3%, according to Statista.
Amazon
Amazon's share of the online grocery market stands at 18% in the U.S., according to a One Click Retail, with an estimated $2 billion in food and beverage sales. According to the report, weekly sales of Amazon Fresh more than doubled over the course of last year, climbing from approximately $3 million in January to over $7 million by the end of 2017 to reach an estimated $350 million in total sales.
"The biggest growth driver of late 2017, which will inevitably have a major influence on sales well into 2018 and beyond, is Amazon's acquisition of Whole Foods," said Spencer Millerberg, CEO at One Click Retail. "The impact has been felt primarily, but not exclusively, in the US."
AmazonFresh is a grocery delivery and pickup service available exclusively to Prime members in select cities. Prime members can get the benefits of AmazonFresh for an additional monthly membership fee of $14.99.
Amazon and Whole Foods Market have also launched delivery of products from Whole Foods Market through Prime Now in 19 cities, with more to come in 2018. In June the service expanded to Chicago, Houston, Indianapolis, Minneapolis and San Antonio. The service launched earlier this year allowing for customers to shop from Whole Foods Market's selection at www.primenow.com or by using the Prime Now app. Prime members can shop thousands of items for delivery in as little as an hour, daily from 8 a.m. to 10 p.m. Prime members can get the super speedy delivery service at no additional cost to them.
"If you live in a major American metropolis, the question isn't if, but when Amazon's Whole Foods delivery will be within your reach," Food & Wine writes. "Despite the piecemeal process Amazon is using to expand its integration with Whole Foods, it won't be long before the two brands are working in tandem throughout the entire country."
Voice Shopping
Walmart
In September, Walmart integrated with Google to make items available for voice shopping via the Google assistant. With a Google Home smart speaker shoppers can link their Walmart accounts to Google Express. Express is a shopping service that lets customers shop Walmart via the web, the app-and their voice. Google facilitates the shopping, ordering, and payment process, and Walmart fulfills the order. Over 2 million items are available currently and customers can still use Walmart's free two-day shipping with the voice shopping capability.
Walmart has also integrated its Easy Reorder feature into Google Express to provide personalized voice shopping recommendations. Express will pull shoppers' order histories from Walmart.com, and the Assistant will suggest previously purchased items while they shop. Express will also pull shopping history from brick-and-mortar Walmart stores if a shopper uses the same credit card in the store and onWalmart.com and Google Express.
It's been reported Walmart will soon add the option to pick up an order in store or use voice shopping to purchase fresh groceries across the country.
Amazon
Amazon is already well underway in its strategy to penetrate households with devices such as Echo, which allow users to communicate with its Alexa voice assistant and perform tasks such as shopping through speech. According to data from OC&C Strategy Consultants, three tech behemoths lead the virtual assistant artificial intelligence space in the US and Amazon is in the lead. Amazon's Echo has 10% penetration of U.S. homes; Google's Home has 4%, while Microsoft's Cortana trails behind at 2%.
Amazon Prime members can ask Alexa to order millions of Prime-eligible items. Alexa will also find items shoppers have purchased before for reorders. If a shopper hasn't bought the item they are asking Alexa for before, Alexa may recommend Amazon's Choice products, highly-rated, well-priced products with Prime shipping. According to the data, products that attain Amazon "Choice" status typically realize a sales boost of more than three times. Losing Amazon "Choice" status typically leads to a 30% reduction in sales. Choice products change frequently (4-5% daily) due to stock or delivery speed issues. Still, Amazon has a firm hold over consumers' buying decisions, with 85% of consumers selecting the products Amazon suggests.