Amazon, Whole Foods and Best Buy—The Latest
Get great content like this right in your inbox.
Subscribe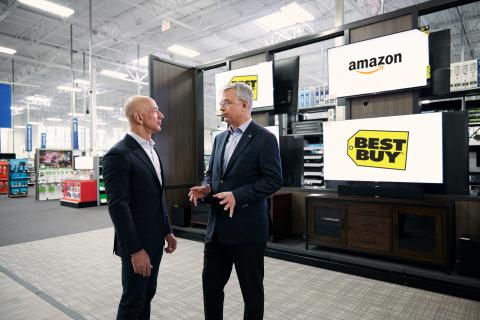 Amazon CEO Jeff Bezos disclosed for the first time that its Prime loyalty program now exceeds 100 million paid members worldwide, in his latest annual shareholder letter. It has been 13 years since Amazon launched Prime and Bezos said in 2017 Amazon added more Prime members than any prior year and shipped more than five billion items through the service worldwide (Prime members can receive unlimited free two-day shipping on over 100 million different items). 
On top of the news of the surprise disclosure,  Whole Foods Market announced it's shutting down its rewards program. Bezos noted in the letter that Amazon has started "the technical work needed to recognize Prime members at the point of sale" and looks forward to "offering more Prime benefits to Whole Foods shoppers once that work is completed." Whole Foods previously announced that "after certain technical integration work is complete, Amazon Prime will become Whole Foods Market's customer rewards program, providing Prime members with special savings and other in-store benefits."
Now the grocer notes on its website that May 2 it will end the grocer's Rewards Pilot Program, Digital Coupons within the mobile app and website, and any in-store loyalty programs such as Whole Body Benefits. The company will only honor earned rewards until May 1 and unused rewards will not roll into any future programs.
What that future program will be remains to be seen. In February, Amazon  introduced free two-hour delivery on Whole Foods orders over $35 for Prime members in select cities, adding additional cities in March and April. The company plans to expand the offering across the U.S. throughout this year. 
In addition to Whole Foods teasing its upcoming switch to Amazon Prime as the grocer's loyalty program, writing "something great is cooking with Amazon," on the announcement page, Bezos noted in the letter there are now more than 30,000 skills for Amazon's Alexa from outside developers and shoppers can control more than 4,000 smart home devices with Alexa. 
"2017 was our best year yet for hardware sales," said Bezos.
Amazon shoppers bought "tens of millions" Echo devices, and Fire TV Stick with Alexa and Echo Dot were the best-selling products across all of Amazon – across all categories and all manufacturers. Customers bought twice as many Fire TV Sticks this holiday season versus last year.
On the heels of this reveal, Best Buy and Amazon announced a collaboration to bring the next generation of Fire TV Edition smart TVs to customers in the United States and Canada, exclusively through Best Buy stores, on BestBuy.com, and, for the first time, on Amazon.com from Best Buy as a third-party seller. Best Buy will launch more than ten 4K and HD Fire TV Edition models from Insignia and Toshiba, beginning this summer. U.S. shoppers will be able to buy the first Fire TV Edition smart TVs from Toshiba this summer, with additional models to be released in 2018. They will be available for purchase in Canada later this year. 
The newly designed smart TVs come with the Fire TV experience built-in, combining live over-the-air TV and streaming content into one location. After connecting any HD antenna, operators can use Alexa to search for and watch broadcast TV or streaming TV episodes and movies. Fire TV Edition includes a Voice Remote with Alexa, to launch apps, search for TV shows, play music, switch inputs, control smart home devices, and more. It can be paired with any Echo device allowing for voice to control the TV, hands-free with Alexa.