06/19/2017
Amazon's Latest Target: Apparel Brick and Mortars
Amazon's desire to change the retail industry appears to be insatiable. Fresh on the heels of news the retail giant bought Whole Foods and is going after grocery in a big way, Amazon has added yet another target: apparel brick and mortars.  
Amazon.comannounced it has begun testing Prime Wardrobe, a service that lets customers try on clothes before they buy them and return them for free.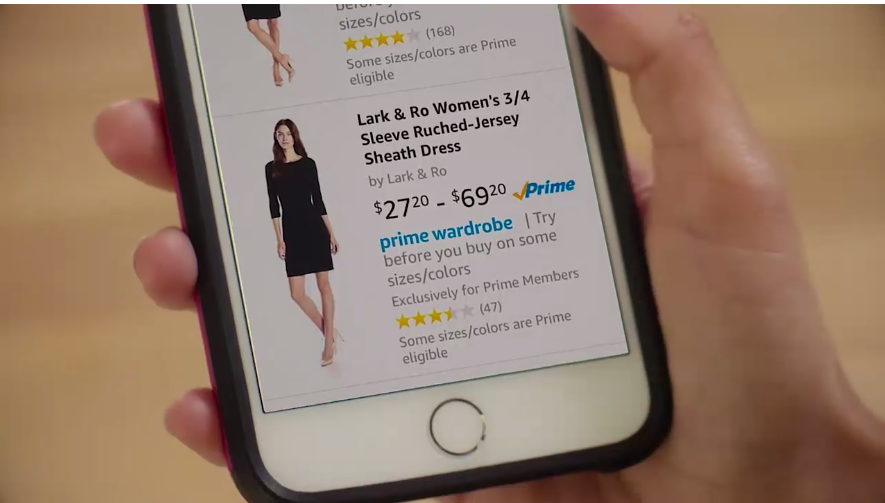 Here's how it works. Shoppers pick three or more items across clothes, shoes and accessories. The package arrives and they have seven days to try items on and decide what to keep, and what to return. Prime Wardrobe shipments come in a resealable box with an included pre-paid label. Shoppers can drop off the items they don't want at UPS or schedule a free pick up.
Amazon's Prime Wardrobe will be available to Prime members at no extra charge and members pay only for what they keep. However, the more they keep, the more discount shoppers receive. If they keep three items they get 10% off, if they keep five items they get 20% off.
The program is currently in beta, but poses a threat to not only fashion brick and mortars, but similar programs like Trunk Club and  Stitch Fix, which just hired Paul Yee as CFO.
The company may be trying to drum up more business for Amazon's private label fashion. It has also been targeting busy moms with apparel partnerships such as Simple Joys of Carter's designed exclusively for Amazon.
Or it may have something else in store. 
By incorporating the Echo Look, an opportunity exists for Amazon to create a first-of-its-kind multichannel shopping experience. Amazon introduced Echo Look in its first quarter, a device that combines Alexa with a hands-free camera and built-in style assistant. Users can ask Echo Look to take a photo or short video so they can see their outfit from any angle, share a look with friends, or get a second opinion on what to wear using Style Check, which combines machine learning algorithms with advice from fashion specialists.
"If both the Echo Look and Amazon Wardrobe can work together, users will be able to try their clothing before making the purchase, and have their own personal stylist telling them what does and doesn't work," notes Michael Levine, VP of Marketing Photon. "Amazon could be providing their subscribers with an immersive 'in-store experience' from their own homes. This added touch could fill the gap often experienced with this try-on at home business model from companies like Trunk Club and Stitch Fix."
Let's face it, trying on clothes before buying is one of the most physical actions left for Amazon to compete with. Finding the right size and checking out how it looks on are activities that make good use of physical stores. Ordering the wrong sizes or finding out the actual color doesn't match up with the computer screen, and then going through the hassle to return those items may be holding shoppers back from the e-commerce apparel world.
"The retail landscape has already been transformed by concierge services and by entering the concierge space, Amazon is further validating the demand," says Adrien Nussenbaum, U.S. CEO and co-founder,Mirakl. "It may even put the nail in the coffin for conventional retailers who don't offer significant product differentiation and can't keep up with Amazon's pace of innovation and ability to best serve customer demands. Combining the concierge experience with a seamless way to repurchase the same or similar products will be a successful endeavor for Amazon."
Taking the stress out of returns may be a good tactic to convince shoppers still traipsing into stores to pull the trigger and order clothing online. Offering a discount to buy more adds another angle to incentivize purchases.  Whether keeping or returning, Amazon touts that over a million items will be available for Prime Wardrobe. Members can sign up to be notified when it launches.