Amazon's Prime Program Breeds Intense Loyalty
Get great content like this right in your inbox.
Subscribe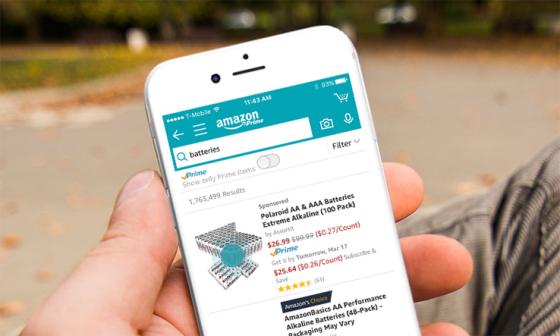 As retailers battle to find the perfect recipe for loyalty, it seems Amazon's Prime members are super users of the e-commerce behemoth.  At least once a week, 85% of Prime members browse for products on Amazon.com, and nearly half (45%) make a purchase once a week, according to "Getting to Know Your Customers: Amazon User Study," a report from Feedvisor. These numbers have increased significantly since last year, when 75% of Prime members shopped the site and 30% made a purchase weekly.  Prime members are also more than twice as likely to shop online daily than regular Amazon consumers (15% vs. 6%).

To better understand how consumers interact with the platform, Feedvisor, an algorithmic and machine learning solution for marketplace sellers, surveyed more than 1,500 Amazon shoppers.
The survey also reveals that Amazon Prime members shop on mobile more than non-Prime members, and are much more likely to use Amazon's mobile app than non-Prime members. Half of Prime members shop using mobile, of which nearly a quarter use Amazon's mobile app, compared to just 14% of non-Prime members.
Looking at all Amazon shoppers, the report reveals that before deciding to purchase, the majority of shoppers (60%) scroll past the first page of search results and nearly all shoppers (97%) "sometimes" or "always" read the full product description.
"The survey results underscore the importance of having superior product descriptions," says the report. "Sellers should make sure that all details are accurate, include product dimensions and sizing charts when relevant, and provide high quality images with multiple views, so people know what they are buying."
There's also no question form this study that ratings and reviews matter. Almost 90% of Amazon customers indicated that they would not consider purchasing a product with less than 3 stars. Seller ratings matter as well: nearly eight in 10 say they "often" check the ratings of third-party sellers before deciding to purchase.
"For these reasons, sellers should make great efforts to encourage positive feedback and build a stellar reputation, especially as 57% consumers always consider the seller's name before making a purchase," advises the report. "To accomplish this, sellers should provide superior service and keep customers happy by promptly responding to any issues that might come up."
Other interesting findings from the report include:
 
Amazon is the first place most consumers go for product research: 

Three-fourths of shoppers often or always check Amazon prices before purchasing a product from another brand or retailer site. Only 2% of respondents say they never find Amazon helpful.

Mobile shopping continues to rise in popularity: 

While desktops remain the most popular method for shopping online (51%), mobile is rapidly gaining ground. Forty-seven percent of customers shop using mobile devices, up from 41% last year.

Consumers will pay more for faster shipping:

 43% of consumers would pay $10 or more for delivery within the hour. 32% would pay $10 or more for sale-day shipping, and 20% would pay $10 or more for next-day shipping.

Amazon's Whole Foods acquisition is starting to pay off:

 22% of Amazon users report they are now more likely to purchase their groceries on Amazon because of the Whole Foods acquisition, and another 37% will now consider it.