Amazon's Shoe Sales Are Trampling Brick-and-Mortar Competition
Get great content like this right in your inbox.
Subscribe
One Click Retail's latest report finds that footwear sales on Amazon.com are walloping the competition. 
Last Tuesday, Amazon launched The Fix, a new private fashion brand specializing in shoes and handbags, according to One Click Retail's Nathan Rigby. Combined with the rollout of the Prime Wardrobe service which allows Prime members to try on shoes, clothing and accessories for free, this is a clear indication that Amazon is positioning itself as a major player in the footwear industry at a time when brick-and-mortar stores are struggling to retain customers, with even the major chain Payless filing for bankruptcy.
Though some chains are barely staying afloat, most shoe stores in the US are doing okay. A 5% YoY growth rate for shoe-specific stores is actually a little bit higher than the domestic growth rates for most other retail sectors. As usual, however, brick-and-mortar can't keep up with Amazon, which saw shoe sales grow by 35% percent YoY in 2016. Even before launching The Fix and bringing Nike on board as a first-party seller, 2017 is already shaping up to being a strong year for shoes on Amazon, with a growth of 18% YoY during the first two quarters: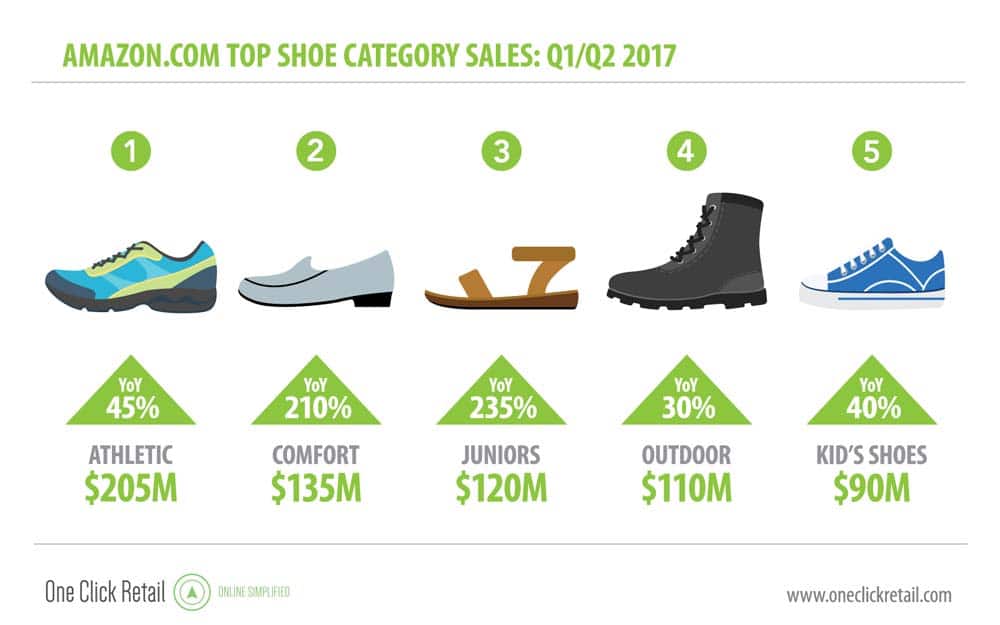 For full details, access the complete report here.