01/21/2019
bebe Launches New Online Store and Loyalty Program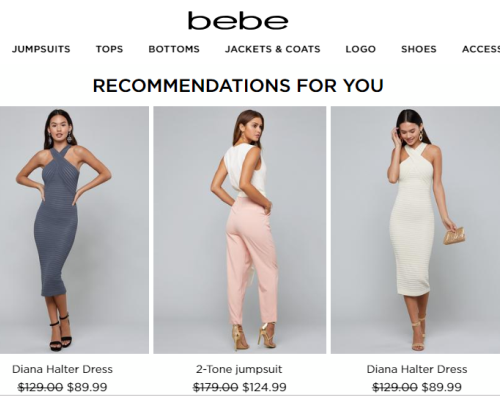 Apparel company bebe has unveiled its new online store and enhanced loyalty program. The revamped direct-to-consumer bebe.com and its underlying technology enable a frictionless and personalized shopping experience.
The rollout of bebe's new online shopping experience is the latest move in its evolving e-commerce strategy, focused on streamlining business operations and driving direct-to-consumer sales. In addition to providing the technology backbone and design for the retailer's store, Branded Online is providing full-service support including creative and marketing as well as development, logistics and fulfillment.
"The experienced team at Branded Online, combined with their established relationships at every point of the procure-to-stock process, enable us to innovate fast and meet customers wherever they are," said Joey Gabbay, CEO of Bluestar Alliance  consumer brands including bebe. "In fewer than 60 days we were able to complete the custom integration with our legacy systems and launch the newly developed online shopping destination, featuring a completely transformed customer experience."
The revamped bebe.com focuses on personalization and discovery, featuring imagery and content designed to inspire, entertain and educate the shopper. Its mobile-responsive design, intuitive user interface and underlying analytics platform make it easy for customers to uncover new products, get recommendations and access deals based on their interests and then to purchase from any device. As part of the new experience, the specialty retailer updated its loyalty program, clubbebe, designed to enhance the brand's relationship with existing customers, while giving new shoppers more reasons to engage.
Soon the online store will roll out additional product categories and accessibility in multiple languages.