06/13/2018
Can Tech Retailer b8ta Help Macy's with its Struggling Store Experience?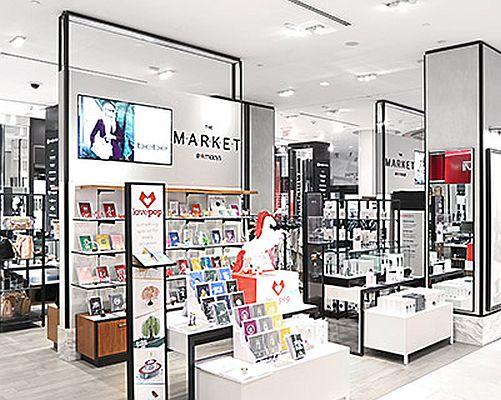 Macy's has been trying to turn around its retail business, and its efforts may be paying off. The department store chain reported its strongest quarterly results in years in its first quarter 2018 and comparable sales were up 4.2%. Now Macy's has acquired a minority equity stake in technology retailer b8ta to help it along with its in-store customer experience.
Macy's will leverage b8ta's software platform to scale The Market @ Macy's, becoming strategic partners in this 'retail-as-a-service' model. The Market @ Macy's is the retailer's experiential retail concept launched in February 2018. The pop-up concept is currently in 10 Macy's locations and aims to help emerging and established brands reach new audiences. Each shop brings customers a rotating selection of unique offerings in apparel, accessories, beauty, entertainment, experiences, decorative home, stationary, technology, and gifts.
"Macy's is in the experience business," said Hal Lawton, president of Macy's. "We're always looking for new formats that allow our customers to discover and connect with our products and services in-store in a way that drives engagement with our brand. We're pleased to deepen our partnership with b8ta that will provide the technology engine for The Market @ Macy's. This will allow us to scale The Market @ Macy's concept faster, furthering our goal of bringing more excitement and fresh experiences into our stores."
b8ta will customize its technology platform for Macy's, providing brands a more automated experience when signing up to participate in The Market @ Macy's. The customized software platform will serve as the driver for managing the rotating brands and experiences and scaling The Market @ Macy's concept to new locations. In addition, b8ta's ability to attract new products in the home and consumer electronics space will provide an opportunity for bringing new product categories to select Macy's stores.
Over the next year, The Market @ Macy's will test new size format spaces powered by b8ta's technology and will expand the size of some of the existing pilot locations. Plans for future growth of the concept powered by b8ta are underway.
"At b8ta, we believe physical retail will thrive as a platform for discovering new products and brands," said Vibhu Norby, CEO of b8ta. "Macy's was the best partner for b8ta to scale our pioneering retail-as-a-service model to a breadth of categories like apparel, beauty, home, and more. With b8ta's software platform and business model, product makers can go from solely selling online to launching their products with Macy's in a few clicks. Our platform makes it easy for makers to deploy, manage, analyze, and scale amazing offline retail experiences."
The partnership with b8ta and Macy's recent acquisition of STORY, are both examples of Macy's current strategy to evolve its stores with more experience-based concepts in hopes of driving customer engagement across its store base.