Carter's Says It's On Track for Record Sales Year, Despite a Challenging Retail Market
Get great content like this right in your inbox.
Subscribe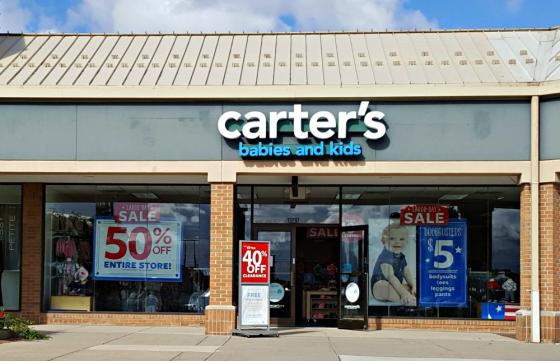 Children's retailer Carter's achieved its third quarter 2017 sales and earnings objectives, despite the impact of hurricanes in Texas, Florida, and Puerto Rico CEO Michael Casey said.
"Our growth was led by our U.S. retail and international businesses, including the contribution of our Skip Hop brand which we acquired earlier this year," he said.
"Despite the challenging retail market, we believe we are on track to achieve a record level of sales and profitability this year, which would be our 29th consecutive year of sales growth," he said.
E-commerce continues to be Carter's fastest-growing, highest-margin business.
In the third quarter 2017, Carter's U.S. retail sales increased 7.2%. U.S. comparable sales increased 1.7%, comprised of comparable e-commerce growth of 22.5%, partially offset by a comparable stores sales decline of 4.3%.
International e-commerce grew 42% in the quarter, driven by a 61% comp in Canada and a 23% comp in China. Casey noted the company's Canada e-commerce business is growing significantly faster than it had envisioned.
"With the investments we've made in e-commerce capabilities, we believe we are well positioned to benefit from the secular shift to online shopping," said Casey.
The retailer's total e-commerce-related sales this year, including wholesale, are projected up about 30% to 19% of total sales.
Carter's is finding more than 70% of its website traffic is coming through mobile devices. Mobile phone demand grew over 45% in the third quarter.
To meet this demand, Carter's is launching a mobile app prior to the holidays this year.
"We believe this app will improve the speed and convenience of shopping with us online," said Casey.
Among the benefits, the app enables in-store barcode scanning for product reviews, linkage to Carter's Rewarding Moments loyalty program, and push notifications for new offers.
Carter's has also launched new technology in stores this year, giving shoppers the option of shopping the full scope of product offerings online. If a store is temporarily out of a product, employees are now able to save that sale and ship the product to the shopper's home for free.
In the third quarter, about 15% of online orders were picked up in stores and 30% of those customers made additional purchases during their visits.
Carter's plans to open 200 new co-branded stores over the next four years. Co-branded stores sell both Carter's and OshKosh B'Gosh brands.
"On a combined basis, we expect our e-commerce and retail store growth strategies to contribute over $500 million to our $1 billion growth plan over the next four years," said Casey.
Carter's has invested in new distribution capabilities this year, which it hopes will improve the efficiency and speed of delivering e-commerce orders beginning this holiday season.
Casey also noted Amazon has been a good source of growth for Carter's this year.
Carter's has four brands selling directly to Amazon: Simple Joys, designed exclusively for Amazon Prime customers; Carter's, OshKosh B'Gosh, and Skip Hop.
"We expect that Amazon will grow to be one of our largest customers over the next five years," he said. "Since launching with the Amazon, we've seen no negative trend in our e-commerce sales with any other wholesale customer."
In the third quarter, e-commerce sales through other wholesale customers grew over 25%.
The company also said it's reaching more consumers globally through its websites and its wholesale customers' websites, noting 25% the demand on Carter's U.S. website in the third quarter came from international customers.
Carter's also announced the acquisition of its licensee in Mexico, a move which Casey said may enable Carter's to double sales in Mexico over the next five years.