The Challenge of Change: How to Transition to a New Way of Decision Making
Get great content like this right in your inbox.
Subscribe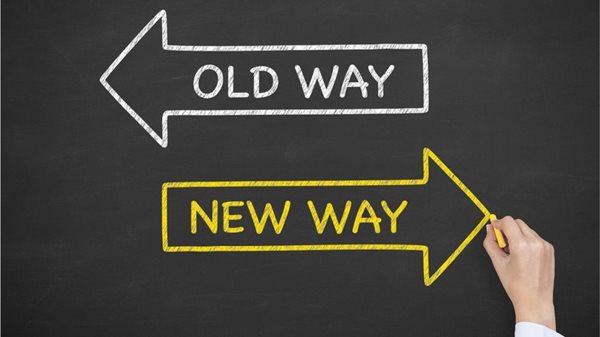 Recently, I spent a year taking a class on how individuals and organizations change (or not!). I learned how difficult it is for us to allow real change into our daily lives — both personally and professionally. Forty plus years ago, I started my career in the training program at Bloomingdales. Success was easy; buy more, sell more! We wish for those days when double-digit increases were close to guaranteed. Right now, our industry has fundamentally changed and desperately needs us to be able to toss the existing structures, plans and strategies away and boldly move in new directions.

My time in class taught me that without clear intention and hard work, much needed change simply won't happen. And it's significantly harder for larger organizations than smaller, more entrepreneurial ones. With my newly minted academic lens, I don't see that brands and retailers today are committing the necessary time and executive leadership to make the significant changes to their organizations that will position them for success in the upcoming years.

I know these challenges personally. Building the merchant team at Vera Bradley from scratch, we had no choice but to change daily, figuring it out as we went along. Adding a new division to the company was like fitting another piece into a fully baked pie. The design team had played the role of merchants since the company's founding, and finding a way forward to integrate this new group took commitment and adaptability from both teams. Everywhere we turned, change was needed. The schedule of meetings and who attended each had to be revised. The data we received and the format that was available to us had to be reconfigured. We needed to add new team members, onboard them thoroughly, and integrate them into the new organization. We had to educate the rest of the team about the new structure and overcome the objections. It was difficult — and maybe not suited to the inflexible among us — but not impossible.

Widening our perspective, many brands today are still structured the way they were a decade ago. Marketing, the team closest to the customer, is a totally separate department from design and merchandising, the "owners" of the product. Divisions are organized by men's/women's, and then further divided by category: tops/bottoms, and then further yet (woven shirts, graphic tees, etc.) When trends change, the owner of the losing category fights to keep his/her budget, even if it's not the right decision for the brand/retailer. We've built siloed structures that don't lend themselves to the new, customer-centric, rapidly changing marketplace.

By remaining curious and listening well, we can adapt and thrive. With this in mind, I'm going to share what I learned in class that I think is relevant to our industry right now.

Spoiler alert: change takes senior management support and time.

Start with a contract and the right team
Contracting is the process of building committed, mutually satisfying, clear agreements between individuals to accomplish an agreed upon goal or set of goals. The most effective contracts are dynamic. Contracting requires straight talk, feedback, collaboration and mutual understanding. Specifically, everyone must clearly understand their role in the project, what they need to do and by when. Contracting is an iterative process where the outcomes, roles, strategies, relationships, accountability and next steps are constantly being examined and refined.

If a brand is considering adding another product category, let's say swimwear, the leadership needs to clearly state the team goal. It might be that at the end of the project, a go/no-go decision on whether to add this category or not and by when will be made, or it might be that there is a complete Spring 2019 line ready to sell. Each person needs to know their role — researching the competition, designing prototypes, pricing, sourcing, market research — and what deliverable is expected from them and when. Each time the team meets, taking a moment to check in and hear from each member of the team is important. This requires leadership willing to commit and take the time to provide direction, context, feedback, and support.

Contracting is critical to a successful outcome. It's essential to spend considerable time early in the project bringing everyone into agreement on the purpose and desired result. Based on the classic perspective of organizational development developed by the NTL Institute for Applied Behavioral Science, the tasks of an organization — from concept to product development to customer service — are achieved with the highest level of productivity when they are supported by high-quality relationships between the team members who are responsible for them.

At the first meeting, it's important for each person to speak and share their role and background. We did this at Vera Bradley, and even though many of us knew each other, it was impactful to hear about all the great experience in the room. Together it felt like we could solve any problem that was thrown at us. This is a huge opportunity as this part of the process is often rushed and incomplete. Contracting is at the heart of successful projects.

Sound and current data
No, it's not just that Excel spreadsheet! Sound and current data involves listening. Not while you are on your phone or computer (yes, I'm talking to you), but curious, interested, focused listening. If you don't hear your team members, including their inconsistencies, contradictions, and emotions, you cannot be clear on what the next steps should be.

Past experience and last year's numbers aren't sound and current data in our industry anymore. We need to know what our customers are thinking about this year. The only way to do this is to ask. Focus groups are small and expensive. Fortunately, there are technology solutions to solve this problem. Retailers Lucky Brand and Ralph Lauren are using new tools like MakerSights that help brands connect easily with their customers and get answers quickly. Using a totally branded experience, these brands can invite customers to participate in the development process, giving merchants critical and timely feedback. For example, Taylor Stitch, a great new men's wear brand, needed to make a decision on colors for its workhorse shirt. The factory needed an answer in less than 48 hours. Digitally recoloring the shirt, they sent out an email, and in less than an hour, had enough answers to decide how much to invest in each of the four new fashion colors for the upcoming season.

Fast, current, customer-centric information in combination with great design is the new formula. Loop marketing into the process, and brands can retarget customers when their favorite styles arrive. Customers love being part of the process and are rewarding these forward-thinking, customer-centric brands with increased engagement and lifetime loyalty. Companies such as AgilOne help brands gather data from multiple touchpoints and assist in creating a personalized, seamless experience for customers who utilize both online and in-store shopping. For example, a brand with a focus on local, in-store experiences and events was able to increase traffic 25 percent by using geographic data from multiple sources to correctly the target the right customers for the right events. The brand also used this data to be sure not to send emails on down jackets to Florida customers. Having sound and current data enabled the company to avoid frustrating customers with irrelevant messages and focus correctly on personalization.

Support systems
The ability to develop support systems is critical to the ability to change. Often, leaders today feel that they should be able to go it alone. Shortening the product development timetable, narrowing assortments, eliminating a category or even a brand, shifting marketing direction to create a seamless customer experience — none of these can happen without critical mass and a team that is "all in." Without widespread support, the partnerships that are needed to create real change won't develop. Support can include role models, like-minded people, people you can depend on, people you respect, those who challenge you, individuals connected to resources you need, and people who will give you unvarnished feedback. Everyone on the team will need their own support system to be an effective advocate for change. Together, everyone (team + support system) can strategize the change and execute it successfully. Purposefully create a powerful support system to buoy the team executing the change.

To be responsive to shareholders, CEOs and customers isn't easy. The pressures of 2017 include promotional activity, dwindling traffic in malls, and the need to have a seamless customer experience, to name a few. We all know the drill. In our busy, heads-down, email- and meeting-filled schedules, we need to focus on our people and provide the true leadership that will drive the exciting change ahead.


Joan Maxwell has more than 40 years of experience in the fashion industry, working for retailers and brands. Most recently, she spent 14 years at Vera Bradley as vice president of merchandising, where she worked cross functionally to develop seasonal product assortments. She is also a senior advisor for MakerSights, a startup in the Bay Area working with brands to test future concepts with customers to inform decisions during the product development cycle.