Crafting Customer Experience: Sneak Peek into Joann's Tech-Enabled Store of the Future
Get great content like this right in your inbox.
Subscribe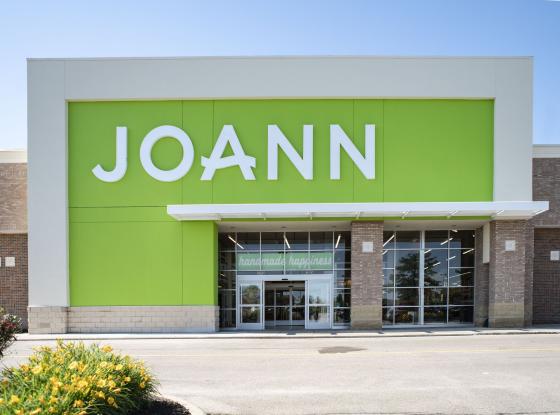 In addition to its revamped name, Joann (formerly Jo-Ann Fabrics) has implemented new in-store technology across the organization and opened its first concept store, turning to its shoppers to craft the customer experience. Last year the retailer also launched a new mobile app, to adapt the way the retailer connects with them.
To continue crafting its customer-centric experience, Joann has now implemented new retail tech across 870 stores and online to collect holistic, actionable customer feedback in real-time. With the Medallia Experience Cloud in place to capture feedback across all channels and to immediately prompt retail associate action, Joann  hopes to strategically integrate insights and improve the customer experience.
"Although we've served the craft industry for 75 years, we are constantly learning from our customers and looking for new ways to improve their experience," said Steve Miller, SVP, marketing and e-commerce. "To align and engage our tens of thousands of team members across the nation, we needed Medallia's powerful platform that offered a holistic view of the customer experience, as well as the ability to easily see, drill down and take action on specific incidents."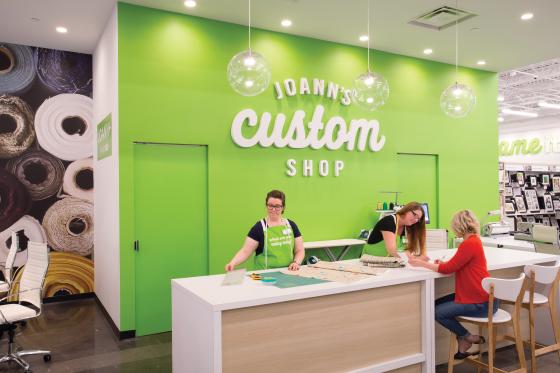 Joann unveiled its first concept store in June, featuring cutting-edge technology, dedicated community and learning spaces and new custom services. The craft retailer designed the Columbus, OH, store based on deep research into shopping trends, pilot programs and years of customer and team member feedback.
"We just launched our first concept store with new experiential offerings, merchandising and custom services, and getting clear feedback on those changes will help determine how we move forward," noted Miller.
"Research resoundingly showed our stores have naturally evolved to become much more than a place to buy things," said president & CEO Jill Soltau. "Customers come in to find inspiration, learn from our team members and share creative experiences with others. That discovery, along with industry insights and DIY trends, helped us create a store like nothing else in existence. This is the most shareable and welcoming craft experience ever built."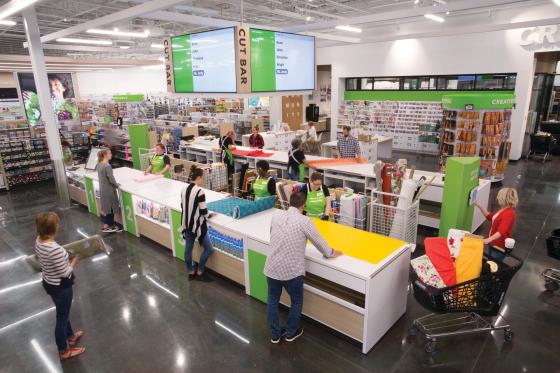 Joann's Concept Store
Joann's new concept store seeks to weave digital technology into the retail store experience. For example, the store features a Craft Creator touchscreen kiosk, which provides craft projects that are popular on Pinterest, personalized for customers based on their taste preferences. There are also special order kiosks and live stream capabilities to share in-store classes online.
The store's features and classes were developed based on trends and analytics. For example, Joann partner Pinterest saw a surge in searches for DIY personalized T-shirts (saves for "birthday shirts" rose 250% in 2017). This data was materialized in a new area where customers can learn to make custom shirts using electric cutting machines and a wide array of materials and accessories.
"In this digital era, embracing creativity as a way to bring people together is more meaningful than ever before," said Soltau.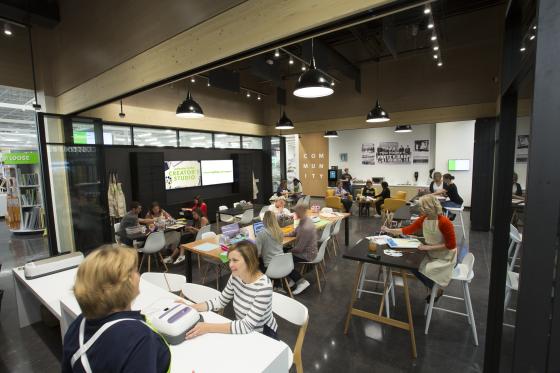 To this end, the store features The Creators' Studio, a large open community space where customers can take classes, host events and rent machines to work on projects. The store boasts a modernized Cut Bar experience, which allows customers to "check in" and continue shopping until a text message alerts them an associate is ready to cut their fabric. Concierge services include a Personal Shopper, which offers one-on-one guidance to ensure the crafter's vision comes to life, and Sew & Go, a custom sewing service for anything from suit tailoring to home décor. There are also Dedicated JOANN+ services for those who make and buy at scale, part of a recently announced new program that offers bulk shipping, special pricing and dedicated customer service.
Improving the Customer Experience
To continuing improving its customer experience, Joann needed a way to streamline customer feedback and to engage team members at all levels within a single platform. The Medallia mobile app proved to be easy for stores, field leaders and executives to use, while providing a real-time view into actual customer feedback. The craft retailer is now using the tech for a single view across all stores, joann.com, and the call center, processing one customer comment every minute.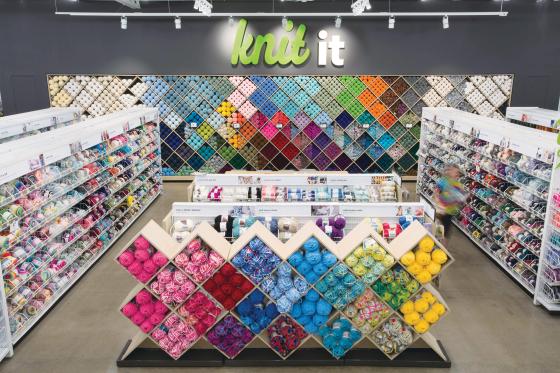 Early results show high engagement from Joann's customers, with an initial 50% open rate and 20% survey response rates for solicited feedback. Team members are able to consistently monitor their stores' comments, and an average 75% of actionable incidents are closed within 72 hours. In addition, the retailer uses Medallia for Digital for feedback on the digital customer experience, supplementing existing analytics and CRM systems.
Now Joann is considering rolling out the platform across other channels, including buy online pickup in store (BOPIS) and education programs.