Cross-Channel Strategies Put Retail on the Road to Recovery
Get great content like this right in your inbox.
Subscribe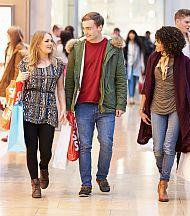 Just a few years ago "showrooming" — looking at merchandise in a physical store only to buy it later online, possibly from a competitor — had retailers shaking in their boots. But now, many merchants are leveraging their brick-and-mortar stores as powerful weapons and integrating a complementary e-commerce presence to win consumers and stave off the threat of cost-driven pure-play eTailers. The key is to utilize all channels — online and off — in harmony, and in a way that provides a compelling experience for consumers.
Webrooming
The trend in consumer behavior has evolved from showrooming to "webrooming." Instead of shopping first and then looking for a bargain online, shoppers are now more likely to do their research before going to a physical store. Our Great Omnichannel Expectations 2016-2017 Shopper Survey revealed 47% of North American consumers are researching products online once before they buy and 31.8% research them more than once.
Smart retailers understand that the shopper's journey now usually involves browsing through an eCommerce site, even if actual purchases are made in brick-and-mortar stores. Creating a compelling, yet easy-to-use, website that provides product, availability, and promotion information can have a positive impact on sales on all channels.
Showrooming 2.0
There is news nearly every day of eTailers expanding to add physical channels. If there is anyone that still needs convincing that physical retail is still relevant, this is the evidence. There is no substitute for seeing, touching, and trying out products in person. Some e-commerce retailers are establishing storefronts, pop-up shops, or "showrooms" where their customers can see and examine merchandise before placing orders.
Inventory management has always been important to an eTailer, but with their new cross-channel strategies, it is imperative. Items on display in a storefront or showroom must be available online; pricing must be consistent across channels; and physical and digital systems must integrate so shoppers can complete purchases that they start on one channel and complete on another.
BOPIS
Buy Online, Pickup In Store (BOPIS) enables shoppers to make a purchase online and then retrieve their orders in a nearby physical store. It offers consumers the convenience they crave. We already know that shoppers love the ease of shopping online at their leisure: on their commute, lounging in bed, waiting at the doctor's office, whatever strikes their fancy. And we also know that shoppers do not like waiting. The need for instant gratification — coupled with the cost savings of not paying for and waiting on shipping — is a major factor driving buy online, pick up adoption. The ease of transacting online and retrieving items in a local store, often within hours, is the best of both worlds for many consumers.
Retailers have discovered that buy online, pick up in store is extremely effective in funneling traffic into their stores, which is a great opportunity to expose customers to additional products.
Doing BOPIS right requires a robust platform that serves both stores and online. It's also important to make the store pick-up smart and simple for shoppers. While some retailers intentionally put the pick-up spot towards the back of the store so that customers have to wander past aisles upon aisles of additional products in the hopes of spurring impulse purchases, others put the BOPIS center in a convenient location to provide a quick and satisfying customer experience. Our shopper survey found most customers find most BOPIS pickup process lacking — not even one third (31.6 percent) describe retrieving BOPIS orders as a smooth process.
Trends point to the fact that a retailer without a diversified strategy, locked into only one channel, is likely not to succeed. Find ways your business can meet its customers where they are, whether that's shopping in brick-and-mortar stores or on digital channels. Retailers that will capture the loyalty of today's — and tomorrow's demanding customer — should take steps today to serve shoppers on their terms, with every channel firing on all cylinders: in store, online and everything in between.
Senior Vice President of Sales for Asia Pacific and the Americas, for CitiXsys, Paula Da Silva has more than 10 years' experience in the retail industry associated with delivering innovative software solutions to mid and large sized retailers. Known for her strong track record of operational excellence and managing a global ecosystem of technology partners, Paula has been instrumental in building the iVend Retail into a global market leader in the retail industry and plays a major role in the Company's overall performance.
iVend Retail is the omnichannel retail management solution for the way retailers work today. It delivers a fully integrated solution designed to enable change, not just built to last. iVend Retail innovates retail technology, providing a technically-superior solution and offering open APIs which can be integrated broadly with leading ERPs and customer-facing applications. For more information about iVend and CitiXsys, please visit www.ivend.com.
With more than 1,000 customers in over 46 countries using its products and solutions, CitiXsys is a leading provider of software products for the retail sector. CitiXsys has its corporate