CVS Extends Physical Reach With On-the-Go Vending Machines
Get great content like this right in your inbox.
Subscribe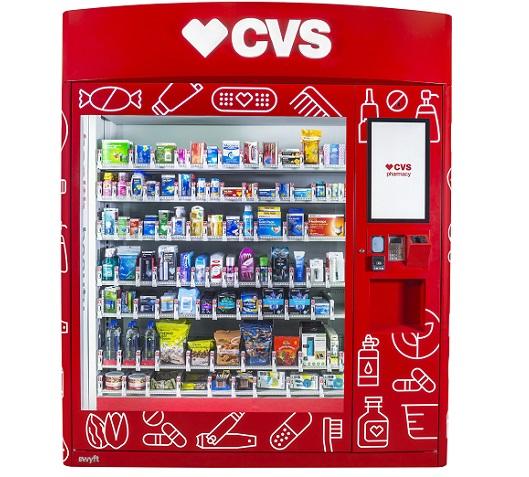 CVS Pharmacy is introducing automated retail vending machines stocked with convenient, on-the-go necessities including over-the-counter health products, snacks and popular personal care products typically sold at its physical locations. The new vending machines are designed to help maximize convenience and meet customers where they are with on-the-go wellness solutions outside the traditional retail space.
"We are always looking for new ways to combine convenience and innovation to help better serve our customers," said Judy Sansone, SVP, front store business and chief merchant, CVS Pharmacy. "Our new CVS Pharmacy vending machine program allows us to extend that convenience beyond our brick-and-mortar locations to offer customers on-the-go essentials in the locations where they often need them most, like airports, hotels and other transportation hubs."
Each vending machine will be customized with offerings to fit each location with more than 70 products to choose from. Products available in the vending machines include:
Over the counter remedies for allergy, pain relief, digestive health, and cough and cold

Beauty and personal care products like shaving cream, deodorant, makeup remover

Vitamins and supplements

Eye care and oral health care products

Solutions for healthy sleep such as melatonin

Children's health and on-the-go first aid items such as bandages and antiseptic cream

Healthy snacks and beverages

Home and office essentials such as batteries, phone chargers, earbuds, lint rollers and stain removal sticks
The first 25 CVS Pharmacy vending machines will be unveiled throughout New England and New York by the end of October in targeted areas including:
Airports including LaGuardia in New York City

Public transit stations such as South Station Bus Terminal in Boston

Office parks

College campuses
These machines enhance customer convenience with strategic placements in areas well-trafficked by local residents and travelers alike who may need products in a pinch, eliminating the need to make a special trip to a retail location. CVS Pharmacy is also considering an additional 50-plus locations throughout the country including college campuses, corporate offices, hotels and other transportation hubs to host vending machines in the future.
To help customers navigate this new shopping experience, the vending machines, will feature a 22" multi-touch screen, high resolution images with expansive product information and a QR code reader to read barcodes and promotional codes. The machines will be ADA compliant, allowing those in wheelchairs to fully access the touchscreen and its functionality, and will accept all major credit and debit cards.