The Demise of Sears: Retail Experts Weigh In
Get great content like this right in your inbox.
Subscribe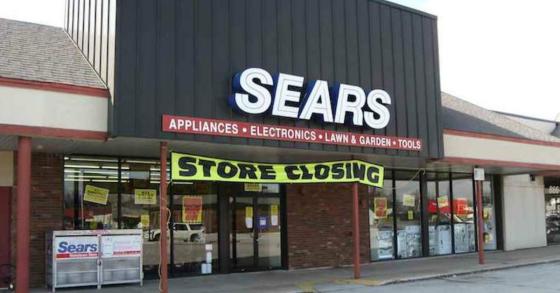 Once the largest U.S. retailer, Sears Holdings Corp. filed for Chapter 11 bankruptcy protection from creditors with the U.S. Bankruptcy Court on Monday. The bankruptcy filing comes more than a decade after Eddie Lampert merged Sears and Kmart. Now Sears will shutter 142 "unprofitable" stores toward the end of the year and liquidation sales at these stores are expected to begin shortly. This is in addition to the previously announced closure of 46 stores expected to be completed by November 2018.
In addition, Lampert, who has served as CEO for the past five years, is stepping down immediately as chief executive officer, but will remain chairman of the board. Lampert's ESL Investments Inc. is negotiating a financing deal while also discussing buying "a large portion of the company's store base," Sears said.
Lampert's tenure at Sears has been rife with controversy. Paula Rosenblum, co-founder of Retail Systems Research, wrote in Forbes that to most observers Lampert has "stripped the meat off the Sears bones and dried them out into beef jerky that his holding company ESL gnaws on periodically. He has sold off assets to the same ESL holdings, taken over the real estate of most of the stores that he collects rents on through Seritage (another of his companies) and managed to make himself the company's biggest creditor in the process."
Rosenblum also noted, "in the world of bankruptcy, the biggest creditors end up as the owners of the new entity."
The 125-year-old retailer listed more than $10 billion in debts and more than $1 billion in assets in its filing, saying it's seeking to reorganize around a smaller base of profitable stores. The company operated 866 total stores including 360 Kmart stores, 482 full-line and 24 specialty Sears Domestic stores, as well as multiple e-commerce sites, as of Aug 4, 2018, eMarketer estimates.
Mohsin Y. Meghji, managing partner of M-III Partners, has been appointed chief restructuring officer to lead the company's restructuring efforts. Meghji is a U.S. turnaround professional with a track record of revitalizing companies.
Much of Sears' trouble stems from the fact that, the retailer, which was the Amazon of its day, famous for its massive catalog, has been unable to keep up with shifting consumer habits. Walmart supplanted Sears as the biggest retailer in the early 1990s. Online in the past year, the two biggest players in U.S. retail search, Amazon and Walmart, commanded 44.67% of the whole market clickshare, according to search intelligence company Adthena. During the same period Sears won just 0.7% of clicks from US shoppers.
"Over the last several years, we have worked hard to transform our business and unlock the value of our assets," said Lampert in a statement. "While we have made progress, the plan has yet to deliver the results we have desired, and addressing the company's immediate liquidity needs has impacted our efforts to become a profitable and more competitive retailer. The Chapter 11 process will give Holdings the flexibility to strengthen its balance sheet, enabling the company to accelerate its strategic transformation, continue right sizing its operating model, and return to profitability. Our goal is to achieve a comprehensive restructuring as efficiently as possible, working closely with our creditors and other debtholders, and be better positioned to execute on our strategy and key priorities."
Experts Weigh in on Sears
"Today is a day that will live in retail infamy," says Neil Saunders, Managing Director of GlobalData Retail. "That a storied retailer, once at the pinnacle of the industry, should collapse in such a shabby state of disarray is both terrible and scandalous in equal measure. However, it is not surprising because this is a destination that Sears has been headed towards for many years, with virtually no serious attempt having ever been made to change the trajectory.
"In our view there are a multitude of factors that have contributed to Sears' demise, but foremost among them is management's failure to understand retail and evolve Sears in a way that would have given the chain a fair chance of survival. Although the present leadership team needs to shoulder much of the responsibility, the missteps arguably go back to the 1980s when Sears became too diversified and lost the deftness that had once made it the world's largest and most innovative retailer."
Rosenblum takes a harsher look at current management. "No matter which way I look at it, this is an American tragedy," she wrote in Forbes. "It's a story of greed winning out over any kind of market forces. In fact, we could argue that Lampert's actions have destroyed Sears Holdings' market."
"It is sad to lose such a historic and household brand such as Sears, but they are not the first retailer to fall by the wayside, and they certainly won't be the last, either," notes Gavin Bisdee, VP Global Marketing, Zynstra. "It is important, however, to remember that it is not a barometer of the overall trends in U.S. retail, despite claims of a 'retail apocalypse' over the past year. Recent reports clearly show there have been more store openings than closures in the U.S., and sales in physical stores will still account for 80% of retail sales by 2021. That said, change must continue to happen in retail. The bankruptcy of Sears only reinforces the importance of adapting fast to the change in consumer buying habits."
Charles Dimov, VP, Marketing, OrderDynamics, agrees that retailers must adapt faster.
"Sears is a case in point of the fast and continual changes in retail. Today's retail space is all about adapting quickly, requiring a more rapid pace of constantly testing new ideas and strategies. Sears' filing is a testament to the need for retailers to embrace omnichannel practices, bring in the right technology to do so, and adapt to customers' desires want and expectations. Staying competitive and relevant means giving consumers a great service experience, and letting them buy, pay, collect, and even return purchases in easy and convenient ways."
Despite the filing news and shuttered stores, Sears will continue on during the holiday season, begging the question, what will this mean for retail competitors?
"For rival retailers, today's decision is probably the best outcome," says Saunders. "A full liquidation over the holiday period would have created a lot of price pressure in the market and would likely have diverted some spending from other stores. A partial closure of shops is far less damaging."
Retailers will need to bolster their relationships with Sears' suppliers and raise customer awareness about their brands and merchandise, according to MoffettNathanson retail analyst Greg Melich, as reported by CNN.
"We believe the fight for share gains will be highly competitive, shares will be likely somewhat fragmented, and prior [Sears] shoppers could also just stay home and not shop for items that were more discretionary," Cowen analysts said in the CNN report.
"As much as today is a conclusion of sorts, it is not the end of the story," says Saunders. "Chapter 11 means that Sears will continue on, at least for the foreseeable future, as it tries to find a solution to its financial woes and attempts to carve out a place for itself in the retail market."