09/05/2018
Dick's 3 Strategic Initiatives to Provide the Best Omnichannel Experience
Highlights of Dick's Q2 performance include:
1% revenue growth to approximately $2.18 billion

4% same-store sales decline

12% increase in e-commerce

6.4% decline in inventory
Dick's Sporting Goods continues to see digital sales soar as in-store revenue slips, highlighting the need to continue to evolve and expand its omnichannel capabilities.
In Q2, the sporting goods retailer saw its online revenue grow by double-digits, while same-store sales declined by 4%. Shoppers continued embrace of online shopping in the sporting goods and apparel segment has triggered massive investments at Dick's as it looks to improve the customer experience both in-store and out.
Below are the three key strategic initiatives chairman and CEO Ed Stack has outlined as focus points as Dick's continues to build out its omnichannel enterprise: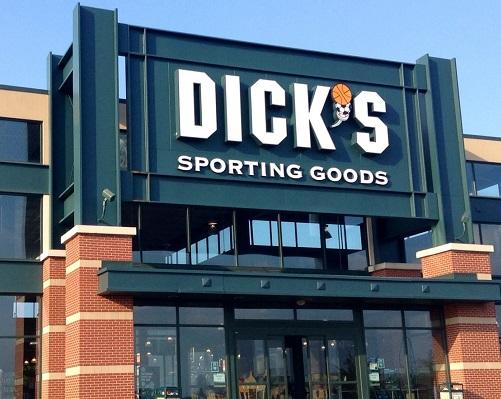 #1 C

ore Execution
Dick's is investing in both its e-commerce and in-store capabilities to deliver the best possible shopping experience for its customers.
"Improving convenience for our athletes is a top priority and we are continuing with our rapid, data-driven testing approach to deliver key improvements through the omnichannel shopping experience," Dick's president Lauren Hobart said on a recent earnings call with analysts.
One of the core functionalities Dick's continues to focus on is last-mile fulfillment. Earlier this year the retailer went live with a small-scale buy online pickup in-store locker test at three locations. The pilot was well received by customers ― both those that choose to use the service and those that simply benefited from a streamlined checkout experience due to less traffic at the registers. Because of the overwhelmingly positive response to the program, the pilot expanded to 10 locations.
"The surprise for us was the much improved satisfaction scores from our in-store athletes as well as they benefited from shorter wait times and improved service levels," Hobart said. "This rapid testing approach continued through the second quarter, and we are now testing Curbside pickup in select stores as well."
In addition to its commitment to improving the in-store pickup experience, Dick's is also investing heavily in its DC fulfillment capabilities. The retailer is building its first regional e-commerce fulfillment center in Binghamton, NY, which will open in the fall of 2019.
"The fulfillment center will utilize robotics to increase the facility's throughput and make it much more efficient than our current in-store fulfillment processes," said Lee Belitsky, CFO, Dick's. "Additionally, we plan to open a smaller regional e-commerce fulfillment center for the Western region of the U.S., which will also come online late in 2019. We expect these new fulfillment centers to reduce delivery time to our customers, allow us to scale quickly and be more efficient as we continue to grow our e-commerce business." 
#2 Leveraging Its Expertise
Dick's is making changes to its assortment, emphasizing its apparel business and reducing its hunting and electronics categories. While its hunting section is a good source of revenue during the busy hunting and the holiday gift-giving seasons, the margins in that department are razor thin. In fact, the operating margin of the hunting and electronics categories is approximately 1,700 basis points lower than the company average. 
This fall the sporting goods retailer will remove all of its hunting products from 10 of its locations where the category is underperforming. And "replace it with products and in-store experience that are most relevant to our athletes in those markets," said Stack. "Some examples include an elevated outerwear and license shop assortment and more experiential elements such as the HitTrax batting cages in our baseball area. We are executing our strategies to better navigate the dynamic retail environment and ensure long-term success."
"In addition to the refinements we've made to our assortment, we're improving the in-store presentation to provide our athletes with a clear point of view of what's important through what we're calling strike points," said Hobart. "With this elevated presentation, the athlete is drawn to these key items, making our stores easier to shop. We have been extremely pleased with how the athlete has responded and the increased depth and elevated presentation of these strike points is resulting in strong double-digit sales growth on many of those key items."
#3 Improving Productivity
Across the organization, Dick's is looking for ways to lower costs and unnecessary spending to allow for greater investment in its strategic growth initiatives.
"We've reduced expenses within our stores and at our support center by improving efficiency through workforce productivity initiatives," Hobart said. "Moving forward, we will continue to make critical investments in the customer experience, the store environment and our supply chain."
In addition to looking for ways to trim excess fat from the enterprise. Dick's is investing in tools and training to best leverage its in-store staff.
 "We have had a huge focus in our stores on training and specifically on cross training, so that our associates and teammates now are not just able to work in one area but each of them can help each other out and lead one of our athletes through the entire store," said Hobart. "It's been a huge initiative for us so that we're getting more bank to the buck with every teammate that we have in the store. We are very focused on service, efficiency and productivity. So that we can free up those teammates to serve the customer better."