06/28/2019
Digital Transformation Is Forging Rite Aid's Path to the Future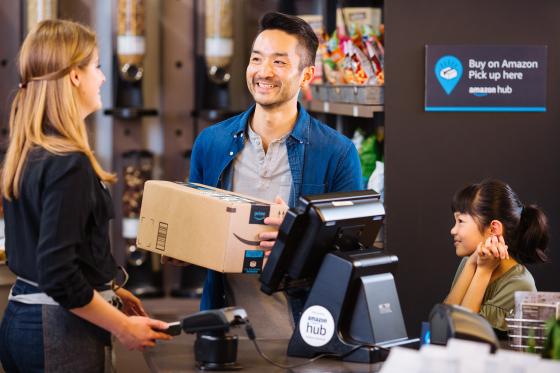 Rite Aid is in the middle of executing a massive digital transformation it hopes will modernize its customer experience.
The drugstore retailer's digital business spiked 115% amid sluggish sales and disappointing results for its first quarter 2020. Now it's accelerating its Path to the Future initiative, including announcing an expanded Amazon partnership, new Adobe Customer Experience Management tech, and tapping a marketing and merchandising veteran.
Rite Aid's fiscal 2020 cap ex will include a $60 million investment for technology designed to accelerate its digital and omnichannel offering, as well as script file buys.
"Looking ahead, we are taking significant steps to transform our business and deliver enhanced customer experiences as we accelerate our Path to the Future initiative," CEO John Standley said in a recent earnings call. "These efforts are helping us identify significant opportunities to drive further growth and operating efficiency and include building solutions to work with regional health plans to improve patient health outcomes, optimizing SKUs in our front-end offering to free up working capital, improve front-end profitability, and improve the customer experience, assessing our pricing and promotional strategy and a continued review of our cost structure which includes opportunities to use technology and vendor partners to help reduce costs."
Amazon Expansion
While Amazon is actively looking to bring additional partners onboard, Rite Aid is the first U.S. partner for Amazon Counter, a new network of staffed pickup points that gives customers the option to pick up their Amazon packages in-store. The service is live already in more than a hundred Rite Aid stores across the U.S. By the end of the year, the service will roll out across 1,500 Rite Aid locations.
Delivery of Amazon.com purchases to a Counter location is available at no extra cost via Same-Day, One-Day, Two-Day and Standard Shipping. After shopping on Amazon.com, customers proceed to checkout and select one of the Counter pickup points available in their zip code as their delivery location. As soon as their package arrives at the store, customers receive an e-mail notification with a unique barcode as well as a reminder of the address and the business hours of their selected store. At the store, they then provide the barcode to store staff, who will scan it, retrieve the package, and hand it to the customer. Customers have 14 days to collect their package.
Amazon designed and built the technology for Counter from the ground up. The service originally launched in the UK with NEXT and in Italy with Giunti Al Punto Librerie, Fermopoint and SisalPay stores.
"Creating a seamless, convenient customer experience is a key element of our strategy and digital transformation," said Jocelyn Konrad, EVP, Pharmacy and Retail Operations of Rite Aid. "Being the first store partner for Counter in the U.S. is a differentiator for Rite Aid and we believe our partnership with Amazon, that includes Locker, creates a stronger in-store experience for existing customers and new customers that come in to pick up their packages."
Rite Aid's partnership with Amazon to install Amazon Lockers in its stores has also expanded rapidly, with more than 300 stores equipped with the pickup option now. The retailer plans to have rolled out lockers to 900 stores by the end its second quarter.
"We are excited to be creating an innovative retail offering that enhances our in-store experiences and creates a seamlessly connected journey for our customers across all touchpoints," said COO Bryan Everett. "Our partnership with Amazon to launch Amazon Lockers at Rite Aid stores will help us take these efforts to an even higher level."
Rite Aid has seen an increase in customer traffic in the stores already outfitted with Amazon Lockers.
"A key aspect of our strategy is to grow our business by driving additional traffic into our existing network of stores to experience our retail offering and the high-level of service and care we provide," said Everett. "We believe that new initiatives like Amazon Locker give us a tremendous opportunity to achieve this critical objective."
Adobe Partnership
Rite Aid also announced a partnership with Adobe this month to power its customer experience initiative via the Adobe Experience Cloud. The tech will enhance Rite Aid's ability to offer more consistent and continuous customer experiences across all customer touchpoints.
"Through this partnership, we will gain access to real-time personalization, deep customer journey analytics, content management, and advertising capabilities to enhance our digital and marketing solutions while forming deeper relationships with our customers," said Standley. "This partnership will allow us to combine Rite Aid's health and wellness expertise with strategic guidance and operational support from Adobe specialists as we seamlessly connect our pharmacy, retail stores, and online customer journey."
Adobe also announced this month it will start bringing some of its advanced artificial intelligence (AI) capabilities with Technology Previews in the Adobe Experience Cloud. Technology Previews gives retailers like Rite Aid the ability to leverage early-stage exploratory tech powered by Adobe Sensei, the company's AI and machine learning technology. Customers can share feedback with Adobe's product teams in real-time, allowing for Adobe to ensure the right adjustments are made before products are launched in beta or general availability.
"As we look to seamlessly connect our in-store and digital experiences, we are excited about our strategic partnership with Adobe and believe that it will be a game changer in how we engage with our existing customers and attract new customers," said Everett. "By leveraging Adobe Experience Cloud and the expertise of the Adobe team, we will be able to deliver highly personalized digital marketing offers and also make it easier to navigate and shop on our app and website, in addition to the caring moments that our associates deliver to customers in-store."
New Chief Marketing and Merchandising Officer
Rite Aid has also hired Erik Keptner to help lead the retailer's marketing and merchandising transformation. Keptner has been named to the newly created position of chief marketing and merchandising officer.
Keptner most recently served as SVP of marketing for Wakefern Food Corporation, where he led digital commerce and analytics, advertising, corporate merchandising, own brands and digital media.
"Erik is an experienced retail executive who has proven that he can integrate and manage all aspects of an organization's marketing and merchandising assets to provide great customer experiences, operate efficiently and deliver growth," said Everett. "We are pleased to have Erik join our team and believe that combining the responsibilities of marketing and merchandising under one leader will help us further accelerate our efforts to create a seamlessly connected customer experience."