05/14/2017
Dollar General Grows Stores and Supply Chain
This is an excerpt from Retail Leader's article "Formula For Dollar General Growth." Click here for the full story.
Dollar General serves a customer that even in favorable economic conditions tends to be under duress, which is why more than 80 percent of the approximately 11,000 items found in its stores sell for less than $5. Attempting to grow sales by selling more stuff to people of limited means is a challenging proposition made even more so several years of flat to declining prices in the food and consumables category, which accounts for three fourths of Dollar General's sales.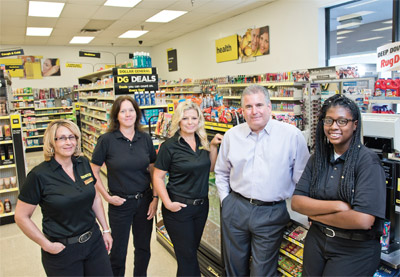 During the current year, a forecast of four percent to six percent sales growth will be driven largely by the addition of selling space with Dollar General continuing to raise the bar on what is possible with new store openings. The retailer plans to open 1,000 stores this year, which is simply astonishing in the broader context of the retail industry. Store closings are at record levels due in large part to department stores and specialty retailers rationalizing their operations but other successful retailers are still moderating their physical aspirations to allocate greater resources to bolster technology and supply chain capabilities to better serve consumers' desires for a seamless physical and digital experience.
Dollar General has enjoyed some digital success, most notably with digital coupons that were launched about three years ago. The company said its digital coupon enrollment increased by 200 percent last year and that the average transaction that involves digital coupons runs twice the company average. The company also offers a subscription service branded as DG AutoDeliver.
Despite such digital initiatives, Dollar General is all about stores. The 1,000 new stores it plans to open are on top of 900 last year. In addition, Dollar General is expanding with acquisitions. It bought 42 former Walmart Express small format stores last year and more recently the Federal Trade Commission approved Sycamore Partners' application to sell to Dollar General 323 former Family Dollar stores it acquired from Dollar Tree two years ago as a condition of Dollar Tree's acquisition of Family Dollar. Between openings and the acquisitions, Dollar General's store count will swell by roughly 1,300 units this year.
"We continue to be pleased with the return on investment and performance of our real estate program, as our new stores overall are yielding returns of approximately 20%, according to CEO Todd Vasos.
Why wouldn't Dollar General open more stores? The company's value proposition embodied by the slogan, "Save time. Save money. Every day!" has at its heart proximity to the customer along with low prices. Historically that has meant targeting smaller more rural communities, which is why roughly 70 percent of the company's stores are located in towns with fewer than 20,000 people. While expansion opportunities continue to exist in those areas, Dollar General is more aggressively probing urban areas with a smaller format store that measures less than 6,000-sq.-ft. compared to the standard store size of 7,400-sq.-ft.
"Given our success over the last two years with the results of our smaller box that is less than 6,000 square feet used in certain metro and rural locations, we anticipate opening an additional 160 locations this year, bringing the total smaller box store count to about 250 by the end of 2017," Vasos said.
The rapid expansion of Dollar General's store network is made possible by equally aggressive investments to add supply chain capacity. The company opened a new distribution in San Antonio last year and then in January its 14th distribution center came online in Janesville, Wis., strategically located 100 miles northwest of Chicago. By this fall, Dollar General's 15th distribution facility is set to open about an hour south of Atlanta in the town of Jackson.
Dollar General is also adding capacity to support its expansion in underpenetrated markets in the Northeast. After the Jackson facility opens the retailer's next big supply chain project is in the town of Amsterdam in upstate New York. Dollar General ended last year with 358 locations in New York, which isn't a lot considering the state has nearly 20 million residents. Expected to open in 2018, the new facility will support existing New York stores and presumably a bunch more as well as expansion in nearby Vermont, New Hampshire and Maine, where Dollar General operated 84 stores at the end of last year. The Amsterdam facility will relieve pressure on a distribution center in the eastern Pennsylvania town of Bethel that opened in 2014.