05/29/2019
Dressbarn, Party City, Topshop and More Push Planned Store Closures to 7,150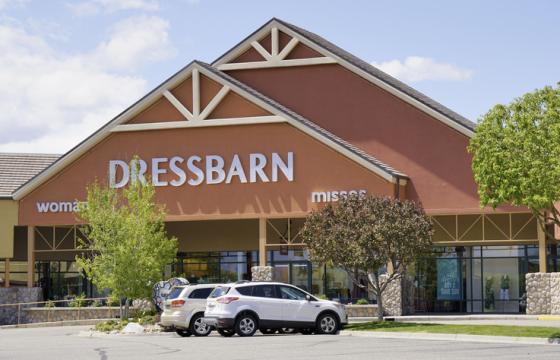 More retailers have announced store closures recently, with some of the latest coming from Dressbarn, Topshop, Party City, and Pier 1 Imports.
Already, more than 7,150 store closures have been announced by U.S. retailers in 2019, according to Coresight Research, compared to 5,524 closures in all of 2018. Meanwhile, Coresight has tracked 2,726 store opening announcements so far this year, compared to 3,083 store openings in the U.S. during 2018.
Here we take a look at the latest retailers to add to the growing list of retail store closures.
Dressbarn
Dressbarn, owned by Ascena Retail Group, just announced it will wind down its retail operations, eventually closing its 650 stores.
"For more than 50 years, Dressbarn has served women's fashion needs, and we thank all of our dedicated associates for their commitment to Dressbarn and our valued customers," said CFO Steven Taylor. "This decision was difficult, but necessary, as the Dressbarn chain has not been operating at an acceptable level of profitability in today's retail environment. During the wind down process, we will continue to provide our customers with the same great experience both in-store and online, offering them even better deals and value. We will work to assist our associates through the transition and maintain existing relationships with our vendors, suppliers, and other key stakeholders through this process."
The retailer has not given a timeline yet for the closures, but has said Dressbarn associates will be notified when decisions are made about specific store closures and provided with transition support.
Topshop
Arcadia Group, the London-based parent of the Topshop and Topman, filed for bankruptcy in the U.S., and said it was closing its 11 U.S. stores. The company filed Chapter 15, the part of the U.S. bankruptcy code that deals with foreign insolvencies, listing its assets at $53 million and debt at $179 million.
Topshop launched in the U.S. in 2009, in Manhattan's SoHo. The brand is also sold at select Nordstrom locations, with the deal not impacted by the filing, according to Business Insider. The U.S. filing comes as Arcadia, whose portfolio of brands also includes Miss Selfridge, Evans and Dorothy Perkins, is currently pending approval of a restructuring plan that includes some 23 store closures across the U.K. Another 25 more stores are slated for closure under separate insolvency proceedings.
"Against a backdrop of challenging retail headwinds, changing consumer habits and ever-increasing online competition, we have seriously considered all possible strategic options to return the Group to a stable financial platform," stated Ian Grabiner, CEO, Arcadia Group. "This has been a tough but necessary decision for the business."
Party City
The retailer plans to close approximately 45 of its 870 Party City locations in 2019, a higher number than usual. 
"Each year, Party City typically closes 10-15 stores as a part of our prudent network optimization process and in response to ongoing consumer, market and economic changes that naturally arise in the business," stated CEO James Harrison. "This year, after careful consideration and evaluation of our store fleet, we've made the decision to close more stores than usual in order to help optimize our market level performance, focus on the most profitable locations and improve the overall health of our store portfolio."
The store closures will take place throughout the year.
Fred's
Fred's announced plans to shut 159 stores by the end of this month. After the stores close the pharmacy retailer will have 398 stores still open.
"After a careful review, we have made the decision to rationalize our footprint by closing underperforming stores, with a particular focus on locations with shorter duration leases," said Fred's Joseph Anto, who was appointed CEO in February after serving as interim CEO since April 2018. "Most of these stores have near-term lease expirations and limited remaining lease obligations."
Fred's, which opened in 1947, is also continuing try to find a buyer for its remaining pharmacy assets that are considered non-core. Last year, Walgreens acquired the pharmacy patient prescription files and related pharmacy inventory of 179 Fred's stores located across 10 Southeastern states.
Pier 1 Imports
Pier 1 said it may close up to 15% of its stores if certain targets are not met, as the struggling home décor retailer trys to right the ship.
The retailer is considering closing up to 45 locations in fiscal 2020 as leases expire and will be seeking occupancy cost reductions. The store closure number could rise to up to 15% of its portfolio if Pier 1 misses performance goals, sales targets, and reductions in occupancy costs. It closed out its fiscal year 2019 with 973 stores, down 30 from last year. 
Additional Closures
CVS said it is planning to close 46 underperforming stores in its second quarter, while it is looking to expand its HealthHub store pilot in Houston from three locations to additional sites in the city.
Apparel retail giant Gap Inc. will shutter 230 Gap brand stores over the next two years. At the start of 2018, the Gap brand had 725 stores worldwide. After the closures, which include 68 stores it closed this year, the chain will be down to roughly 427 stores or 41% of its total fleet.
Signet Jewelers Limited said in April it expects to close more than 150 stores in its Fiscal 2020. Bed Bath & Beyond also announced it's closing "a minimum" of 40 stores, as it shifts focus to open 15 new Next Generation Lab