eBay's Adding Drag and Drop Image Search
Get great content like this right in your inbox.
Subscribe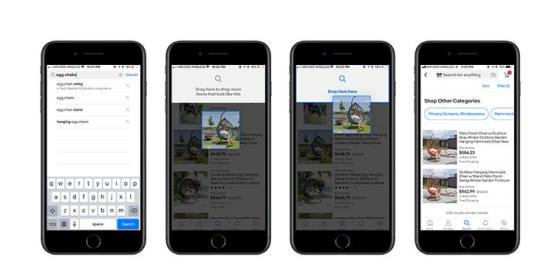 The ability for shoppers to find what they're looking for stands as a challenge to e-commerce retailers. To overcome this, some are working on image-based recognition technology. Enter eBay, which introduced Image Search last year, using computer vision to make it easier to find items online that look like the item a shopper is searching for. Find It On eBay in the app lets shoppers share images from any social platform or web browser to find similar listings for sale, while Image Search works by letting shoppers take a photo of something they want to buy and putting it into the eBay search bar.
Starting this August, eBay's new visual shopping feature will allow consumers to drag and drop an image to the search bar to find more items that look alike it. The feature will be available on Android and iOS for the U.S., U.K., Germany and Australia.
The new visual shopping feature is powered by artificial intelligence (AI). Deep learning networks known as convolutional neural networks process the images. The neural network converts the image into a vector representation. Then, the vector representation is compared against more than 1.1 billion live listings in eBay's marketplace, surfacing the best-matched items, ranked by visual similarity.
"Building this type of feature is particularly challenging when you think of all the different types and styles of images on eBay's marketplace—there are more than 2.1 billion images—as opposed to clean and uniform images," said Seema Jethani, Product Lead, Search Platform & Venkat Medapati, Product Lead, Buyer Engagement & Discovery. "We had to train our models to cancel out the noise to better understand what you might be looking for and show you items that are visually similar. Over the past several months, we have also invested in training models specifically for visually rich categories such as Fashion and Home & Garden. We focus on images and text labels specific to those categories to return better quality results."