10/10/2018
EnsembleIQ's RIS News Wins Folio Award for Best B2B Website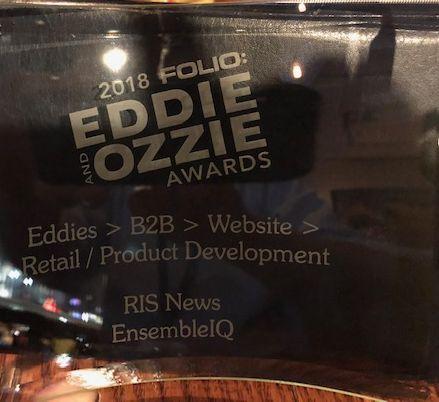 RIS News received its first-ever Folio: Eddie Award during the annual Folio awards gala at the Hilton Midtown in New York City on October 9th, 2018, as well as two honorable mentions.
RIS took home the award for best B2B Website (Retail/Product Development). In addition, the retail technology brand received an honorable mention for its B2B Column/Blog (general) and an honorable mention for B2B Data Visualization.
"The RIS and EnsembleIQ teams have worked hard on digital transformation and winning a major award for having one of the best B2B media websites in the country is amazing recognition of our efforts," says Joe Skorupa, editorial director of RIS. "I know it is often said, but the website's award-winning content, design and technology is truly a team effort. Congrats to all who make it happen!"
For more than 20 years, the Eddie & Ozzie Awards have recognized excellence in magazine editorial and design across all sectors of the industry. The annual Eddie and Ozzie Awards program is the largest of its kind in consumer and business-to-business (B-to-B) publishing. A panel of more than 300 judges narrowed more than 2,500 entries into a pool of roughly 800 finalists.
Folio:'s awards program returned to the 2018 Folio: Show this year, where 350-plus magazine media executives gathered to celebrate the very best in stunning design and uncompromising journalism. In total, 263 awards were given out across 33 categories.
Click here to see the complete list of winners and honorable mentions.