12/08/2017
The Evolving Role of Store Associates in an Automated Retail World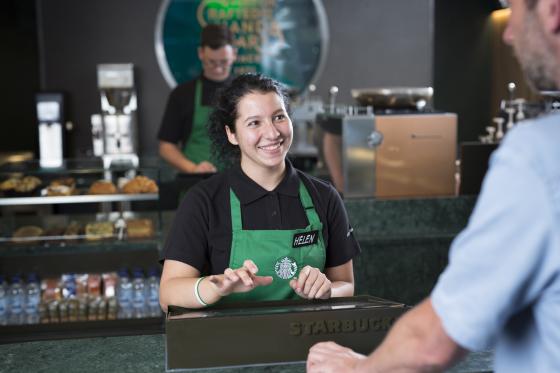 Automation is hitting the retail industry hard, from one-click purchasing to "Just Walk Out Shopping" experiences that let customers walk in and walk out – without ever standing in line or interacting with a sales associate. Despite the fact that automation is supposed to make shopping easier, there are some things machines just can't do as well as humans.
Namely, machines can't replicate the unique person-to-person interaction shoppers receive with sales associates. And while retailers want to integrate automation into their stores and online sites, this technology is best used alongside associates – not as a replacement. As a result of this era of automation, the typical role of the retail associate is shifting in a couple major ways.
Associates must have a more personal and trusting relationship with shoppers online.
People still need and prefer sales associates, with a recent study finding that 84 percent of shoppers seek out help or recommendations from associates when in-store. While many shoppers are fine with buying consumables, like shampoo or razors, without much associate interaction, for other items, like large appliances, fashion apparel, baby products or cosmetics, they want the expert opinion of an associate that also takes into consideration their own personal preferences. This is the key area in which associates really succeed – knowing the product, understanding the shopper's wants and making appropriate suggestions or giving honest feedback.
Even though this is something that brick-and-mortar retailers have enabled, online retailers haven't been able to meet this same level of personalization. For certain online purchases, like paper towels or cleaning wipes, it isn't necessary for an associates' assistance, but when inquiring how a jacket fits, a shopper will want an associate – not a machine – to tell him or her how sizing typically runs via live chat. Therefore, it's critical for retailers to integrate their sales associates online, as associates can quickly answer the questions that a computer may not, like 'will the coloring on a shirt fade over time in the washing machine?' Shoppers have tons of questions – look at the frequently asked questions on your product pages and you'll understand the limits of automation.
Many e-commerce sites also use algorithms for product suggestions, and while they may be helpful, associates play a much greater role in the personalization of shopping, outside of just making suggestions. Automated product suggestions based on a shopper's purchase or search history are based on data and don't take context into consideration.
For example, a shopper may visit your site one time to search for a pair of shoes for her husband, but that doesn't mean she wants suggestions for shoes or men's clothing the next time she visits. When using the right technology, this can become a sales opportunity for retailers. If an associate knows that shopper is browsing gifts for her husband, he or she can be proactive in sending through suggestions for an upcoming birthday or anniversary based on knowledge around his personal style. A computer cannot predict special occasions and recommend a product like an associate can.
Associates must work hand-in-hand with data and know how to apply it to human interactions. 
There is no algorithm that can take subjective pieces of shopper data into proper consideration and deliver a suggestion at the same level as a sales associate. Sales associates are able to absorb subjective data and turn it into a sales diagnosis, while computers can't. Whether it's a shopper's sense of style, current mood or facial expression, these subjective qualities all help a sales associate immediately understand what a shopper is looking for and the type of service he or she wants. While it takes just a few minutes of conversation for a sales associate to understand a shopper's objective, it's much more difficult and unnatural for a computer to be able to hit the mark through a data intake process. Social cues and intelligence are a huge part of retail – it's why retailers are increasingly becoming "experience stores" where shoppers can hang out and interact with others.
Sales associates increasingly have the opportunity to leverage big data and artificial intelligence as a supplement to these social cues to provide an enhanced experience. Data, when coupled with a friendly face, can be powerful in closing more deals, providing more personalized service and helping sales associates reach their true potential.
Although the role of sales associates is changing with automation, they will always be a vital component of the retail ecosystem. When retailers do equip their associates with technology, they need to recognize the solutions that can enhance their role, not replace it. Humans can leverage the best parts of technology to deliver the best solution for customers in ways that anticipate and serve their needs in new and exciting ways.
-Oscar Sachs, co-founder and CEO at Salesfloor