Five Smart Strategies for Selling in China
Get great content like this right in your inbox.
Subscribe
To grow in 2017, U.S. fashion and apparel retailers should consider entering China's e-commerce market to capitalize on strong demand for high-quality foreign products.

As the world's largest market, China offers U.S. apparel retailers opportunities to reach tech-savvy consumers who crave – and increasingly buy – products "Made in the USA" through cross-border e-commerce.


For proof that cross-border e-commerce offers hope for growth among U.S. apparel retailers, consider the following trends.

Chinese shoppers embrace cross-border e-commerce
Consulting firm A.T. Kearney found almost all (97 percent) Chinese shoppers bought fashion and apparel products online within the previous three months, compared to 87 percent of American consumers.

Each day, 150,000 Chinese shoppers turn to e-commerce for the first time. As a result of this momentum, Bain & Company estimates the total value of Chinese e-commerce will skyrocket to $1.45 trillion in total value by 2020, up an astounding 245 percent from $420 billion in 2014. 
In 2016, an estimated 15 percent of Chinese consumers made online purchases online of foreign goods, accounting for $86 billion, and eMarketer expects this rate will rise to 25 percent by 2020.

Within the fashion and apparel sector, McKinsey found China will remain a source of strong e-commerce growth, as consumers in second- and third-tier cities increasingly shop online for foreign goods.

Consumer trends impact U.S. apparel sales in China
Several consumer trends contribute to the boom in cross-border e-commerce in China. Chinese consumers' increased affluence has led to unprecedented online sales of U.S. fashion and apparel products. Chinese consumers now prefer brands and products that are "Made in the USA" for their quality, variety and prestige as foreign status symbols.

Today's Chinese consumers are more likely to have a global mindset due to international travel and study opportunities, which give them greater exposure to foreign products.

China's sophisticated consumers also seek new products and expect a seamless shopping experience. That's why retail experts predict e-commerce will continue to impact the Chinese market, as foreign companies engage Chinese consumers directly through online shopping.

Apparel sales boom in China
In 2016, apparel and footwear sales in China enjoyed steady growth. Womenswear outperformed menswear in value growth and total value sales due to greater variety and more frequent purchases by women seeking to stay trendy. Children's apparel grew even faster, benefiting from China's two-child policy, which took effect in January 2016.

Sportswear earned steady growth due to consumers' greater interest in a health and wellness lifestyle.

Online sales of apparel and footwear in China grew due to wider selections, competitive pricing and convenient home delivery services, even to lower-tier cities.

American apparel retailers with strong sales in China include Michael Kors, Kate Spade and Victoria's Secret. Popular brands in footwear include Stuart Weitzman, New Balance and Vans, and Carter's sells well in children's wear.

Opportunities for U.S. apparel retailers
The Chinese holiday sales frenzy has evolved from a shopping carnival hosted by local brands and retailers into a global business with year-round opportunities. The following calendar of sales events per month can help U.S. retailers targeting Chinese consumers.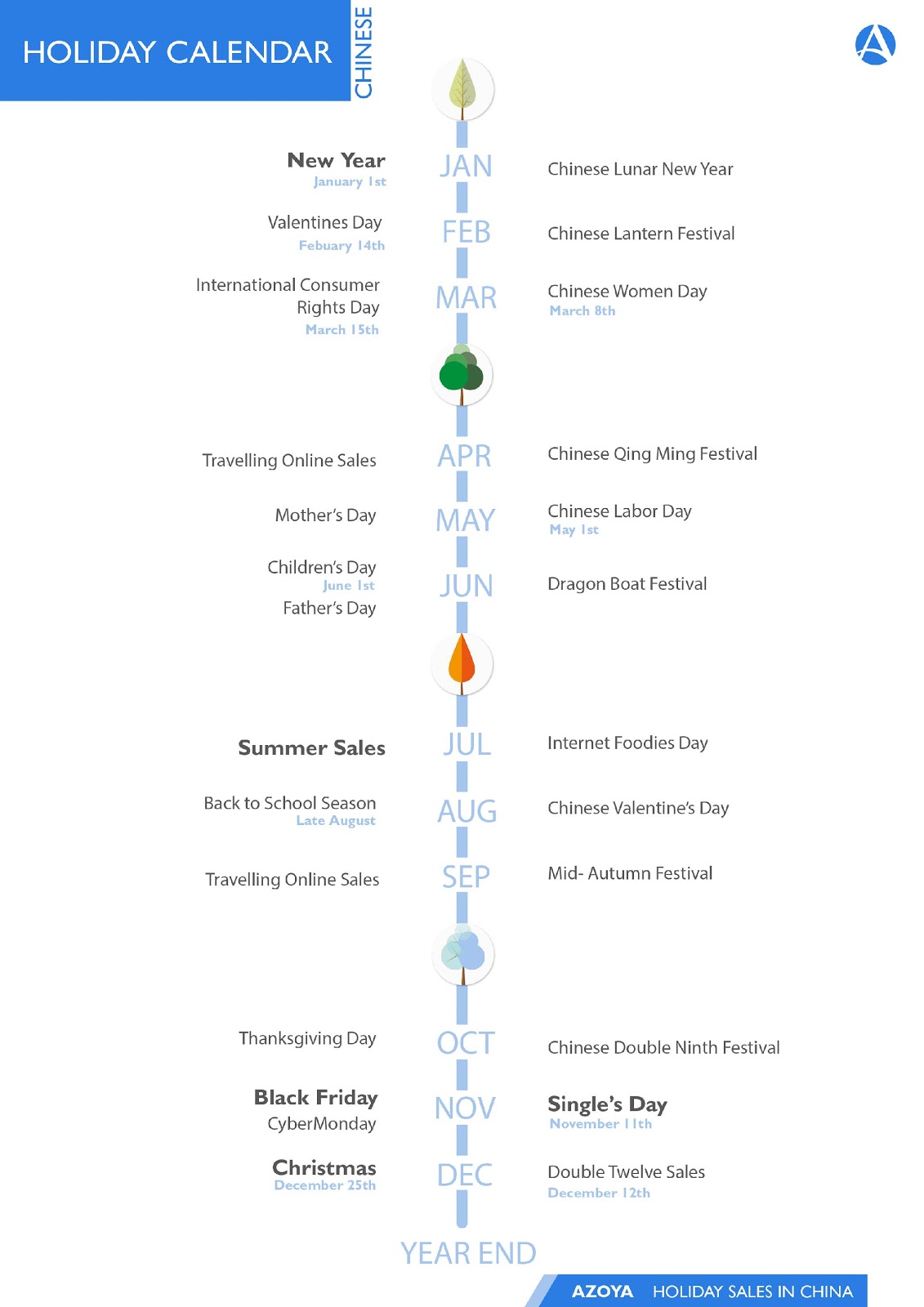 To help your retail brand succeed in China, use the following five tips:

1. Stand out as a standalone retailer: To avoid competing on crowded online marketplaces, establish a distinctive online presence with your company's own Chinese e-commerce website.

2. Create strategic content: To build loyalty and sales, emphasize that your products are "Made in the USA" and represent high-quality status symbols. For athletic apparel, including athleisure, show how your products fit Chinese shoppers' health and wellness lifestyle.

3. Get social: Establish an official WeChat account for social selling. With more than 800 million monthly users, WeChat helps retailers reach Chinese shoppers through social media, SMS and push notifications.

4. Be creative: Educate and entertain consumers with live videos, virtual reality content, music, graphics and games to make campaigns fun, interactive and shareworthy. Consider investing in key opinion leaders (KOLs), Chinese influencers who can directly link your brand to your target audiences.

5. Deliver: Consider partnering with third-party supply chain management specialists who understand the China market, streamline supply chain logistics and reduce the risk of foreign expansion by helping you navigate complex Chinese regulations.

Success story: cross-border e-commerce
Last year, La Redoute, a French online retailer for women's apparel, entered the Chinese market through cross-border e-commerce. The retailer partnered with an e-commerce solutions provider for a strategic, localized approach to operations, supply chain logistics and marketing.

To appeal to China's online shoppers, La Redoute created a Chinese e-commerce website with seasonal campaigns for desktop and mobile. For an engaging social media presence, La Redoute created accounts on China's two most popular digital marketing platforms, WeChat and Weibo. Chinese mobile marketing campaigns also included digital coupons, integrated loyalty programs and online ad campaigns.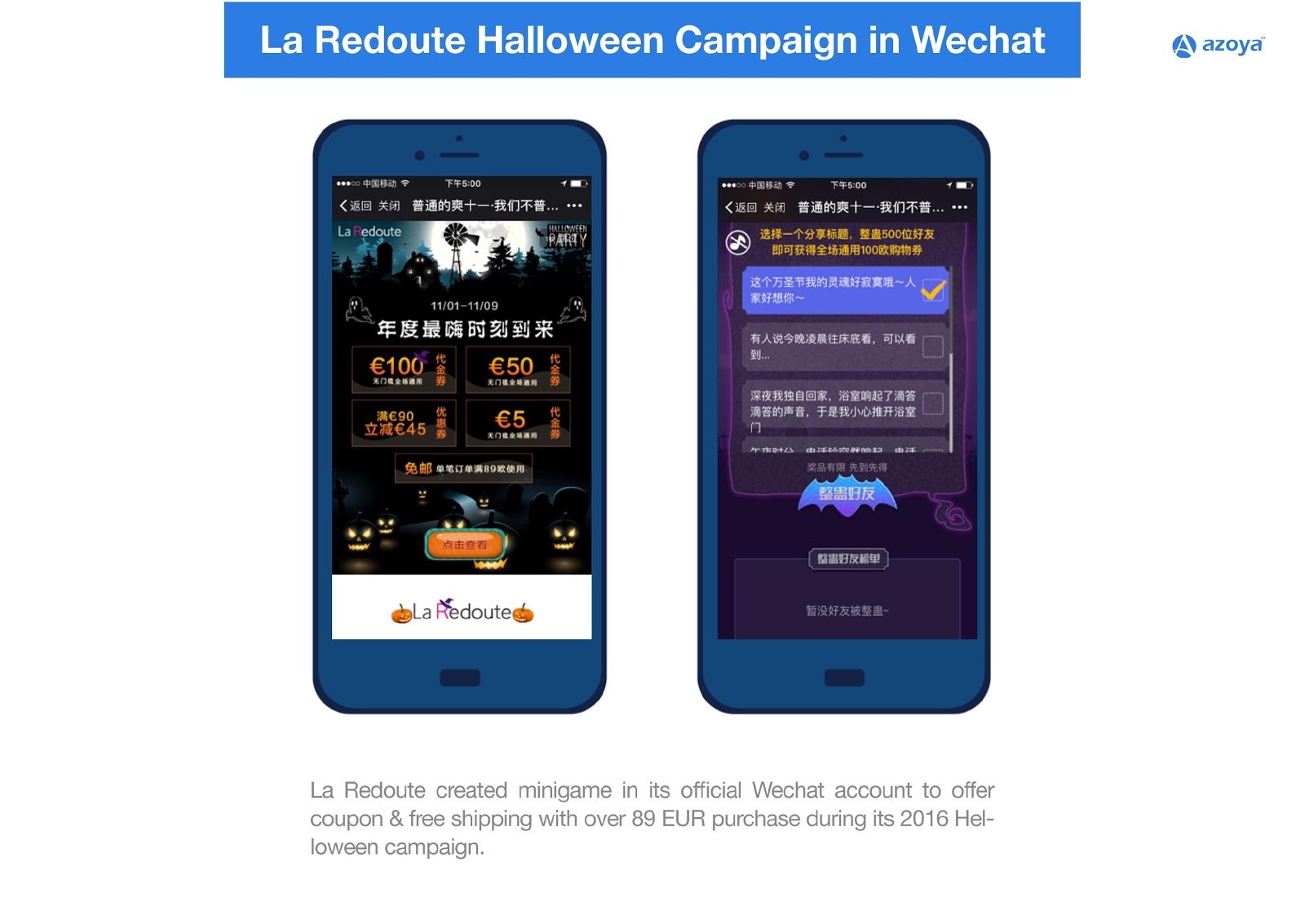 La Redoute's China e-commerce strategy resulted in sales increases, with an average basket value of $79, a 7- to 10-day logistics turnaround time and an enhanced ability to avoid out-of-stocks for best-selling products. During Black Friday sales, the company's sales were five times higher than its average daily sales, a sign of successful holiday campaign.

Capitalize on strong demand for U.S. fashion and apparel products in China by adding cross-border e-commerce your 2017 business strategy. Cross-border e-commerce allows U.S. retailers to sell directly to Chinese consumers without the need to set up physical offices and stores in China, and collaborating with a proven local partner further reduces risk.


Franklin Chu is managing director for Azoya International, cross-border E-commerce solution provider with clients from 12 countries.