03/21/2018
Fractal Analytics Named Title Sponsor of RCAS 2018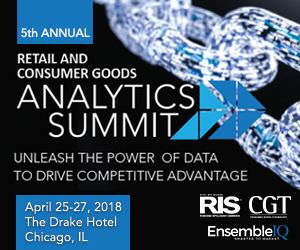 RIS and CGT are excited to announce that Fractal Analytics, a global leader in artificial intelligence and analytics that powers decision-making in Fortune 500 companies, will be the Title Sponsor for the 2018 Retail and Consumer Goods Analytics Summit (RCAS).
The 5th Annual RCAS will be held April 25th -27th, 2018, at The Drake in Chicago, IL. The event brings together retailers and consumer goods executives to discuss ways to better leverage analytics to improve collaboration and consumer engagement. Retailers and consumer goods executives will gain insights into techniques, technologies, and best practices that will improve sales and marketing, merchandising, supply chain, new product development and other key business initiatives.
For consumer goods and retail organizations, Fractal Analytics can identify future consumer and shopper needs, as well as market trends, through a trifecta of enterprise capabilities: augmented intelligence, artificial intelligence and behavioral science.
"This is the right opportunity for analytics to lead the transformation and create profitable growth," said Amitabh Bose, chief practice officer, CPG & Retail, Fractal Analytics. "In our experience, the trifecta for leading this transformation have been digitizing data to augment business intelligence; AI and machine learning applications for speed and scale; and applications of behavioral sciences in bridging the awareness action gap with consumers. We look forward to the event as a great learning place for sharing collective experiences and driving change in the industry."
Fractal Analytics will be at RCAS to share recent, impressive work in artificial intelligence and machine learning, as well as in behavioral sciences. Fractal will present specific cases from the industry's largest brands, showcasing how their technology and expertise have been used to drive positive results in the form of more sales, reduced costs and beyond.
"Having Fractal Analytics as title sponsor brings a great deal of value to RCAS attendees," said Albert Guffanti, brand director, CGT. "Executives in the CG industry are interested in finding ways to reach consumers more quickly, more profitably, and in highly personalized ways. Fractal Analytics can provide attendees with practical tools to do exactly that."
The consumer goods and retail industries are in the throes of a transformation as business models are reimagined based on-demand creation and profitable growth. Fractal Analytics is experiencing this change first hand working with their clients.