06/25/2017
Home Depot Improves the Store Experience for Everyone
Home Depot continues to work on efficiency and simplification for not just the store experience, but the employee experience as well, according to Paul Deveno, regional VP of New England.Deveno said at the Oppenheimer 17th Annual Consumer Conference in Boston, MA, that through the years Home Depot's systems have not been that way for its employees.
"They required a lot of training, a lot of practice, and a lot of expertise in every single area. And so it was also very difficult for one associate to move from one area to the next and help out when you had a rush in a particular area," he noted.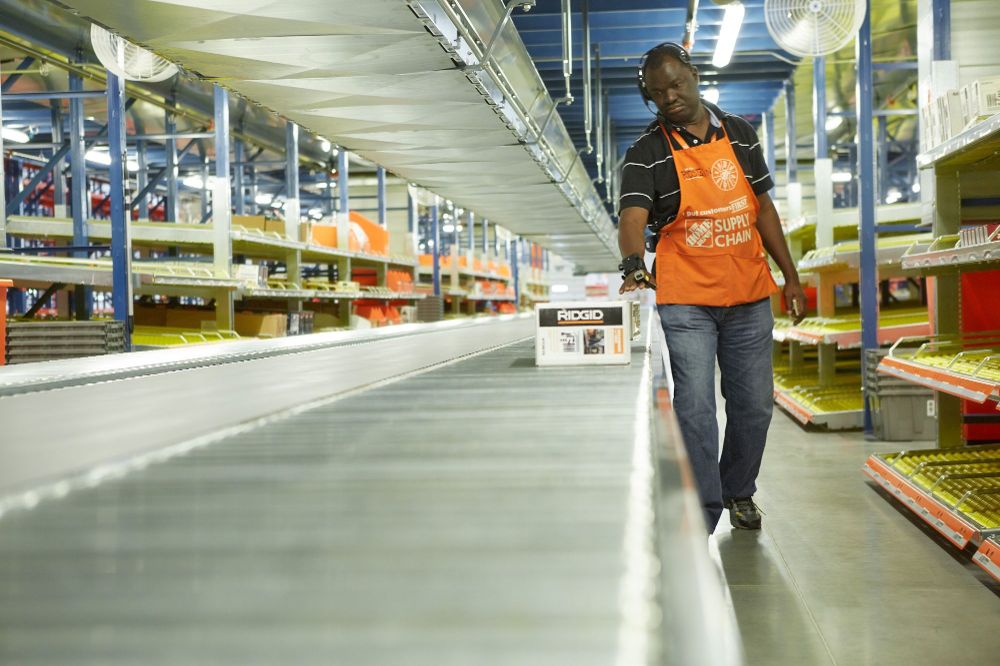 As an example of its work towards simplification this year, Deveno talked about Home Depot's "end-to-end process on the back end" in its receiving area, where the company has made massive efficiency gains reducing the number of footsteps that its associates are taking. For years the company received its tractor-trailers' product without palletized goods, leaving a lot of airspace in those tractor-trailers. Today, everything is flow loaded and that tractor is packed for the ceiling.
"So, essentially we've taken where we used to deliver with three trucks, we've dropped that down to two trucks," he said, noting there is an efficiency and cost savings gain from this change. "At store level, we used to take that product off of the truck, drag it out to the sales floor and randomly kind of put it away. Today, the receiving department has clear visibility to everything that's on that truck. We actually print them a map of how to layout their receiving department before that truck gets there."
Deveno explained as product comes off the trucks it's all labeled and tells Home Depot exactly what cart to put it on. The maps explain things down to which side of the conveyer belts associates should be standing to receive product.
Before, when the company would unload one of its tractor-trailers with less product on it, it would take around six hours to unload it. Today with about a third more product on it, employees can unload that same truck in about 2 to 2.5 hours.
As associates go to put product away the company now maps it out for them as well.
"We are telling them exactly where to set up that cart, what day, what shelf to start on, and they work through that process," Deveno said. "This has a ripple effect." He explained Home Depot carries inventory in its overheads for spike sales. While inventory is in the overhead it's in stock, but if it's not on the shelf, it doesn't get sold.
"This improvement in moving freight from the back to the shelf has drastically improved our ability to move product from the overhead to the shelf," he said. "And so obviously the more I can continue to get on the shelf, the more that we're able to take care of customers and it's easier to drive sales."
Ted Decker, EVP Merchandising noted this is part fo the company's "supply-chain synchronization" efforts, a multi-year journey for the company to ultimately do joint business planning with its supplier base, joint forecasting, timing synchronized transportation, synchronized flow of product into the store to the shelf and having just one seamless end-to-end supply chain. "We've made great progress," said Decker, but they still have more to do.
Deveno said Home Depot has employed technology in work it has done around service and last mile, noting work the company has done in its mobile app. Professionals can program an order through the app for a runner to pick up. When the runner arrives the professional owner on the jobsite gets a text from Home Depot that says, "Brian is here to pick up the order, yes/no." If yes, then the order goes out. Deveno noted it wasn't that long ago that delivery at Home Depot was managed on a whiteboard with a dry erase pen.
"Today everything is route driven," explained Deveno. "It's all electronically driven. The consumer, whether it's the homeowner or the Pro, can see the same thing that store sees online in terms of availability."
Now there are different tiers for delivery, where all-day delivery is a certain price, but professionals that need an item in a two hour window first thing in the morning get it for a different price. Deveno noted Home Depot shoppers have shown a willingness to pay for that premium service.