08/15/2018
Home Depot Invests In Its Retail Experience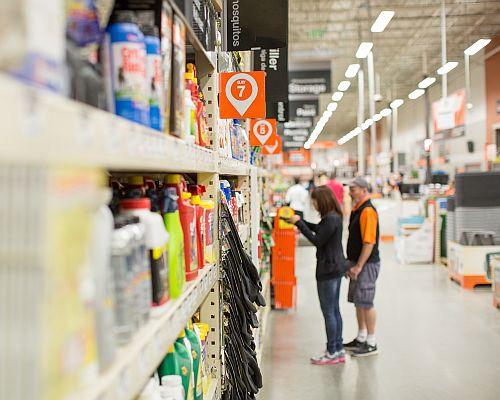 Home Depot is now seven months into a three-year "investing journey" and the changes are paying off. The home improvement retailer reported second-quarter earnings and sales that easily surpassed expectations.
Home Depot expects to invest nearly $11.1 billion in the next three fiscal years including a $5 billion investment in its stores.
"We remain energized and excited about the work and the opportunities ahead," said president and CEO Craig Menear. "We're focused on improving the customer experience by investing in our business and in our associates."
So far the retailer has implemented a way-finding sign and store refresh package in over 500 stores year-to-date, ahead of its initial plan, as part of its store investments. It is also in the process of rolling out redesigned front end areas and buy online pickup in-store (BOPIS) lockers.
"The greatest penetration of stores will get our new way-finding and sign package, which really brightens up the store and makes navigation of the store much easier," said Marc Brown, SVP, Store Operations. "We also do, call it a general environmental clean-up of the stores, spiff the floors, add lighting, paint, remodel restrooms, breakrooms for the associates, etc."
Home Depot's customer satisfaction scores (CSAT) are trending up as the retail rolls out these changes, Brown noted.  
In addition to putting BOPIS storage lockers into the stores, Home Depot is also rolling out electronic shelf label technology.
"We've not done this in the past and we're starting with our appliance department." noted Brown. "We'll do over half the stores this year with iPad-sized electronic price signs and information on the appliance [in that department]."
CFO, EVP, Corporate Services Carol Tomé noted the massive changes are "not for the faint of heart."
"There's a lot going on inside the stores, but we've piloted this for over a year before we even started to roll," she said. "Perhaps that's one reason why we're rolling faster than we thought we might."
Home Depot has also made moves to enhance delivery options, including the rollout of small parcel express delivery from store via car and van in nearly all of the retailer's major markets in the U.S. It also opened its first Market Delivery Operation (MDO) during the quarter, and plans to open additional facilities in the second half of the year.
"The opening of these facilities is a cross-functional endeavor," said Menear.  "From our real estate team that locates the appropriate sites to our IT teams that develop the proprietary software that runs them and our supply chain team that owns execution throughout, the build-out of the One Home Depot supply chain is truly a collaborative team effort."
Second quarter 2018 online sales grew approximately 26% from the second quarter of 2017. Total sales in the quarter were up 8.4% from last year. Home Depot's posted revenue of $30.46 billion beat out the $30.03 billion analysts expected and same-store sales up 8% globally beat out the 6.6% increase expected, according to CNBC.