05/22/2019
Home Depot's Interconnected Strategy Soars
The Home Depot's investments in enhancing its interconnected customer experience are yielding "solid returns," including a 23% spike in online sales from its first quarter of 2018. Additionally, more than half (54%) of the retailer's online U.S. orders were picked up in stores during its Q1 2019, a testament to its interconnected strategy, according to CEO Craig Menear.
"During the first quarter, we had record quarterly online business that helped drive 23% growth in our online business," noted EVP of Merchandising Ted Decker. "As we continue to invest in the online experience and reduce friction, we see higher traffic and improved conversion rates."
In addition to enhanced site functionality, The Home Depot is also expanding online assortments and working on providing next-day delivery for 50% of the U.S. by the end of its current quarter. The retailer also plans to onboard over 1 million customers to its new B2B website.
During Q1, Home Depot invested in stores to improve the front-end checkout experience, rolled out automated lockers, streamlined customer service desks and simplified tools for its associates. The company also hired 80,000 new associates for spring and said its new in-aisle mobile training solution, PocketGuide, provides them with "product knowledge at their fingertips to help them get up to speed quickly."
"This has translated to reduced wait times and increased customer satisfaction as our customer service scores and checkout time satisfaction have increased over 500 basis points versus last year," noted Menear. "Not only do these front-end investments have customer service and productivity benefits, they are also helping us to optimize store layouts to maximize merchandising space productivity and high traffic event in lay-down areas."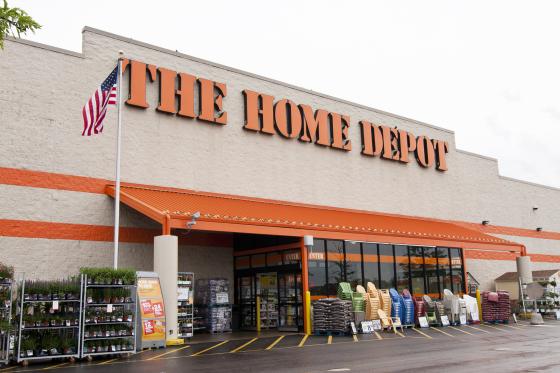 Home Depot's B2B Website Strategy
The Home Depot reported it added 35,000 customers in the recent quarter to its new B2B website experience for its Pro customers, bringing the total number of customers that have migrated to the website so far to 135,000. The retailer plans to onboard more than 1 million customers by the end of this year and is continuously working to enhance the site.
In Q1, Home Depot added an administrator in user hierarchy, which allows administrators or account owners to add purchasers or users. Customers can also now link their purchases to QuickBooks and upload their purchase history. Additionally, Customers can now save the stores they shop and easily localize their purchases.
Looking ahead, in its second quarter Home Depot will add functionality so that customers will be able to use their Pro purchase card online and have their purchases attributed back to their account. Buying previous purchases again will also be made easier, as the retailer will add an auto-populated page based on shoppers' recent purchase history both in-store and online.
Home Depot will also launch a redesigned homepage based on our feedback from 1,500 customers.
"It's too early to comment on sales lift, but the experience that we're delivering is all about engagement," noted EVP, Outside Sales & Service Bill Lennie. "And we know the more that we take friction out of the ability to transact the more our customers engage. So, early days but pleased with the capabilities, pleased with the results that we're seeing from the customers that are active."
Next-Day Delivery
The Home Depot already has next day parcel shipping capability from its direct fulfillment centers available for 36% of the U.S. population, according to EVP, Supply Chain & Product Development Mark Holifield, and has already started to retrofit its Hagerstown, MD, direct fulfillment center for further parcel shipping.
"Because of its proximity to the population centers the Northeast, that will get us to next-day delivery of parcel for 50% of the U.S. population by the end of this quarter," claimed Holifield. "We'll further improve our next-day delivery capability with our new direct fulfillment centers under development in both Dallas and up in the Pacific Northwest near Seattle."
In addition, Home Depot is delivering from stores and has forged delivery partnerships with Deliv and Roadie for crowd-sourced delivery via car and van. Those services are now available to 40% of the U.S. population for car 70% for van.
"What that means for customers," Holifield explained, "is we've got same-day delivery available for orders placed by 2:00 P.M. and next day after that time. And by the end of Q2, we'll have the same day and next day capabilities for small parcel items from stores moving from 40% to 50% of the population."