How 8 Locations Are Vying to Be Amazon's Next Headquarters
Get great content like this right in your inbox.
Subscribe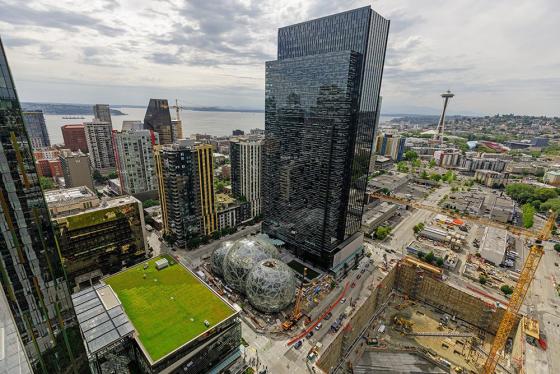 In its search for a second headquarters location, Amazon opened up its search to local and state government leaders. Now that the deadline for submitting proposals has past, Amazon says it received 238 proposals from cities and regions in 54 states, provinces, districts and territories across North America.
Amazon plans to invest over $5 billion in construction to open Amazon HQ2 and expects this second headquarters to include as many as 50,000 high-paying jobs.
So which areas are vying to be the e-commerce giant's next headquarters location and what are they offering? Here's a look at eight of the many contenders.  
Austin-Round Rock, TX
Moody's Analytics ranked this the No. 1 metro area for Amazon's HQ2.
"Austin has the highest score on business environment in the top 10, thanks to fast job growth, a dynamic tech economy, and the high incentives Texas offers businesses," says Moody's. "In a very close second is Atlanta, which scores high on human capital and affordability. In third place is Philadelphia, which does well on human capital and transportation and stands out for performing modestly in all categories while leading none."
Atlanta, GA
Atlanta is the favorite to land the new Amazon headquarters, according to gambling site Paddy Power. Money.cnn.com reports the site gives Atlanta 2-to-1 odds against winning the competition. Atlanta did not make details of its bid public. But Mayor Kasim Reed told The Atlanta Journal-Constitution last week that it will be "the most aggressive economic attraction package that the state of Georgia has ever put forward."
Philadelphia, PA
Philadelphia's bid proposed three urban site options that are ready to accommodate Amazon's full development program immediately, uCity Square and Schuylkill Yards in University City and the Navy Yard. Philadelphia also offered up an immersive website that accompanied its proposal.
"The support we received from the leaders and the residents of this region in preparing our bid for HQ2 is really inspiring – not only because we received so much support, but also because we received it from so many different types of people," said Philadelphia Mayor Kenney. "Thanks to their insight, we were able to show that Philadelphia is in the Goldilocks zone for Amazon. Our location is central on the Northeast corridor, our talent pool is vast, and Philadelphia has all of the amenities Amazon's employees want, at a lower cost than other big cities."
Newark, NJ
In New Jersey, Gov. Chris Christie of New Jersey and legislative leaders are offering up to $7 billion in state tax breaks for Amazon. Newark is a short train ride away from New York City and features a Whole Foods —which Amazon acquired earlier this year — as well as the fast-growing headquarters of Audible, whose 1,000 employees produce and sell audio entertainment and which is owned by Amazon, according to The New York Times. Market-rate apartment rents — which run about $30 a square foot — are the equivalent of subsidized housing in New York City.
New York, NY
New York's proposal includes four proposed business districts that could serves as a home for Amazon's second headquarters: Midtown West, Long Island City, Brooklyn Tech Triangle and Lower Manhattan.
"We see this as a competition for 50,000 new job openings--jobs we want New Yorkers to land," said Mayor Bill de Blasio in a press release. "We win it based on the talent of our workers and the incredible diversity of industries in this town."
Amazon already has already made a number of key investments in New York City. The company has a sizable presence throughout the five boroughs, including corporate offices, a distribution and fulfillment center, and retail space. Last month, Amazon signed a lease for 360,000 square feet on the Far West Side of Manhattan, substantially expanding its New York City footprint.
Chicago, IL
Mayor Rahm Emanuel and Illinois Gov. Bruce Rauner released a list of 10 potential areas. There are two sites in the city's core, with one that includes space in Willis Tower and an old U.S. Post Office building, says the Chicago Tribune. Others include neighborhood spots, like the medical district which is just west of downtown. Sites in the suburbs of Schaumburg and Oak Brook are also included. City officials have not released other details of the bid, including possible incentives.
Tucson, AZ
The Arizona Commerce Authority is refusing to disclose details of a proposal to lure Amazon to build its second headquarters in the state. However, Sun Corridor Inc., the Tucson region's main economic development agency, tried to get Amazon's attention by offering a 21-foot saguaro cactus to Amazon founder Jeff Bezos in Seattle, according to Tucson.com. The gift was declined and donated to the Arizona-Sonora Desert Museum.
Stonecrest, GA
Jason Lary, mayor of Stonecrest, Georgia, is willing to carve out 345 acres of the existing town to create a new jurisdiction with the name Amazon. According to CNBC, Lary said inhabiting its own town would mean Amazon could build on land just outside of Atlanta, establish an "eternal brand" in DeKalb County and have its own post office and mailing addresses.