How to Exceed Customer Expectations and Improve Satisfaction in Retail
Get great content like this right in your inbox.
Subscribe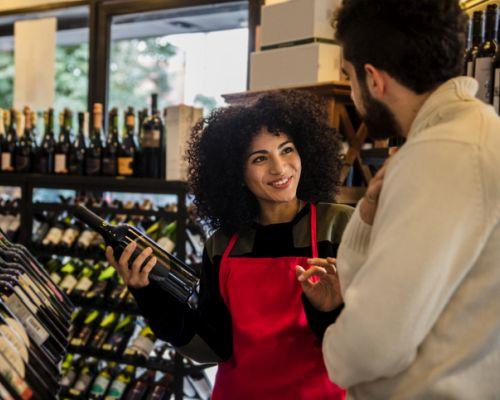 The customer experience is a customer's perception of how a company treats them, which affects their behavior and drives their loyalty. It is imperative for retail stores to offer a high-quality consumer experience – loyal customers are what sustains a business by increasing sales and creating a positive brand reputation. Taking into account the state of modern day technology and the growing popularity of online purchasing, both digital and physical consumer touchpoints must work together flawlessly.
Although online sales will have a huge impact on more than half of this $4 trillion market, the customer's experience in store is equally as important, as many customers will research online as the first step and then visit the store to complete their consumer journey. So what is it that makes a high-quality customer experience?
The components of a good customer experience
Knowledgeable employees make a world of difference to consumer satisfaction. Good customer service is directly linked to good product knowledge – research shows that half of customers seek expert advice when they enter a store, as the internet may not always answer their questions. Even more (73%) say product knowledge is what they need most from sales associates.
How can expectations be met?
The retail industry is constantly looking for ways to improve the customer's experience and with advancing technology, this is becoming easier to achieve.
Artificial Intelligence (AI) is a more modern route to take. Macy's has already introduced their in-store shopping assistant, 'Macy's On Call'. Customers can ask about products, services and facilities, and the exchange is meant to mimic human interaction. The bot can also send responses to customers' mobile phones, creating a personalised experience.
Amazon has also revolutionised both the online and in-store shopping experience with new technologies. The Go stores have fully automated the payment and checkout process, meaning customers can enter the store, choose their items and leave without queuing or checking out, while payment is automatically made through their own mobile app.
Although, it's important to remember that employees are at the root of improving the customer experience, as consumers will always look for interaction and opinions from sales associates. It was found that customers who were offered a helpful suggestion by a sales associate also had a shopping basket 31% larger than customers who had not!
The best way to maintain quality and performance of retail employees is through advanced learning platforms that can reinforce learning over time. The North Face® used this approach by using AI. Frequency and the type of questions delivered to learners are completely personalised – the algorithm bases it on the learner's rating of how well they knew their answer. Spaced Repetition is then used to enhance knowledge retention further by continually presenting information. This preserves the value of the initial training sessions as learners are revisiting learnt information, instead of forgetting up to 90% of it, which is usually the case!
The customer experience is made up of various components but retailers need to look at the root of what drives their sales: passionate and knowledgeable employees. Although there have been clear advancements in retail technology to increase sales, it's important to invest in technology for the physical store and employees, looking closely at digital learning providers that can provide a seamless learning experience. This encourages employees to develop their own skills and makes them feel valued within the company. Increasing employee satisfaction will filter through to their performance in store, creating highly satisfied and loyal customers.
-Cassie Walker, marketing assistant, Wranx