How Retailers are Helping with Hurricane Harvey Relief
Get great content like this right in your inbox.
Subscribe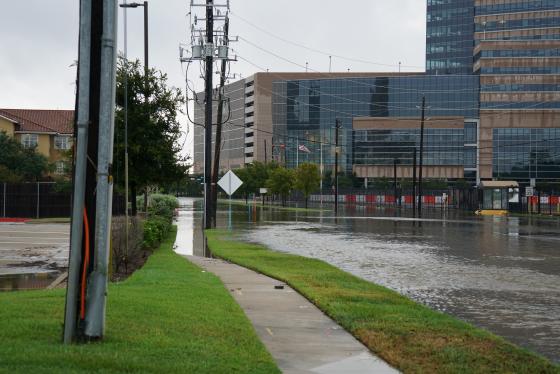 As the country responds to the devastation caused by Hurricane Harvey's path through southeastern Texas, retailers are stepping up in droves to pledge support. Here are the ways some of America's retailers are helping with relief efforts.
Albertsons Companies
Albertsons Companies and the Albertsons Companies Foundation is matching the first $200,000 donated by its customers. All donations will go directly to several disaster relief and outreach organizations that are on the ground in Southeast Texas, including the local Salvation Arm and the American Red Cross. Donations can be made at any of the company's 20 retail banners, including Albertsons, Safeway, Jewel-Osco, ACME Markets, and others.
The company's Albertsons and Tom Thumb stores in Dallas—Fort Worth donated refrigerated tractor trailers to bring and store food at the Salvation Army's rescue shelter in Houston. They are also working with multiple food banks throughout Texas to provide food and other necessities to multiple emergency shelters in and around Houston and Dallas—Fort Worth. 
Alimentation Couche-Tard
Alimentation Couche-Tard and its North American network of stores (Couche-Tard and Circle K), which saw over 120 stores closed due to storm damage, is donating $100,000 dollars to the Red Cross in order to get immediate support to its employees and the community.
"Our Texas team is working tirelessly to get stores reopened, fuel to the pumps, clean water for sanitation and food service, and shelves restocked," said Brian Hannasch, President and CEO of Couche-Tard.
Couche-Tard will also take donations from customers at all of its 9,500 North American stores. The company has also activated an internal fundraising campaign to help employees whose lives and welfare have been damaged by the storm. The campaign has been endowed with a company contribution of $150,000 dollars and will be supported by employees across the network who want to help their Texas colleagues.
Amazon and Whole Foods
Amazon and Whole Foods announced a $1 million match for donations made via Amazon to the American Red Cross Hurricane Harvey Relief efforts and in just days customers donated $1 million dollars meeting the match challenge in full.
Customers can continue to donate cash through Amazon or needed products via the Wish List, like the American Red Cross Wish List, designated for Hurricane Harvey here or the Texas Diaper Bank Disaster Relief Wish List found here.
Additionally, Amazon Operations teams are pulling critically-needed items from inventory to donate directly to first responders, and Amazon Web Services is working with several NGOs for AWS support and adapting apps to disaster use cases.
Bass Pro Shops
The outdoor company donated more than 80 Tracker boats to aid rescue efforts. The retailer also donated truckloads of relief supplies totaling $40,000. The contributions support Convoy of Hope, a Springfield, Missouri-based humanitarian organization, and the American Red Cross. Donated supplies include protein-rich foods like Uncle Buck's Premium Jerky and peanuts for those in the field.
CVS
CVS Health and the CVS Health Foundation announced $200,000 in cash and in-kind product donations.
The CVS Health Foundation has donated $50,000 each to the Greater Houston Community Foundation and the American Red Cross, as well as $25,000 to Salvation Army, to aid the greater Houston area in supporting local residents as they begin the recovery and rebuilding process.  In addition, CVS Health will also donate $25,000 worth of in-kind products including personal hygiene, clean-up and over-the-counter items.
CVS Health employees can make a donation, which will be matched by the CVS Health Foundation up to $25,000.
CVS Pharmacy's mobile pharmacies will be moved into the in the greater Houston region once it is safe to do so. Customers will be able to pick up their prescriptions, purchase over-the-counter medications and receive recommended vaccines.
Gallery Furniture
Gallery Furniture, a Houston-based chain store, opened a few of its stores as shelters. Since Sunday, 400 people have gathered at those locations, where they could sleep on the brand new sets of furniture that occupy the floors. The retailer is also accepting cleaning supplies donations at its 6006 N. Freeway and 7227 W. Grand Parkway South locations "so that affected Texans can come pick up these supplies to begin the work of repairing their damaged homes and places of business," according to the retailer's Facebook page.
The Home Depot 
The Home Depot Foundation has committed $1 million. Funds will be distributed to several nonprofit partners including the American Red Cross, Salvation Army, Convoy of Hope, Operation Blessing and Team Rubicon to support both short-term relief and rebuilding needs.
In addition to helping the communities affected by Hurricane Harvey, the Foundation's employee assistance program, The Homer Fund, will provide emergency financial assistance to associates who have been affected.
Kroger
The Kroger Co. Foundation has committed $100,000 to the Houston Food Bank. For every social share of the #KrogerCares post, the Foundation will donate $5 to the Food Bank, up to $100,000. The store is also asking for its customers to round up purchases to the nearest dollar or make a cash donation at any store. The fundraiser wraps up September third.
Lowe's
Lowe's gave a $500,000 contribution to American Red Cross Disaster Relief and is accepting donations from customers at its Texas stores and online through the Lowe's American Red Cross Online Donation Site.
Lowe's is also supporting employees affected by the storm through its Employee Relief Fund which provides financial assistance in times of crisis. Lowe's Emergency Command Center continues to expedite truckloads of needed clean-up and recovery supplies to its Lowe's stores impacted by the storm.
Starbucks
The Starbucks Foundation donated $250,000 to relief. The coffee chain is accepting donations to the American Red Cross in its stores and employees who donate money can request a matching donation through the company's Partner Match program.
Target Corporation
Target donated $500,000 to be distributed to local and national disaster relief organizations, including the Red Cross, the Salvation Army and Team Rubicon, an organization that unites the skills and experiences of military veterans with first responders to quickly deploy emergency response teams.  
Before the storm, Target provided extra products to stores, including batteries, flashlights, cleaning supplies and non-perishable food. Local road flooding and closures are impacting the company's ability to make some deliveries and in those cases, Target is holding products at its distribution facilities so it can quickly push them out to stores when roads clear.
Tempur Sealy International, Inc.
Tempur Sealy is committing $1 million in bed donations, providing mattresses to victims during the long rebuilding process. 
Walgreens
The drugstore retailer has committed $200,000 to the American Red Cross, and the company will enable customers to donate at its stores. Walgreens is also donating food items, first aid and medical equipment to the American Red Cross' emergency shelter at the George R. Brown Convention Center in Houston. Walgreens is working with United Airlines to transport the first aid and medical items from Chicago to Houston on a flight with relief supplies. It also provided one of its store generators to the City of Victoria, Texas to support its city facilities.
Walmart
Walmart and the Walmart Foundation have committed up to $20 million. This includes $10 million focused on support of American Red Cross shelters and $2 million in support of the Hurricane Harvey Relief Fund at the Greater Houston Community Foundation.
As part of a customer campaign, Walmart is matching customer donations two to one with cash and product donations of up to $10 million to support American Red Cross disaster relief. Walmart's initial focus will be on mega-shelters, providing items to meet basic needs, such as water, infant formula, diapers, underwear and personal hygiene products. We will also aim to increase comfort in these shelters by providing items such as TVs, DVDs, games and stuffed animals for children and healthy snacks, such as fresh fruit.
Walmart and the Walmart Foundation will also give additional cash and product donations totaling $10 million to support the Salvation Army, Feeding America, Convoy of Hope, Team Rubicon and the Hurricane Harvey Relief Fund at the Greater Houston Community Foundation, as well as other organizations assisting food distribution, sheltering and cleanup efforts. This commitment is an increase from the previously announced $1 million of in-kind donations for immediate relief. 
These donations were all announced before 5 pm EST on Thursday.