How Sportsman's Warehouse Saves the E-Commerce Sale
Get great content like this right in your inbox.
Subscribe
When online shoppers discover an item they are interested in is out-of-stock, they quickly move on to search somewhere else. But what if e-commerce retailers could not only save the sale, but reengage that shopper in the future by capturing their e-mail? This is the challenge Sportsman's Warehouse set out to conquer.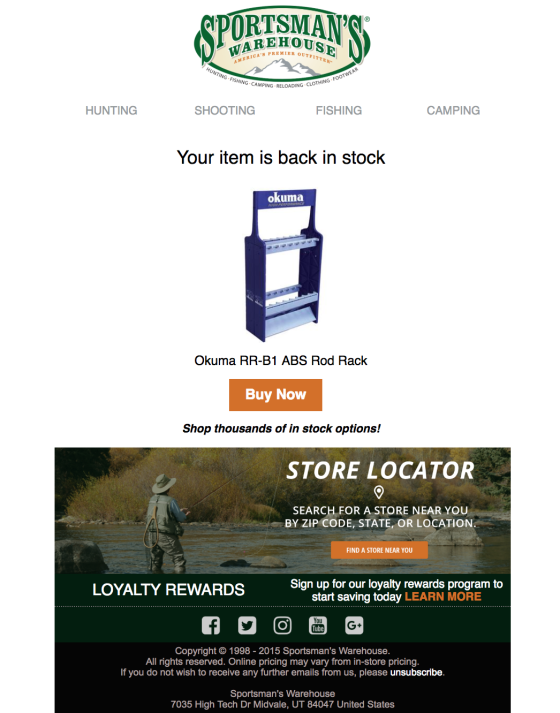 Sportsman's Warehouse serves outdoor enthusiasts with hunting, fishing, camping and shooting merchandise in 90 retail stores and an e-commerce site. The retailer sought to bolster its e-commerce platform by acquiring the contact information of new online consumers, optimizing its merchandising strategy based on localized insight, and re-engaging consumers when they encountered an initial barrier to sale.
To accomplish all of this, Sportsman's Warehouse adopted the customer engagement platform MyAlerts, implementing personalized alerting functionality for visitors across its entire e-commerce platform.
Sportsman's Warehouse has been live on the system since November of last year, hitting its implementation deadline goals of being live within 60 days. On its website, visitors are given the ability to subscribe (via a single e-mail input) to track out-of-stock items. Shoppers are automatically alerted when products come back in stock, with direct links to relevant e-commerce pages.  
Since the launch, "tens of thousands of people have signed up," Mike Van Orden, CTO, Sportsman's Warehouse, tells RIS.
"We are always looking for additional services to our customers, and this we felt would be something our customers would appreciate," he explains. "The fact that we're capturing e-mail addresses gives us the ability to market to those customers. After we went live, the visibility into what our customers are actually demanding was very beneficial to see."
Myalerts provides Sportsman's Warehouse access to a visual dashboard of all relevant information. Within that dashboard a series of "cards" show various aspects, such as number of users signing up, the top trackers, top products and brands being tracked, and more.
"We are able to log in and drill down into these cards to see whatever specifics we're looking for," says Van Orden. "Myalerts also sends out a weekly executive summary, it's all very straightforward."
In terms of assortment planning, Sportsman's Warehouse can now prioritize what to order. The solution helps the retailer better understand customer demand by vendor, category and SKU to a level that, over time, can greatly improve its assortment and inventory planning.
"Now we have a very specific, quantitative number that we can see that is actual missed revenue." --Mike Van Orden, CTO, Sportsman's Warehouse
"The exact missed demand is interesting to note," he says. "We know what is out-of-stock, but once it goes out-of-stock we don't historically see the missed demand. Now we have a very specific, quantitative number that we can see that is actual missed revenue. This really helps our assortment planning in terms of prioritization."
"If hundreds of people are asking for this we should definitely buy more, right?" he quips.
The retailer's key merchandisers have a log-in to the MyAlerts dashboard and can use this information to optimize their inventory selection and ensure the right product is available at the right time and place. They are also using this information to help gauge the level of engagement with their site and the loyalty of their consumers to particular brands.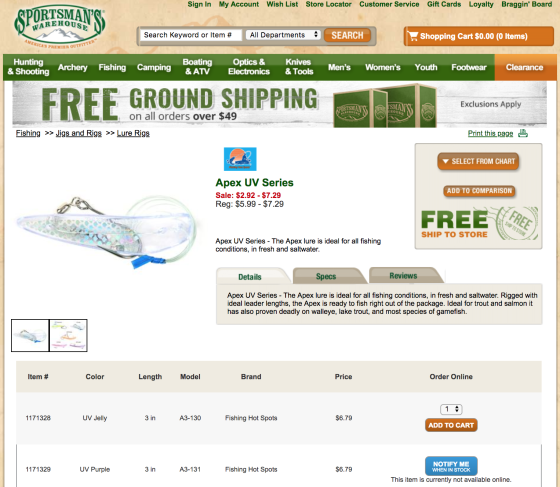 What's better, the emails deployed are popular with shoppers, boasting an 85% open rate and nearly 40% click-through rate (CTR).
"In terms of how we gauge customer engagement with our website, if you make people keep checking back to your website for out-of-stocks, you'll lose them," Van Orden shares. "Being able to alert them immediately when an item is back in stock is very important to retain customers, engage customers, and get them back to the website."
"It has really helped us a lot in engaging and re-engaging our customers when something is out-of-stock," he continues.
After a shopper returns to the website through the e-mail, Sportsman's Warehouse can keep marketing to them because the retailer has captured their e-mail address and some specific information about them.
"This service has been well worth it," Van Orden says. "It's been a tremendous benefit for us and just a positive experience all around."
For Sportsman's Warehouse, this online service is akin to a neighborhood store associate reminding a shopper a product they wanted is back in-stock in the store.
"Personalization in marketing is best achieved when the customers themselves are able to curate that experience exactly as they choose."