06/16/2017
How This Startup Is Reimagining Tuxedo Rentals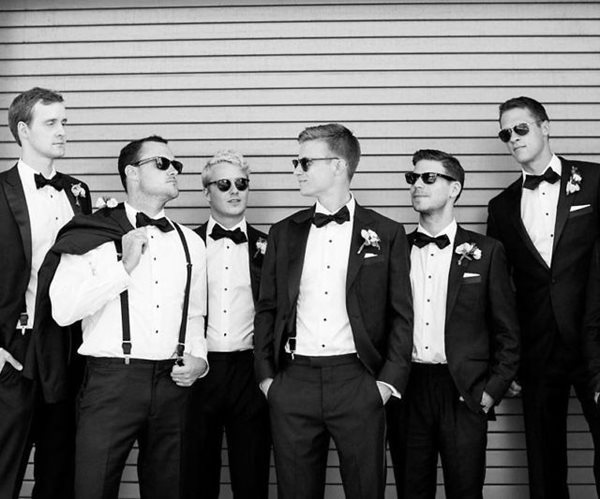 Think back to the last time you rented a tuxedo. Was it senior prom? Your wedding? A corporate event? Is the mere thought of that experience generating a spark of anxiety, what with the multiple trips to the tux shop to get fitted, another to pick it up and another to return it? And what about the style and fit? Did you feel like a sharp-dressed man, or more like you'd raided your father's closet? You don't have to answer that.
But you're nodding your head. You know what I'm talking about. In 2013, after a terrible experience renting tuxedos for Andrew Blackmon's wedding, longtime friends Blackmon and Patrick Coyne saw an opportunity to spruce up the traditional tuxedo and suit rental business. They ran their idea through startup incubator MuckerLab of Mucker Capital and out popped
The Black Tux
, an online tux rental shop that removes the drudgery from the rental process and also outfits its customers in stylish high-end tuxedos and suits — the equivalent of a $1,200+ garment in a retail store. Black Tux uses 100 percent Italian merino wool in its suiting, 100 percent cotton for its shirting, and real leather for its shoes.
The ordering process couldn't be simpler. Go online, enter some basic information about your height, weight and build, and a sophisticated algorithm will tell you what size you should be. (Black Tux snagged its data scientist from Netflix.) Place your order, and your garment arrives 14 days prior to your event so you have time for a free exchange if necessary. After your event, place it back in the bag and box it arrived in, and ship it back, free of charge.
For those who prefer more traditional measuring methods, the company will send you a tape measure, or you can go to your tailor, and submit those measurements. Or, you can request its brand new home try-on option, which will allow you to see how a suit looks and feels before you rent (but only Tuesday through Thursday, and only six weeks in advance of your event, to reduce the likelihood you're using this option to avoid paying).
Today, its online store represents the majority of its business, but that may change soon, says Mike Klepfer, vice president, operations, as Black Tux just inked a partnership with Nordstrom to allow customers to access Black Tux directly from its stores. The first of these opened in March at Nordstrom's Mission Viejo, Calif., store. Business is growing rapidly, spreading through word of mouth, through crossmarketing with retail partners — which also includes the wedding registries of Crateand-Barrel and The Knot — and through media spots, including recent GQ feature.
Black-Tux also has four of its own showrooms in Chicago, Dallas, LA and New York City and a fifth in San Francisco opening this month.
Business has grown so quickly that the company has moved from producing garments twice a year to buying monthly. It services all of its customers from one distribution center just outside Los Angeles, but it is running out of space, and looking to expand, potentially to another DC on the East Coast. Last year, it invested a couple million in technology, much of it from SDI Industries, to upgrade its current 65,000-square-foot DC. It is now fully automated, with each garment individually tracked via RFID throughout inbound and outbound processes.
As its name might suggest, the majority of its inventory is black, but the company makes sure to keep fashion-forward choices on hand for those customers who are a little farther out on the edge. Its black and white and red split tartan tuxedo, which makes the edge look like the middle (see for yourself), has been very popular, while its Midnight Blue tuxedo has been its best-selling non-black suit this season.
Every suit is available in classic and slim fit and has multiple options for pants' length. Next up, the company is considering a retail model for those customers who want to keep their garments. In short, says Klepfer, "we want to offer people what they want."  
— Jordan K. Speer


Editor's Note: Enjoyed this story? Check out the rest of our Top Innovators!