07/16/2017
How thredUP Upends the Thrift-Shop Concept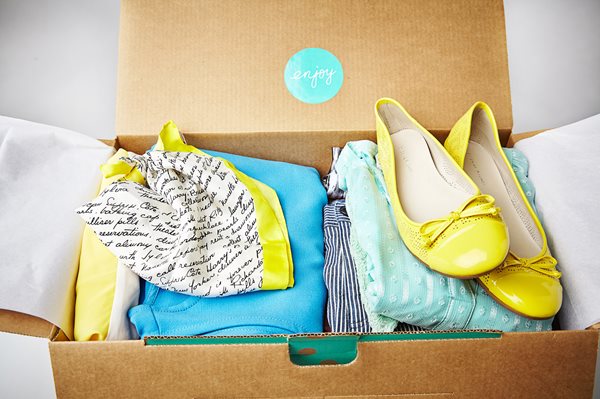 It's a sign of the times that an online secondhand apparel store is running a national TV advertising campaign — and that there is a large online secondhand apparel store to begin with.

Back in the day, shopping at a secondhand store either meant you were watching your pennies — due to need or thrift — or that you were seeking a "vintage" look with clothes from somebody's grandmother's closet.

And while it's surely no coincidence that the idea for thredUP came to co-founder James Reinhart in 2008 — smack in the middle of the Great Recession — its arrival as a big player in the apparel space signals the growing prominence of a number of other cultural trends, namely, sustainability, sharing and simplicity.

Yes, thredUP is about convenient and affordable access to top brands and styles — on thredUP, shoppers can snag current styles for as much as 90 percent off first-run prices. But it's also about reducing occupied space in landfills, easing overfull closets, saving water, reducing the use of pesticides and dyes, and recycling.

And while there are many apparel companies now that are striving to recycle garments by turning them into something new, thredUP offers the opportunity to recycle without changing the garment, just the person who's wearing it.

To empty their bulging closets, sellers simply request a "Clean Out" bag from thredUP that arrives with a free shipping label and that they can fill and leave on their doorstep for pick up. Sellers have the option to select "donate," and turn their closets into cash for organizations including Big Brothers Big Sisters and Feeding America, or they can receive site credit or a cash payout for a small fee that covers shipping and processing costs. Once the bag is received, the company takes it nfrom there, photographing and pricing items using a proprietary algorithm and posting them online.

Reinhart developed the idea for the thredUP marketplace in 2008 when he looked in his closet and couldn't find anything to wear. It began as a pilot for peer-to-peer online sharing of men's shirts, and is now the world's largest online marketplace for buying and selling women's and kids' secondhand clothes.

Unlike your traditional neighborhood thrift store where you might find a garment that is genuinely vintage (or just horribly old and unfashionable, and possibly torn and stained), thredUP sells up-to-the-moment styles, thoroughly vetting its garments to make sure they are on trend and in perfect shape. "Often you can find the exact same items you'd find in retail stores, just at much lower prices," says Chris Homer, chief technology officer.

Still, with hundreds of thousands of unique items, thredUP's challenge is to show a customer the "right" products in her size, style and price point. Enter AI Stylist, powered by Vue.ai, a unique way of recommending products based on a customer's previous purchase history, style preferences, and the products that a customer is browsing. Using products that the customer has added to the cart or previously purchased (accessed through the Closet feature on the My thredUP page), AI Stylist recommends "Style it with" products, while the "Recommendations" page on My thredUP always shows a fresh selection of 100 items recommended specifically for the customer — no human involved.

Beyond that, AI Stylist can determine the reasons behind a customer's attraction to a garment — i.e., is the customer looking at a dress because she likes its shape, or its color, or its pattern? — during a browsing session and adjust recommendations in real time.

In short, buyers can get what they like at a fraction of the cost, and sellers can buy new clothes without guilt, knowing they can resell them. "We're trying to inspire people to think secondhand first," says Homer. "We know that shopping secondhand helps the world in some small way, and we're proud to be a part of that. Being a conscious consumer matters. It matters to you, it matters to us, it matters in the whole big picture of the world."

— Jordan K. Speer


Editor's Note: Check out all of our 2017 Top Innovators here!