05/24/2018
illy Accelerates Subscription Coffee Program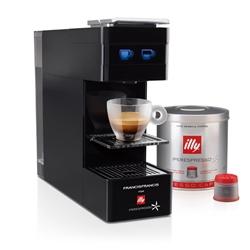 Coffee company illy and OrderGroove have partnered to launch a subscription program. The program leverages the artificial intelligence of OrderGroove's Relationship Commerce Cloud to orchestrate the optimal experience for customers seeking illy iperEspresso machines. Rather than checking out with only the machine, customers are prompted with the opportunity to sign up for the "illy a casa" program which offers a selection of iperEspresso machines at a reduced or complimentary price with opt-in to an 18-month subscription relationship for illy's recyclable coffee or espresso capsules.   
Since launching OrderGroove's Relationship Commerce capabilities in June 2017, 44% of illy subscribers added in the US during this period chose the "illy a casa" machine program, and illy experienced an 88% increase in customer spending when compared to one-time purchases of the coffee machine without the "illy a casa" program. The program further coincides with a 10% increase in the illy.com website's overall Net Promoter Score.
"With OrderGroove's technology, data-driven insights and consumer expertise, we're able to pursue a deeper and longer relationship with our customers, who love illy coffee and want to enjoy it at home," says Andrea Vitale, director of eCommerce for illy Caffe, North America. "By offering the 'illy a casa' program at the optimal moment, we are making it easy and convenient to enjoy illy coffee through a premium subscription program. In return, we are experiencing increased customer satisfaction and lifetime value. It's a win-win across the board."
illy has deployed OrderGroove's Relationship Commerce Cloud in eight countries, with future plans to implement the Relationship Commerce Cloud's predictive reordering and frictionless discovery and ordering capabilities. OrderGroove's Relationship Commerce Cloud uses a proprietary Anticipate AI engine, supported by a team of consumer marketing experts.