Kroger and Walgreens Put Innovative Partnership to the Test
Get great content like this right in your inbox.
Subscribe
Hear More From Walgreens & Kroger
The first Kroger Express concept in a Florence, KY, Walgreens is operational.
Kroger Express—a curated assortment of 2,300 products, selected using customer data and insights provided by Kroger subsidiary 84.51°—will be offered at 13 Walgreens test stores in Northern Kentucky, near Kroger's Cincinnati headquarters. The remaining 12 pilot stores will be operational early next year.
The Kroger Express selection will include Home Chef meal kits, national products and Kroger's private label Our Brands products. As announced in October, the participating pilot stores are offering a one-stop shopping experience where customers can access products from both brands and order groceries on kroger.com for pickup at Walgreens. Kroger Express marks an expansion of the original offering.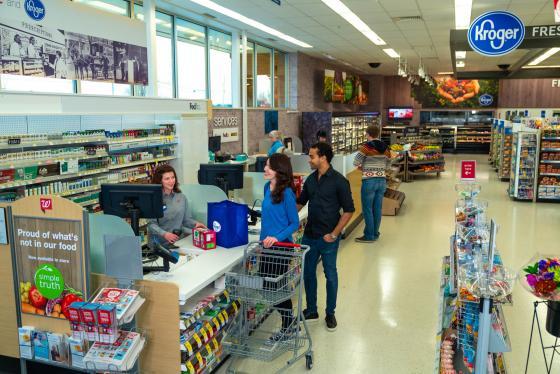 "We are redefining the customer experience in a variety of ways through Restock Kroger, including innovative partnerships like our test-and-learn pilot with Walgreens," said Robert Clark, Kroger's senior vice president of merchandising.  "We are excited to enter the next phase of the pilot. The Kroger Express concept creates easy access to our most popular Our Brands products through a fill-in grocery shopping experience for Walgreens customers, and our Home Chef Express meal kits provide customers with an on-demand solution for tonight's dinner."
Home Chef Express meal kits, already available at certain Kroger Family of Stores, will be available in 65 Walgreens locations in the Chicago area. During the pilot, Walgreens will offer three unique Home Chef Express meal kit options, with recipes rotating bi-weekly.
"We're pleased to continue working together to explore new concepts that expand product selection to provide a better shopping experience and greater value for our customers," said Richard Ashworth, Walgreens president of operations.