Lamps Plus Unveils App-Less Texting
Get great content like this right in your inbox.
Subscribe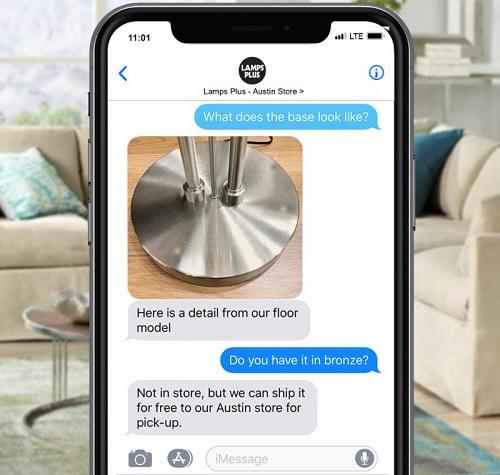 Lamps Plus has gone live with the ability for customers to send texts with questions to their local store and receive immediate answers from store sales associates. Customers can send texts to any Lamps Plus store to ask about product availability, product details and other lighting and home furnishing questions to receive quick answers from a store associate.
Lamps Plus is the first U.S. retailer to offer customers the ability to interact by texting directly with any of the company's stores without requiring an additional app. Lamps Plus has a mobile website instead of an app. 
Customers can questions from their phone to any of the retailer's 37 stores. In each store, the store manager or assistant store manager carries a dedicated company smartphone during store hours to respond to customers' texts.
Developed by Lamps Plus and piloted since late December 2018, the innovative communication option is processing thousands of customer texts to stores per week. While the frequency and volume of text message conversations has doubled from the number of store calls, the amount of calls has remained the same.
"We consider customer-to-store texting to be important for the future of brick-and-mortar customer service," said Dennis Swanson, founder and CEO, Lamps Plus. "Customers have shown they want the convenience of reaching their local Lamps Plus store through texting. Texting adds another level of ease for customers to get answers and details through one-to-one interaction."
Responses from store employees can include photos of products or parts of products. A product's functionality or a three-dimensional view can be shared through video by the store associate. Unlike a call, customers can respond to the store's text at their convenience.
"Our store employees receive hundreds of online training sessions per year and are knowledgeable about the products we carry and what other customers are asking so they are the perfect resource to answer customers' questions through texting," said Swanson.