02/09/2018
The Latest Amazon Prime Benefit: Free Whole Foods Grocery Delivery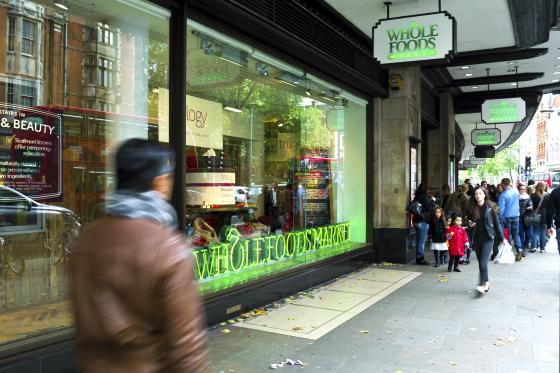 Amazon has offered a glimpse into its plans for Whole Foods Market and how the two companies see the future of grocery fulfillment.  The e-commerce retailer will start delivering Whole Foods products in four markets via free two-hour delivery through Prime Now, with plans to expand across the U.S. in 2018.
Prime customers in Austin, Cincinnati, Dallas and Virginia Beach can now shop through Prime Now for thousands of items across fresh and organic produce, bakery, dairy, meat and seafood, floral and everyday staples, as well as select alcohol. They receive two-hour delivery for free and one-hour delivery for $7.99, both on orders of $35 or more.
"Over the next few months, we can expect to see Amazon employ their test and learn philosophy to see how this new addition of services impacts their customers and how they can continue to refine and improve that process," commented Scott Webb, president of Avionos.
Only 16% of consumers have purchased groceries on Amazon this past year, but we could see this number spike if Amazon rolls out nationwide delivery, according to Walker Sands 2017 Future of Retail data. Consumers say they would purchase more groceries online if it was less expensive (40%) and if delivery times were more convenient (23%), but Amazon's price cuts at Whole Foods coupled with fast delivery options baked into Prime membership addresses the top consumer barriers for adoption.
"We're happy to bring our customers the convenience of free two-hour delivery through Prime Now and access to thousands of natural and organic groceries and locally sourced favorites," said John Mackey, Whole Foods Market co-founder and CEO. "Together, we have already lowered prices on many items, and this offering makes Prime customers' lives even easier."
Delivery from Whole Foods Market through Prime Now is available daily from 8 a.m. to 10 p.m. Customers can visit www.primenow.com or download the Prime Now app to enter their zip code to see if they are in the delivery area.
Dan Wilkinson, CCO of 1WorldSync, noted this step showcases the importance of Whole Foods' existing stores in urban locations.
"As the lines between online and in store have blurred, Amazon has realized that location will be a key driver for commerce success," he said. "The ability to deliver products that consumers demand as quickly and conveniently as possible will be a major competitive advantage, but it will also require significant adjustment for its logistics operations."  
"This announcement further supports the idea that this brick-and-mortar network of Whole Foods stores is not only a great way to deliver fresh food, but by using Prime Now, could also serve as a distribution center for other common Prime Now products," commented Greg Ng, VP of digital engagement, PointSource, a Globant company. "One of the most exciting things is the potential of adding the Alexa-enabled appliances to the mix, as well as Amazon Key. The addition of AI into the analyzation of food usage patterns can mean huge things along the supply chain. In theory, fewer product go bad sitting unpurchased in the store shelves or uneaten in your fridge."