Macy's Expanding Virtual Reality Shopper Experience to 60 Stores
Get great content like this right in your inbox.
Subscribe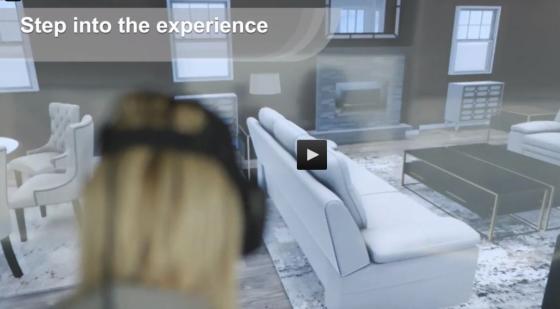 Overstock just expanded it. Wayfair and Ikea have it. Augmented reality to help sell furniture is becoming table stakes for large furniture retailers. Macy's, however, has decided to go both ways to improve the shopper experience.
By fall 2018, the department store retailer plans to roll out an augmented reality furniture shopping experience into the Macy's app. The addition will begin in April. But Macy's is also giving its successful virtual reality (VR) furniture pilot a bigger go, expanding the retail tech to an additional 60 stores by fall 2018 and reaching a significant portion of Macy's largest furniture departments.
Virtual Reality Furniture Shopping
Furniture is traditionally a high touch business, and the new VR in-store furniture design experience aims to reduce customer worry over fit as they test out potential purchases virtually. The tech, powered by Marxent's 3D Cloud and VR solution, was piloted at Macy's flagship store in New York City, and Macy's stores in Paramus, NJ, and Dadeland, FL.
Macy's 3D furniture experience allows customers to place furnishings in a virtual room they design using a tablet. First they will map out the basic dimensions and shape of the room for which they are buying products. Then they will select the items they want from Macy's furniture assortment and lay them out virtually in the room, refining the design as needed. Finally, they can test it out virtually by stepping into the room, using VR headsets to get a true-to-life experience that allows them to walk around the coffee table, couch and other furnishings.
"Consumers today don't just adopt technology, they absorb it at a tremendous pace, but they want it to be useful to their needs," said Macy's CEO Jeff Gennette. "Like a lot of brands, we've experimented with VR in a number of areas and we're excited to have found a practical application that has proven to drive sales. In furniture, we are giving our customers a new tool that will allow them to virtually test out home furnishings, helping them make more informed decisions on these important purchases."
Additionally, an augmented reality experience in furniture shopping, also powered by Marxent's 3D Cloud, will allow customers to virtually place Macy's furniture products in their actual living spaces.
Mobile Checkout, powered by the Macy's app and designed to speed the in-store checkout process, is also slated for a nationwide rollout to all full-line stores by the end of this year.