10/18/2018
Maintaining Retail Data Security in the Era of Mobile Technology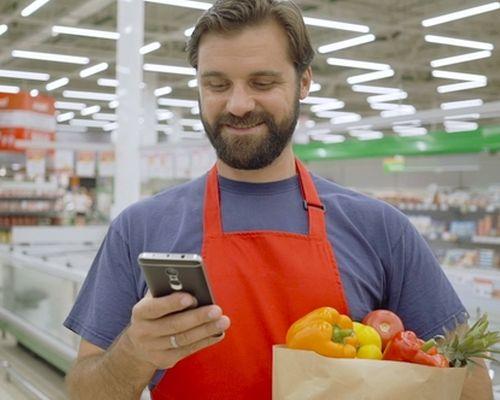 With over two billion smartphones in use globally, it's no secret that mobile technology plays a pivotal role in consumer retail experiences. From flash sales that require discount codes, in-app promotions, or online price-matching, retailers and their workforces must adapt to this demand by committing to cultivating digital proficiency by incorporating flexible, easy-to-use mobile solutions that don't compromise their valued customer or workforce data security.
Consumer data security revelations are appearing unnervingly often in headlines. In the last year alone, Business Insider reports that major retail brands that run the gamut from grocery to luxury clothing such as Whole Foods and Saks Fifth Avenue revealed data security incidents in which unauthorized third-party access of payment information occured. While the causes differ, such as third-party payment processing or malware, this example serves as a timely reminder that protecting consumer data security starts with protecting employee communication channels. Weaknesses in communication contributing to product security risks, like those reported from Nike's lack of internal communication, must be avoided.
For More On Addressing Cyber Threats
THE TRUE COST OF FREEMIUM MESSAGING APPS
If you haven't implemented an easy and effective way for your retail workforce to communicate, it is inevitable that they will find a workaround. The convenience of free digital communication tools comes with an unpleasant truth: you and your employees are likely trading your personal data for use of that service. While having an app-based way to facilitate team communication is a great, forward-thinking idea, your employee communication technology should reflect the same data security precautions you would take with customer data.
MOBILE TECHNOLOGY MATTERS
How does the availability of mobile technology impact employee communication and the future of consumer payments, and what implications does this have on data security during the transactional part of the retail experience? According to a recently released payment processing trends infographic by SpotOn, it's substantial, and will continue to grow. Retailers should proactively address their susceptibility to data breaches by taking steps to ensure the digital tools they use for all aspect of their business, from retail POS systems to workforce communications, are appropriately secured.
INVEST IN SECURE AND USER-FRIENDLY EMPLOYEE COMMUNICATION TOOLS
Regardless of whether retailers embrace "click and mortar" strategies with both physical stores and an online presence, or they maintain store-only presence, retail workforces need to be familiar with navigating mobile technology to be adept at handling mobile payments. Instilling these skills within your retail teams by implementing an employee communication tool is an especially relevant step to take with the increasing ability for retail consumers to pay––and just as importantly, to interact––with your brand by mobile phone.
To support mobile technological proficiency for your retail workforce with a real-time employee communication tool while adhering to data security best practices, look for the following features:
Full end-to-end encryption designed specifically for mobile apps. This means that whether used on a personal device or the company's system, any data processed through the communication platform is secure, whether at rest or in transit.
Role-based permissions to manage access. Easily control access to the system when employees join or leave.
Data storage in a VPC (Virtual Private Cloud). Any data processing is limited to the company's specified certified data center.
With the right blend of usability and security in mind, retailers can embrace and prioritize mobile technology throughout their business and ensure data security by adopting digital workplace and employee communication tools that foster digital fluency. 
Susannah Magers, Beekeeper, beekeeper.io