Marketing Automation: How the Right Message Makes All the Difference
Get great content like this right in your inbox.
Subscribe
In today's digital world, "breaking through the noise" is a challenge, but Celerant's new eBook discusses how leveraging your CRM and sales data helps create segmented email lists and personalized campaigns that will drive more traffic and sales to retailers' websites. Then by automating continuous workflows based on triggers, retailers can continue to promote their site more than ever before. Celerant's new eBook discusses 3 vital steps for every effective marketing automation campaign.
1. Email Lists: How to create and manage them to reach your target markets
2. Personalized Emails: Creating personalized emails that resonate with your audience, and
3. Automated Workflows: What they are and why they are so important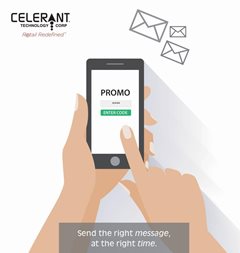 Email Lists
• Best practices for creating email lists,
• How truly valuable an email list can be, and
• How to segment your lists to reach optimal customers
Think of email lists as your target audience or the people you are trying to persuade. Email lists are the gateways to reaching thousands of people with the click of a button. Lists are created in several different ways; retailers can collect customer information when they sign up for a newsletter, request a demo, or purchase products however segmenting these emails can be tedious and time consuming. How you want to create emails lists is really up to you, but one thing every retailer needs is to reach their target audience and this eBook will show you how email lists do that.
Personalized Emails
• Why personalized emails are key for any email marketing campaign
• How to create personalized emails, and
• How to tailor your emails to certain demographics and why this is needed
Personalized emails deliver 6 times higher transaction rates compared to blind emails. Why? Because personalized emails establish real connections with customers rather than having generic, mass messages which customers can spot from a mile away. Personalized emails are created based on demographics, past purchases, and personal shopping preferences. Meaning marketers are tailoring their emails specifically to customers and their buying habits. This eBook will help you create personalized campaigns and help you identify what is working vs not, and how to make improvements.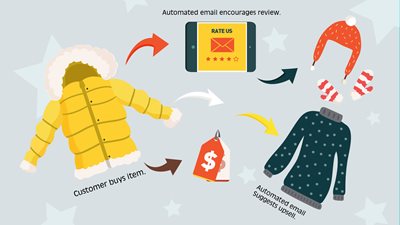 Automated Workflows
• What automated workflows are and how they benefit your organization,
• How to create automated workflows, and
• The different scenarios of when automated workflows should be used
Automated email workflows are email campaigns that are triggered by customer actions. When customers abandon their carts, or purchase products online, or haven't shopped in a while, a specific email campaign will trigger and an email will automatically be sent. According to Lenskold and Pedowitz Groups, companies who send automated emails are 133% more likely to send relevant messages that correspond with a customer's purchase cycle. Creating automated workflows sends timely, and relevant emails to entice your customers, but done incorrectly it can turn off customers
Email marketing is by far the most cost-effective way to promote your website. Learn how to significantly increase the success of your email marketing through all of these best practices and more.
Download Celerant's eBook today:
https://www.celerant.com/campaigns/email-automation-ebook/