06/03/2019
McDonald's Tech-Laden NYC Flagship Offers Its Experience of the Future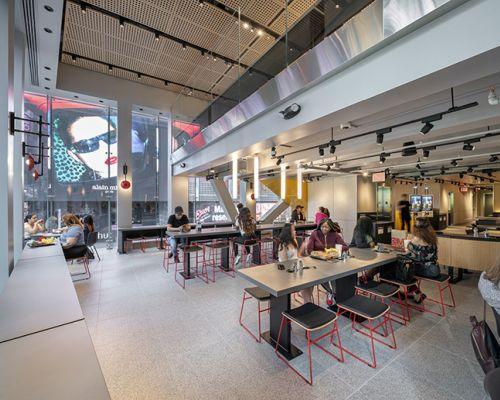 McDonald's has opened a new flagship store in Times Square packed with technology. 
Located at the corner of 45th & Broadway, the restaurant's three levels of floor-to-ceiling glass provide views into the heart of Times Square, NY. The 11,199-square-foot interior showcases the digital upgrades McDonald's has been making, which it calls the "Experience of the Future." It boasts digital menu boards and 18 digital kiosks, as well as "guest experience leaders" and table service. The guest experience leaders answer questions, guide customers through the ordering process and offer personalized recommendations.
Outside, the retailer's 9,280-square-foot billboard is the third largest in Times Square. Through mobile ordering, customers can order from the McDonald's App and as soon as they enter the geofence of the restaurant, employees will begin preparing the order so it's made fresh.
"We're showing off what McDonald's can do… in the center of New York City," said Chris K., president of the U.S. McDonald's. "While the flagship showcases the ultimate McDonald's experience, we've been delivering new levels of convenience, personalization and service throughout the U.S. since 2016. So whether you're in Louisiana, California or Chicago, you can feel this same brand experience. Odds are, you're going to be able to have this experience again in the future, where ever else you may be."
The McDonald's flagship was designed by Landini Associates and architecture by Progressive AE. It offers 173 seats in a variety of arrangements to adapt to customer preferences and while inside, customers will notice hints of gold and red meant to celebrate the brand with a modern twist.