04/27/2017
Mindy Grossman Leaves HSN for Weight Watchers, Learn the Secret to Her Success
Mindy Grossman, who was recently named to RIS News'"Top 10 Movers and Shakers in Retail," is leaving her current position of CEO of HSN, Inc. to join Weight Watchers International, Inc. as President and CEO, effective July 2017. Grossman's resignation will be effective May 24.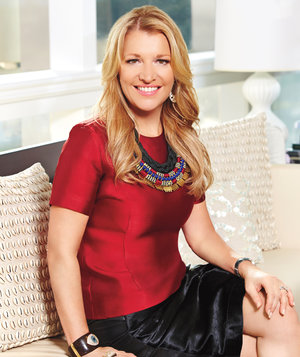 "I'm extremely proud of what we've accomplished at HSNi and believe that the company is well positioned for the future," said Grossman." It has been an honor to work with such an inspired team over the past decade as we transformed the business to lead the future of boundaryless retail. With a focus on customer engagement, digital innovation, product excellence and immersive and community-oriented content, HSNi will be able to thrive in the modern retail environment, where consumers are looking for experiences and meaning."
HSNi has retained a national search firm to assist with the search for a successor that will include both internal and external candidates.
Grossman will not stand for election to the HSNi Board of Directors, but will join the Weight Watchers Board of Directors in July.
"I am thrilled to join Weight Watchers and lead the next phase of the company's transformation," said Grossman. "This is a tremendous opportunity to leverage technology and consumer insights to create innovative personal experiences, build loyal communities and accelerate growth. Ultimately, the ability to inspire people to live healthier and happier lives is what excites me both personally and professionally. I look forward to partnering with the Board – including Oprah – and the team to help Weight Watchers transform the lives of people around the world through weight loss and healthier living."
"Mindy is proven as a successful visionary and entrepreneurial force in business and I look forward to working with her," said Oprah Winfrey. "She has the experience, the passion and the positive energy to take Weight Watchers to exciting new places."
Grossman served as CEO of HSNi since 2008, growing the company to become a $4 billion direct-to-consumer content and commerce leader that today derives over half its revenues from digital commerce.
Recently, before the news of her departure from HSNi, RIS News had the pleasure of recognizing Grossman's contribution to retail by naming her to our"Top 10 Movers and Shakers in Retail" list. The following is her full Q&A obtained for the article:
Q&A with Mindy Grossman, 

Chief Executive Officer of HSN, Inc.
RIS News: Tell us a little about yourself, such as key positions you held over your career and hobbies.
Mindy Grossman:As Chief Executive Officer of HSN, Inc. and a member of the company's Board of Directors, I oversee a $4 billion direct to consumer retail portfolio including HSN and our home and family lifestyle brands - Frontgate, Ballard Designs, Garnet Hill, Grandin Road and Improvements. We are focused on making HSNi a leader in Boundaryless Retail, offering customers a seamless shopping experience across all channels. Today over half of our revenue is generated through digital commerce.
Throughout my career, I've been extremely fortunate to have had experience working at some of the world's most iconic brands – from Nike to Polo Ralph Lauren and Tommy Hilfiger. During my time at Nike, Inc., I was proud to have the opportunity to develop and diversify their global apparel business and serve as co-chair of Nike's Women's Leadership Council. Today, I am thrilled to be the newly-appointed Chairman of the National Retail Federation, and to serve as Vice Chairman for UNICEF USA.
When it comes to hobbies, right now my free time is focused on spending as much time as possible with my granddaughter, who was born this past January.
RIS News: What is your biggest accomplishment to date in the field of retail technology?
Grossman:Forty years ago, we created the first direct to consumer content network, and that entrepreneurial spirit continues today. Whether it's our Shop by Remote technology, the only service of its kind in the U.S., the HSN Shopping App for mobile handheld devices, HSN Arcade or HSN on Demand, we are an organization of firsts and a leader in transactional innovation across all of our brands.
RIS News: What emerging technology are you working on now?
Grossman:By the year 2020, the current prediction is that there will be 50 billion connected devices - approximately double what exists today. We need to use this technology to create relevant and authentic ways to integrate tactile and human-centric experiences within the digital world.
Against that backdrop, we see tremendous opportunities with what we are calling the "Connected Life" -- creating dynamic, immersive, and community oriented platforms that help customers live their best life and enjoy a connected life of meaning through inspired product, innovation and technology.
We will show consumers the use-case of next technology products through curated segments, authorities, programming and digital destinations that will educate, inform and provide clarity. It's a 360 degree approach – rather than looking at products in verticals – we are focused on creating eco-systems of things that will be transformative for our customers.
RIS News: The title of the piece is "Influential: Top 10 Movers and Shakers?" How do you influence your team? Is there a favorite piece of advice you like to give to get the most out of your staff?
Grossman:My advice is always this: find what you are passionate about, make sure it's purposeful and strive to have lasting impact. Inspire people with a shared vision of the future and give people the tools to be successful. Of utmost importance, do not underestimate the transformational power of believing in yourself, you are only as good as your reputation, never compromise your beliefs and always be human.
RIS News: Who was the biggest influence on your career and helped you get where you are today?
Grossman:I've worked for some of the most successful entrepreneurs over the years, who have taught me so many valuable lessons: Barry Diller, Ralph Lauren, Phil Knight and Tommy Hilfiger are just a few. They all showed me the importance of being able to push boundaries and take risks, which is now a quality I look for in others as well.
Phil Knight taught me one of the most important lessons. He once said, "Mindy, what you need to do is stop trying to make ordinary people extraordinary, and surround yourself with extraordinary people." He meant that exceptional leaders focus their attention, effort and investment in talent, your greatest asset.