Modell's POS Software Reboot Makes Omnichannel Success Possible
Get great content like this right in your inbox.
Subscribe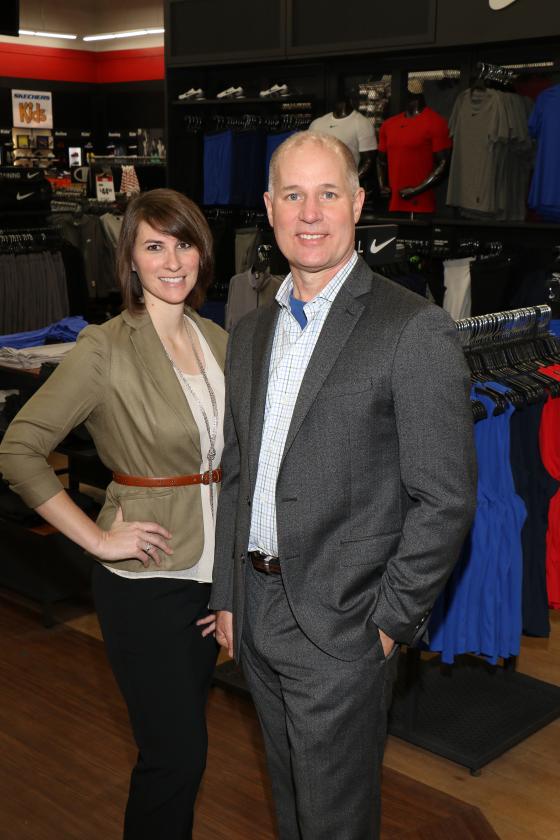 The point of sale (POS) is the foundation of brick-and-mortar retailing. It supports and feeds into the entire store-systems tech stack and serves as a touchpoint for every customer who makes a purchase. Without a dynamic and feature-rich POS that unifies both the customer experience and backend systems, omnichannel success can never be reached.
Modell's Sporting Goods embarked on its omnichannel journey five years ago when it brought all of its e-commerce operations in house. Before taking control of the entire path-to-purchase, both its digital store front and online fulfillment were outsourced to a third party. 
"When we brought e-commerce in house we set up a new website, order management system and D2C fulfillment center and started focusing on omnichannel," says David Strobelt, SVP/CIO & supply chain officer, Modell's Sporting Goods. "Over the past five years we have expanded our omnichannel capabilities with core processes like save the sale, ship from store and endless aisle." 
To power those services, and a host of new omnichannel capabilities the retailer is developing, Modell's needed a new POS software solution able to seamlessly integrate with the various omnichannel solutions while simultaneously enhancing the in-store experience for shoppers. 
NEXT-GEN DECISION
After an extensive software evaluation process, Modell's partnered with Tata Consultancy Services (TCS) to deploy TCS' OmniStore solution. The solution allows retailers to transform historically proprietary and closed POS solutions into a single open architecture that enables a seamless experience across channels. Modell's POS strategy was to create a variety of in-store touch points beyond the traditional POS registers, including mobile devices, self-service kiosks, and customer concierge tablets. within a unified POS solution that provides personalized customer service and loyalty capabilities.
"We were drawn to TCS's open and tiered architecture," says Strobelt. "It allows us to connect across channels and leverage our digital assets. Our vision for the future is to be able to sell in-store and out, on a variety of different media. We needed the flexibility to be untethered from the cash wrap. The traditional siloed point of sale model was not going to be a good fit for us."
Modell's legacy POS solution required associates to be bound to the cash wrap. TCS' software solution empowers associates with one version of the truth regardless of where payment is tendered. Both behind the traditional counter and on the sales floor, associates have access to gift card, loyalty, price, and promotional information in real time, allowing them to provide personalized, differentiated service. 
"Our vision for the future is to be able to sell in-store and out, on a variety of different media. We needed the flexibility to be untethered from the cash wrap." - David Strobelt
Another key aspect of the new POS solution was to enable tighter security.  The new POS is chip and pin capable, and centrally tokenizes sensitive customer cardholder data across all channels, lowering Modell's exposure to in-store fraud.
The POS software has been remarkably stable since it was first piloted in October of last year and system response times have all exceeded expectations. In fact, the solution has never been turned off since it was installed on the first register. This success metric is even more impressive when you consider that each Modell's location sells hundreds of thousands of SKUs, which are all subject to a litany of promotions including coupons, discounts and special offers, that must be accurately calculated on the spot and personal-ized to the customer. While the first iteration of the software is executing admirably, the solution is far from its final state. Currently in 46 stores, the first version will be fully deployed chainwide by the end of Q2, and the next version is already undergoing user acceptance testing.
The software's agile development methodology allows Modell's and TCS to continually enhance the offering to increase the frequency of functionality updates and address any potential bugs in the system. The onshore/offshore development team has been an added benefit. TCS operates in four cities in India, while Modell's has IT staff in both New York and Cleveland, ensuring that if and when issues arise they can be addressed quickly and efficiently.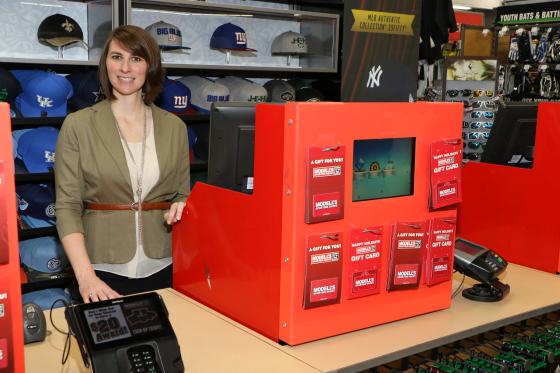 COLLABORATIVE PROCESS
The open-tiered architecture was a major selling point of TCS's software, but it did require some modifications to meet Modell's advanced omnichannel needs. TCS developers and Modell's IT staff worked collectively to enhance the solution's architecture as well as streamline the user experience. 
"We have a very diverse project team, everything from our culture to our location and geography," says Rachel Dorsey, director of omnichannel solutions at Modell's whose team spearheaded the user experience customization process. "But we all banded together as one, with a strongly aligned vision of what we wanted to accomplish.  We traveled to India and they travelled to NYC regularly so we could work shoulder to shoulder.
"This has allowed us to deliver a solution of high value and quality that will continue to grow and evolve with ease and flexibility. We have achieved a true partnership. The TCS team is as much a part of the Modell's organization as they are their own."
The first step in tailoring the solution was to enhance the elegant architecture so the POS could run seamlessly in the cloud, on a thin browser operating on a handheld device, or on a traditional register both online and off. 
"We have data that is central as well as local," says Strobelt. "If we block our wide area or local area network we always have the data available to us at the end point for price, promos, local tax, everything that we need in order to give the right price to the shopper. We insisted that we had robust offline scenarios so we could award points, coupons, and loyalty rewards in offline mode. When connectivity is re-established data flows and awards the customer in the same way as if it was online."
While the ability to modify TCS's out-of-the-box architecture to meet Modells' needs for online and offline capabilities was a key differentiator in the software selection process, it was not the only aspect of the solution the Modell's and TCS team customized. Before implementing the solution, the entire user experience was tailored to Modell's specific requirements to provide a seamless experience for both its associates and customers. 
The team designed a new user interface and workflow that is intuitive; easy to navigate; and condensed, ensuring that users can find what they are looking for quickly and easy. Clustering the most pertinent information on the POS screen allows associates to interact and enter vital data quickly and easily, speeding up their performance and decreasing checkout times. 
"We designed the UX with the user being two different groups, both our customers and the cashiers," says Dorsey. "We spent a lot of time up front focusing on and understanding what their needs and requirements were. Our goal was to design a simple, efficient and intuitive process for both our cashiers and customers. Something that not only met their expectations but delighted them as well." 
By all accounts, Dorsey and her team succeeded. There is always some apprehension from in-store staff when new technical capabilities are released, especially when it comes to such a critical piece of their daily workflow. However, with the learning curve reduced, training times have diminished. The intuitive setup of the solution means that users can go from first introduction to confidently ringing up customers in as little as 10 minutes, leading to universal acceptance of the new system.
While cashiers are empowered with a host of new features and a simple, efficient interface, customers are enjoying a personalized front-end experience thanks to the new POS software. Shoppers are presented information on their purchases, loyalty points, and eligible awards from both the cashier and the POS's customer-facing signature device. 
"On the marketing side it is going to allow us to really connect to the customer on a new level," says Jason Karlowski, assistant director of sports and content marketing, Modell's Sporting Goods. "We will be able to personalize messaging on what they are buying or let them know they are X number of points away from their next award. We will be able to really dig down into who the customer is and market to them better."
CONTINUED ADVANCEMENT
While upgrading its POS software was a crucial mile marker on Modell's omnichannel digital transformation, it is only one stop on its ongoing journey. The retailer has released and continues to develop exciting next-gen initiatives that will work in concert with its shiny new POS to further differentiate the Modell's experience. 
In January, Modell's launched a new website powered by Salesforce Commerce Cloud that ushers in a new era of personalization, customer experience and integration to
the brand. 
"Traditionally we never had access to or shared information across channels with our old website," says Strobelt. "We are in the process of integrating the new site in many ways across the business. The new platform has a lot of personalization and customer experience features and makes navigation and checkout frictionless for our customers. Our e-commerce team is hard at work testing and trying out new and unique experiences."
The Modell's and TCS team continues to iterate its POS software project and integration with the Salesforce e-commerce platform is next on deck. The team came up with a few quick wins, which are being incorporated into the solution and will have a positive impact on the store experience. Shopper e-commerce data like wish lists and cart history will be available to in-store associates to tailor the path to purchase and spur the sale. 
"The new platform has a lot of personalization and customer experience features and makes navigation and checkout frictionless for our customers." - Rachel Dorsey
"We have a lot of POS features we are building in alignment with our new website," says Dorsey. "One of them being increased visuals. When the cashier scans an item, a little thumbnail image of the product will pop up. It is a visual indicator to ensure that we are selling the correct items. If the associate selects the image they can see a full-size version as well as details about the product, inventory, price and promotional history in real-time." In addition, an information bar on every POS device indicates how many online orders have been allocated to that store, giving real-time visibility on ship-from-store activities.
In concert with the minor tweaks to the front-end experience, Modell's has some major in-store initiatives on the docket for the remainder of the year. In the third quarter the sporting goods retailer looks to introduce new mobile POS units, a portable next-gen register setup, and a self-service kiosk option.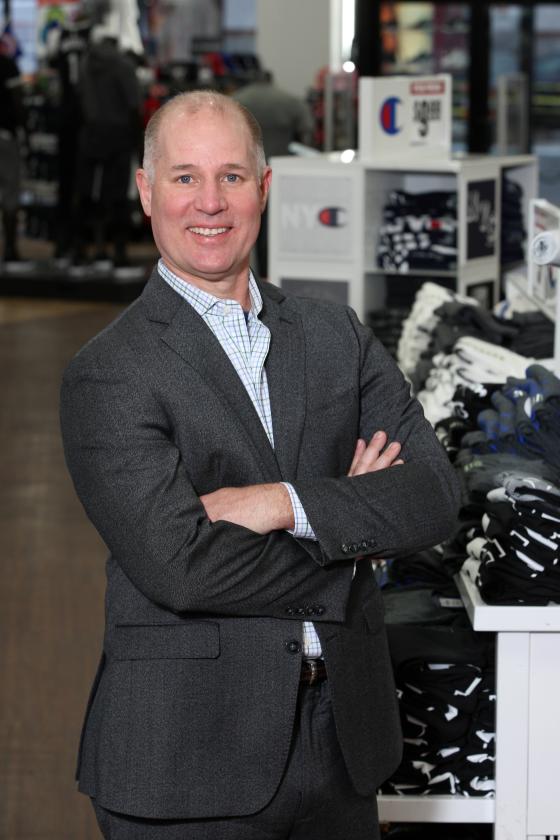 OVERCOMING CHALLENGES
Currently, more than half of Modell's 150-plus stores in 10 states have buy online, ship-from-store capabilities, which has helped the retailer quickly and efficiently meet shopper demand while simultaneously optimizing its inventory across the chain. 
Since bringing its e-commerce operations in-house and embarking on its omnichannel journey, Modell's has fully embraced a shared inventory model. There is no longer e-commerce inventory or store inventory — there is just inventory. The retailer's advanced order management system has visibility into inventory across the chain and is able to orchestrate fulfillment between stores and DCs seamlessly, allocating orders based on shopper location and available product. Despite this modern approach to inventory management, adding pickup in-store and ship to store will bring with it a new level omnichannel sophistication, which requires further investment in Modell's real-time inventory capabilities. 
"Our biggest challenge with buy online pickup in-store is the wide range of SKUs we carry with low safety stock levels," says Strobelt. "We have a very high percentage of SKUs with less than three units on hand, which is razor thin when you need to establish a minimum on-hand threshold for opening a product to an online purchase. We are exploring ways to enable buy online pickup in-store technology, but our in-store inventory accuracy has to be tackled first."
Prior to holiday last year, Modell's piloted RFID technology in a short six-month timeframe from concept to deployment. RFID has the potential to not only provide the retailer with a real-time accurate view of inventory across the chain — it enables associates to locate products quickly and efficiently. This is a key operational building block of a successful in-store pickup initiative. 
 "We learned a great deal from that pilot on the importance and value of inventory accuracy," Strobelt says. "Our customer is really at the center of our strategy and we have been focusing on improving the experience, personalization, localization of inventory, and from an omni perspective making inventory accessible and convenient. Our investment in improving the customer experience has been our top priority over the past five years. That trend is not going to vary —  the customer is going to continue to be our focus."
THE BIG PICTURE
The sporting goods business is a commodity business. Consumers have various shopping options and are making purchase decisions based not just on price, but on experience. Only those retailers that continue to invest in their backend firepower and customer-facing prowess will stand the test of time in today's ultra-competitive landscape. 
"Our entire effort has been to make it more convenient for our customers, and we will continue to explore new capabilities as part of our omnichannel roadmap," says Strobelt. "We invested in our POS solution for flexibility, accessibility, and to be a leader in the omnichannel space."
As long as Modell's continues to make big strategic bets on differentiating technology there is no reason to believe that the 129-year-old brand won't be meeting customer expectations for another century to come.